It's not often I get a man crush, something usually reserved for sports figures. But Omar and Romulo, two burly boys weighing a combined 1,000 pounds, had me at the first kiss.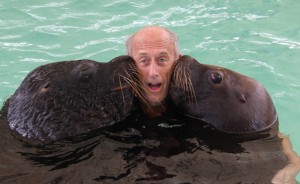 Omar and Romulo, along with Remo and Franco, are four massive sea lions that you can get up close and personal with – including getting bussed on the cheeks  – at Coral World Ocean Park in St. Thomas, where you can also swim with sharks and sea turtles, do snuba diving and don a diving helmet and walk the ocean floor with sea creatures swimming about you.
The sea lion swim is popular, for good reason. These animals, originally from Thailand, are a huge draw, literally and emotionally, truly beautiful beasts with huge, soulful eyes and a remarkable intelligence level, said trainer Kristine, who has worked there the last four years training, and loving, these gentle giants.
For $126 per adult (includes park admission), you get some unique face time with some unique animals. After a quick introductory talk and guidelines (never pat the animals, they could be startled, only stroke them and never above the ears), you go to two large tanks. Here, for the first part of the encounter, you interact on the tank deck with Remo and Franco, the smaller of the four lions but not by much, exchanging hand-to-flipper high fives, making muscles as they stand on their chests making their own, giving them hand commands so they'll emit throaty growls (not barks like California sea lions), rewarding them throughout by tossing them whole fish to swallow, the beasts lumbering across the deck to plunge back into the water on command.
Then it's over to another tank where behemoths Omar and Romulo await. Into the tank you go and the watery bonding begins, as you hug the pair, stroke their massive bodies, wave to them as they wave back, get doused when they each do the most genuine belly flops ever into the pool and, of course, get kissed, each planting a whiskered muzzle to your cheeks.
I've done a variety of animal encounters in my travels, mainly dolphins and while they are very easy to love, these gorgeous sea lions are even more so, with those big brown eyes and eagerness to be loved. They each have stories as well, the saddest of which may be Omar's. Sea lions often develop cataracts, Kristine told us, and the big boy is nearly blind as a result. They're setting up a special station at Coral World to perform corrective surgery in the coming months.
Coral World, located on the ocean, is also keenly concerned with the environment. It's a coral nursery demonstration site for the Nature Conservancy's Coral Restoration Program, the goal of which is to grow Elkhorn and Staghorn corals to deplete reef sites; assist in scientific research by tagging captured sharks that are released back into the wild, sharing data with the National Marine Fisheries Service;  and serving as a rehab center for injured or sick turtles.
And it's just a cool place to walk around, checking out the ocean views, getting up close but not too personal with the abundant and large iguana lounging about, checking out the butterfly garden, and even holding a wedding there if you're so inclined.
But for me, nothing's better than getting double kissed by Omar and Romulo. A man crush has never been more fun.
For more info, visit www.coralworldvi.com
(Photos by Coral World)