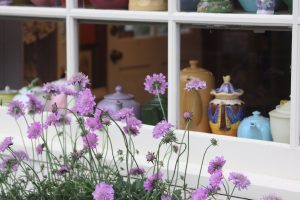 The allure of wine tasting at family owned boutique wineries of West Sonoma County is calling. The romance of several nights tucked away in Guerneville – away from crowds, hidden in the gentle fog of west county is downright appealing. Located only about 25 minutes from Santa Rosa and under 90 minutes from San Francisco this region of Sonoma County makes a great multi-day destination/weekend getaway.
In order to avoid the summertime crowds along the Russian River and the colder weather of the mid winter months consider a trip in early Spring. This is an ideal time to be in the area, the days are milder than the winter, you may get a bit of rain – but everything is green and coming into bloom.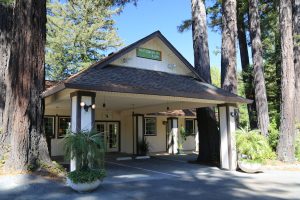 Put your roots down minutes from the towering Redwoods in Guerneville at the West Sonoma Inn & Spa. This delightful 36 room inn is owned by partners Karen and Naveed, both of whom left the fast paced corporate world during the end of the Dot Com days, for a slower more relaxed pace of life in the redwoods. It is quiet and extremely relaxing here, you can see the stars easily on a clear night. Nothing beats sitting on the deck outside your room listening to the symphony of frogs playing in the nearby vineyards. Even better, is this, on a darkened night in your private hot tub sipping one of the area's best sparkling wines, an Iron Horse or Korbel.
West Sonoma Inn has 36 rooms and like other accommodation in Guerneville, are often full in the summer. Advance reservations are important for visits during this time. Choose from a variety of rooms and suites including our recommendation, the vineyard suite which is very private and looks over one of Korbel's vineyards. While cell phone reception can sometimes be spotty in the area, WiFi works well in the rooms. There is no need to leave the Inn for more pampering! Look no further than their small spa located on site. Several types of massages are offered including Hot Stone and Swedish. Facials are also given on site (special applications are used from an herbalist in Washington State) – spa rooms are available for single or couples massage. These massages are pure bliss! Visit: www.westsonomainn.com
Staying in Guerneville is an ideal location for many reasons – choose your pleasure. You are within minutes of the wineries, excellent restaurants, the Northwood world class 9-hole golf course open to the public (set among the towering Redwoods and built in 1928 by famed golf architect Alister MacKenzie – worked on Augusta National and Cypress Point – and was voted recently by Golf World Magazine as having the third-best 9-hole golf course in America, of the top 3, the only one that is public), nearby to the solitude and quiet among the giant trees at Armstrong Redwoods State Park and kayaking on the Russian River if the weather permits. Slightly further away is the boutique shopping in quaint Duncan's Mills, hiking among the rugged scenic coastline, the sea lions that waddle out on the sand near where the Russian River empties into the ocean or the hustle and bustle of the closest city, Santa Rosa.

Wine Tasting

West Sonoma County is a haven for wine enthusiasts. Pinot lovers take note; this region produces elegant, balanced beautiful Pinot Noir. Tastings are often intimate – wineries tend to be small and family owned and especially during the week crowds will be less. It is not uncommon to be tasting with the winemaker. A fair number of the smaller wineries offer free tasting – some wineries will have a reserve room tasting fee should you choose to sample these wines. Reserve room wines tend to be a bit higher priced than the regular wines and are produced in smaller quantities. If a winery does charge for tasting, they often apply the cost of the tasting towards any purchase made at their winery.
We spotlight several unique wineries in the Russian River Valley appellation – along Olivet Road (just West of Santa Rosa), and three wineries along the southern part of Westside Road (near Guerneville). Be sure to pick up the best winery map of the area (Alexander Valley, Dry Creek Valley and the Russian River Valley), published by Wine Road, www.wineroad.com (these maps are are found in many wineries as well as select hotels).

–OLIVET ROAD–
Harvest Moon is a small family run winery and is the first winery you come to on Olivet Road after turning off of River Road. This winery is run by Randy Pitts and focuses on Russian River Zinfandel. One of his more popular wines is the RandyZin, not named after himself per se, but as he says, "it's more of a "feeling" you get when you taste the wine!" A standout and very uncommon wine is his dry sparkling Guwurztraminer. Visit www.harvestmoonwinery.com – Randy also offers private educational seminars and introductions to wine tasting. These are typically early in the morning starting at 8am and for obvious reasons have appealed to those wine enthusiasts who have recently arrived in the the county from the east coast. Randy loves teaching and talking about wine and these tours are a unique opportunity to learn about wine "hands on".
Hook and Ladder is run by Cecil DeLoach (founder of nearby DeLoach Vineyards). Cecil was a fireman in San Francisco, hence the winery's name and bright red fire truck that often is parked near their driveway. Cecil's history in Sonoma County goes back to 1970 when he and his wife purchased their first vineyard. He is one of Sonoma County's modern day pioneers in winemaking. A tasting here is about as low key as it gets! Walk into the winery and up to the tasting table which is situated in their barrel room among their production facilities. Various firefighter t-shirts are hung up above and around the tasting area. In fact one gentleman wore his fire fighting shirt to the tasting room during one of our recent visits! Their focus is on Pinot Noir and Zinfandel. Visit: www.hookandladderwinery.com
DeLoach was founded by local wine pioneer Cecil DeLoach and is now owned by the Boisset Family from Burgundy, France. After the purchase they replaced all the vineyards on site and implemented organic and biodynamic farming practices. In addition they built their own winery wastewater treatment plant on site and are able to recycle most of the water used in production. They work with nearly 50 growers in Sonoma County and have their own vineyards planted on site. They make some of the finest Pinot Noir coming out of Sonoma County (Burgundian style)- with a real emphasis on terroir driven wines. Vineyard and winery tours can be arranged by prior appointement – an organic garden is on site and through a partnership with the Academy of Art University in San Francisco, a number of unique art pieces are displayed in their hospitality house. Did you know "Ghost Buster" Dan Aykroyd has his own wine label? Two of his wines are made here (Chardonnay & a Cabernet Sauvignon) with the final blends approved by Dan himself. Visit: www.deloachvineyards.com
–SOUTH, WESTSIDE ROAD–
For a refined tasting experience that showcases a variety of elegant Pinot Noir pull up the long steep driveway to Gary Farrell. Gary first started making wine commercially in 1982. He is no longer the winemaker here, but they continue to turn out some fantastic Pinot's (this varietal is 50% of their total production). This is the first winery you will reach on the southern part of Westside Road. The winery and tasting room are perched on the edge of a hillside with spectacular views looking across the wooded hills through the long window behind the tasting bar. Appointments are now necessary – for winery tours advance notice is required. Their Hallberg/Russian River 2007′ is an excellent wine, balanced with just the right flavor profile. Visit: www.garyfarrelwines.com
Moshin Vineyards is a boutique producer located towards the southern part of West Dry Creek Road. Their focus is on Pinot Noir; with great wines and a friendly staff, a stop here is definitely worth your while. The Pinot's are certainly a highlight of a visit here – Moshin makes 13 different Pinots, each one very unique. A standout is their Bacigalupi vineyard designate. This winery was started by San Jose State Math teacher, Rick Moshin in 1989. Rick's passion for wine is clearly evident on one of his tours – for 15 years he would commute over 2+ hours one way between his teaching job and the vineyards in Sonoma County. He designed the entire gravity flow winery himself – tours are given by advance reservation only. A tasting is low key, relaxed and very personable. Visit: www.moshinvineyards.com
Porter Creek is owned by a father and son, George and Alex Davis. This is as low key a tasting as you will find – the tasting takes place over old bowling alley wood (now their bar table) in a converted 1930's garage, mere feet from their actual vineyards. The atmosphere is a wonderful contrast to some of the more "sophisticated" tasting experiences and fancier wineries. It is refreshing to find a winery like this and even more refreshing to taste their small production hand crafted wines. A standout here is their Syrah slightly blended with Viogner wine. This wine is well balanced with some delightful aromatics. Tasting room manager Will has been with Porter Creek a number of years and is an entertaining individual. Along with an enology degree, winemaker Alex has trained under several wine masters in France – his vineyards are all organic and Biodynamically farmed. Visit: www.portercreekvineyards.com
Dining
Boon Eat + Drink, a small bistro, is located in the heart of Guerneville minutes walking distance from West Sonoma Inn. It is always nice to find a restaurant that caters to both locals and out of towners and this restaurant does both. They have just a handful of tables so be sure to arrive early, especially on the weekends. Boon's wine list features a number of small local boutique producers. For a small restaurant their menu certainly delivers – seasonal fresh often locally grown and produced items are featured. Meat lovers try the tender Flat Iron steak. Visit: www.eatatboon.com
River's End Restaurant & Inn is perched right above the outlet of the Russian River at the edge of the roaring Pacific Ocean in the small town of Jenner (about 20-25 minutes from Guerneville). As a result one can easily come here for the ambiance and atmosphere of watching the waves crash into the shore and the sunset. If this was all, one would be entirely satisfied with nature's spectacular show. However the food is well worth the trip – testament to owner Bert Rangel's vision. He visited this area in the early 1990's, told his then girlfriend, now wife "we need to move here". She thought he was referring to anywhere in Sonoma County but rather he was talking about living in this exact spot in Jenner. Vision became reality and he has run this family operated restaurant since 1998. As expected their specialty is seafood with also an excellent selection of California cuisine including some more unusual entrees such as Wild American Elk and good use of local wild mushrooms.
The "Crab Tasting" is one of the most popular selections on the menu; this is served during Dungeness Crab season – the winter months usually until mid April. Small plate after plate arrives, each one better than the next! The flavorful dishes are prepared delicately. The Crab Tasting menu can be combined with specially selected wine pairings for each plate. You can easily whittle away several hours at this romantic restaurant – be sure to ask for seating next to the windows for the best views.
Their wine list is extensive with good selection of local wines from both Sonoma and Napa – they have been awarded the Wine Spectator's "Award of Excellence" every year since 2003. Visit: www.ilovesunsets.com

Visitor Guides
www.guerneville-online.com – Guerneville visitors guide
www.russianriver.com – Russian River region Chamber of Commerce
www.sonomacounty.com – official Sonoma County tourism guide
www.wineroad.com – your guide to the Russian River wine region

Photos