Sometimes, the perfect resort drifts your way. Of course, it's subjective, but for my money, a visit to the island of Antigua is akin to winning the vacation lottery. Even in a region as beautiful as the Caribbean, Antigua stands out for its variety of beaches. Locals say there are 365 beaches, so you may swim and sunbathe at a different beach everyday for an entire year without repetition.
The quality of its water is breathtaking—crystal clear and aquamarine in color. Mother Nature has blessed Antigua with countless protected harbors along its craggy coastline so many of its beaches are naturally protected and as calm as a soak in the bathtub.
Hermitage Bay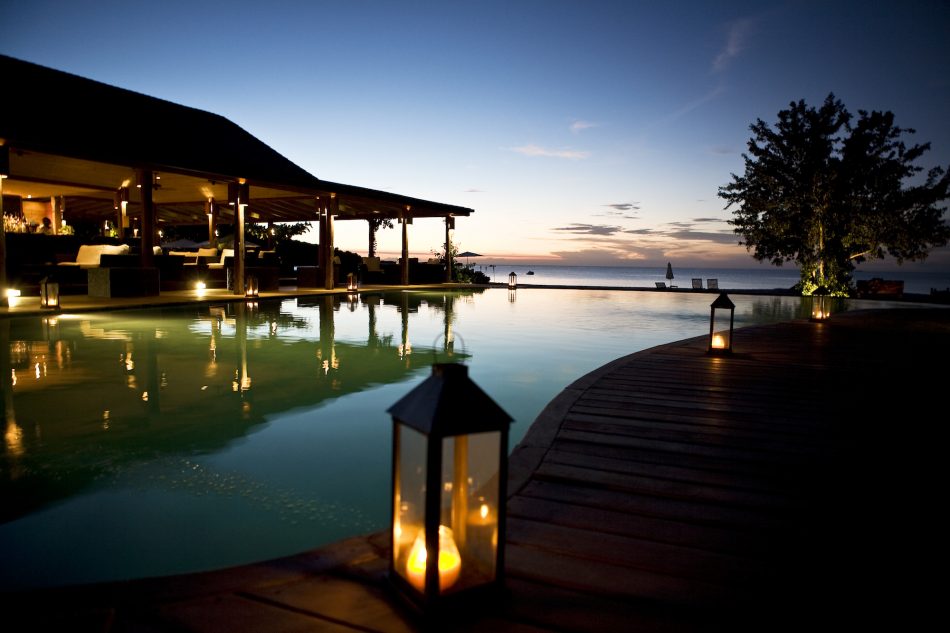 I recently spent a few blissful days at Hermitage Bay. Located on the bay of the same name, it's a luxurious resort that caters to couples. While the resort is technically all-inclusive it has nothing in common with your standard all-inclusive hotel. There are no crowded buffet lines or loud exercise classes in the swimming pool. There's no early morning race to the beach to claim a chaise longue before they are all taken.
Hermitage Bay is casually elegant, serene and secluded. With only 30 individual cottages set on 140 acres rich in flora and fauna, there's nothing but peace and privacy.
Guest Cottages
You may reserve a beachfront cottage but we choose a hillside unit and enjoyed an unbeatable view all the way to St. Kitts. Each spacious cottage has a huge veranda and an outdoor shower so you're likely to spend plenty of time outside. We even had our own refreshing plunge pool.
Furnishings are made with sustainably sourced wood and look luxurious in a natural way. You'll sleep like a baby under mosquito netting and wake up to the sound of waves gingerly lapping the shore and a chorus of birds singing a joyful tune.
Food and Drink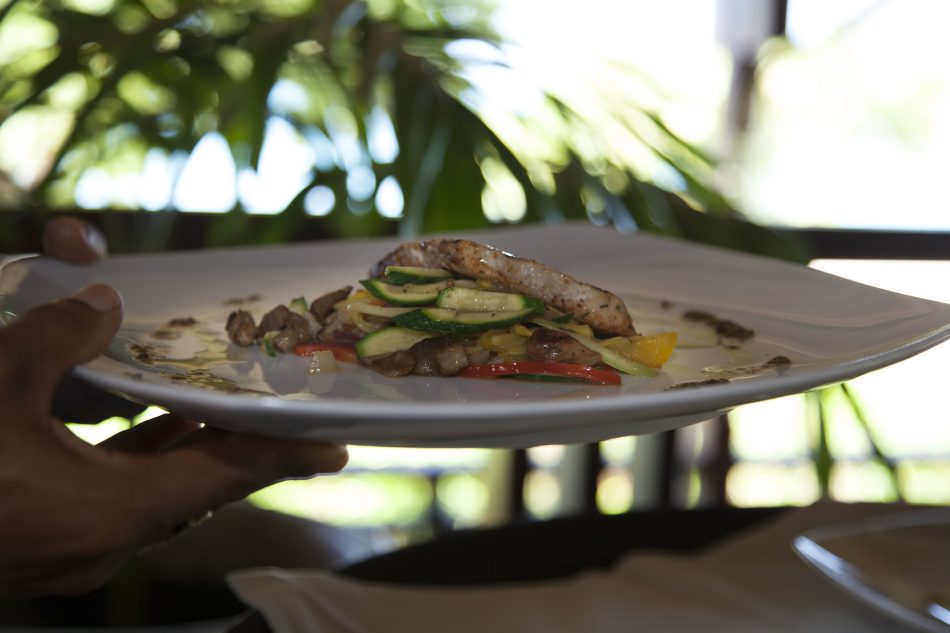 Cocktails, wine and beer are included in the rate. For my taste buds, the Caribbean is all about beer and Antigua's local flagship brew, Wadadli, is a palate-pleaser. It's a balanced and thirst-quenching lager that pairs well with the local cuisine or is refreshing on its own at the cocktail hour. If you're looking for something that packs more of a potent punch, the bartender will mix you a tropical drink of your choosing.
The food at Hermitage Bay was uniformly delectable. You can't go wrong with any of the fish options, all caught daily and so fresh it still tastes of salt water.
My favorite meal was breakfast. You may order practically whatever you want–eggs, waffles, bacon, fresh fruits–from the copious menu, but I craved the local's breakfast of choice, salt fish and chop-up. This traditional Antiguan morning meal features salt-cured dried white fish (often cod) that has been reconstituted and flaked before being sautéed with sweet peppers and onions. The seasoned fish is served with chop-up, which is a medley of mashed leftover veggies such as okra, pumpkin and spinach. It's customarily eaten on weekends, but at Hermitage Bay guests may indulge in this fortifying treat each and every morning.
Activities
The beach is nestled in a cove. A natural mangrove adjoins the property and supports a unique ecosystem. The waves are nearly always gentle so it's a perfect spot for snorkeling or a dip. The beach concierge can provide you with a kayak, pedal boat or a sailboat. If your definition of vacation activity is gazing at the water, the beach concierge will get you settled in a cozy sunbed and spoil you with drinks and refreshing nibbles
The pool offers a sea view, so you may swim laps in a contained environment while glimpsing the dazzling Caribbean
Yoga, mediation and Pilates classes are held at the gazebo in the morning.
The full service spa is popular and offers an array of soothing treatments so book early.
Service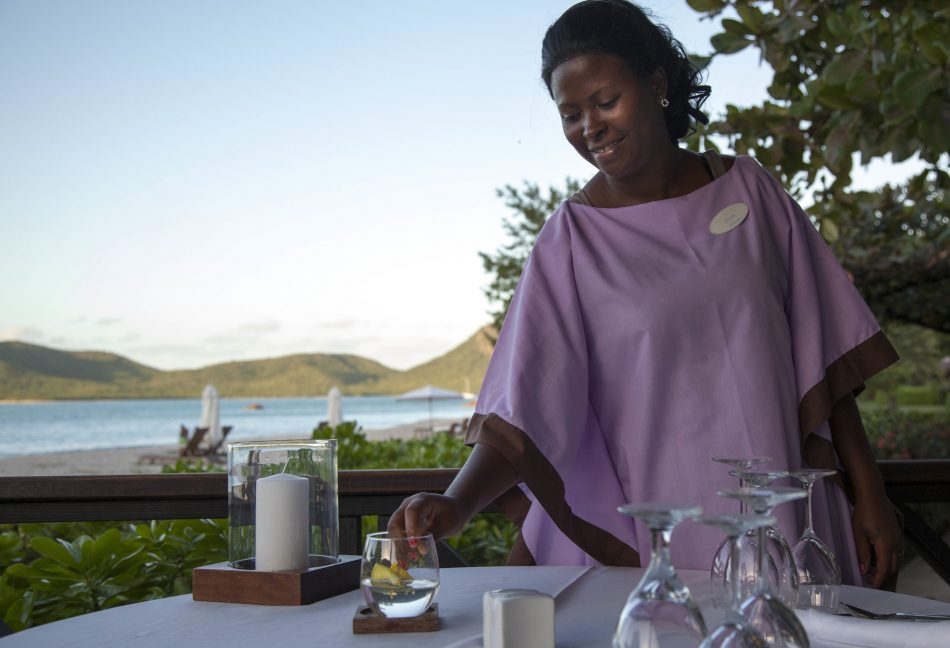 If you crave pampering, you've come to the right place.  Service is stellar yet unobtrusive.
The staff is warm and engaging. Take the time to get to know them and you will be richly rewarded. During casual conversations, several staff members told me that one of the things they liked best about working at the resort was that the management encourages them to be themselves with guests. There's nothing cookie cutter about Hermitage Bay and its staff represents this.
For additional information, visit www.hermitagebay.com.