Thirty three beaches beckon tourists
I didn't see any Kentucky Fried Chicken or Burger King franchises on the island of Anguilla. In fact, I didn't locate any chain restaurants on the island. A local told me that Subway once opened a restaurant on the island, but it didn't last long. There also are no large cruise ships, no casinos and no nude bathing. Cruise ships can't go to the island because there isn't a port large enough to handle them. I flew to the island on Anguilla Air Services from St. Maarten. It was an eight minute scenic flight over the Caribbean Sea. You can also reach the island by ferry.
What I did see on the captivating Caribbean island of Anguilla was an abundance of white sandy beaches and aquamarine, sapphire and turquoise waters. In total, the island has 33 white sand beaches with crystal clear waters.
Boat racing is the island's national sport and an unspoiled reef system makes snorkeling an excellent source of outdoor entertainment along with sailing and swimming.
Maundays Bay Beach is one of beautiful beaches with its picturesque mountains of the neighboring St. Maarten in the background. Shaol Bay West and Prickly Pear East are two more beaches that provide more opportunities to luxuriate in the sparkling sea or stretch out on the white sand and they are many more in this tropical paradise.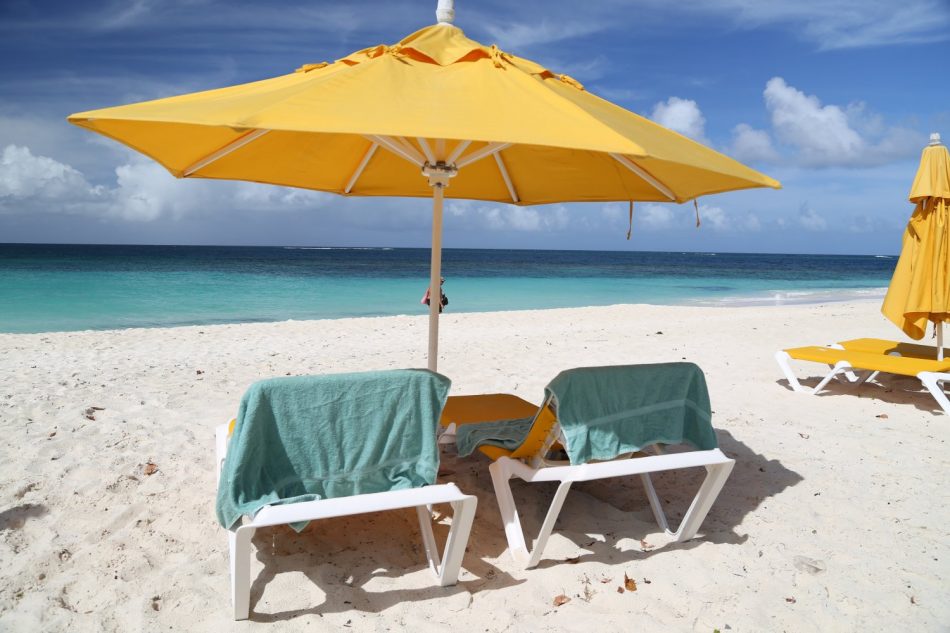 Anguilla is a British Overseas territory, just 16 miles long and three miles at her widest point. The island is the most northern of the Leeward Islands in the Eastern Caribbean. It has a population of 14,000 and more than 80 restaurants. Included in the restaurant tally are road side food stops like Ken's Barbeque where you can sample Ken's special sauce with the island's famous Johnny Cakes or Mable's Food Stand where you can try some delicious corn soup. These smoke-filled roadside tents and tables demonstrate the spirit of the Anguillian people and give visitors an opportunity to experience the depth and flavor of Anguillian cooking.
If you are a foodie, like me, there are also many family owned restaurants that serve delicious local fish caught in the surrounding waters. There is an emphasis of fresh fish and goat dishes. Organic meats, fish and chicken can be ordered at some of the fine dining restaurants. Tasty's, a local popular eatery serves delicious Anguilla style whole snapper and West Indian Curried Goat with rice and peas, an Anguilla popular side dish. Casual in atmosphere, Tasty's is also known for its mural of locals painted on the wall in the rear of the restaurant.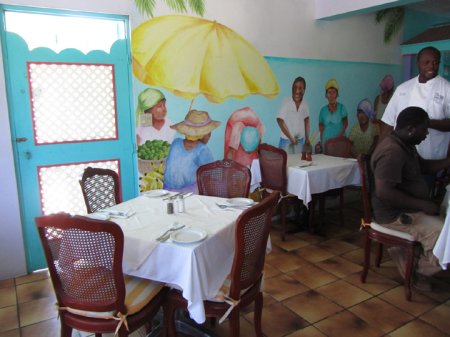 Hotels run the gamut from bed and breakfast inns and charming escapes to luxurious resorts. I stayed at Cap Juluca, one of the most luxurious resorts on the island. Cap Juluca is a popular place for honeymooners. The resort is situated on Maundays Bay Beach and has spectacular sunsets. Villas surround the beach and are outfitted with furnishings to meet the most discriminating of travelers.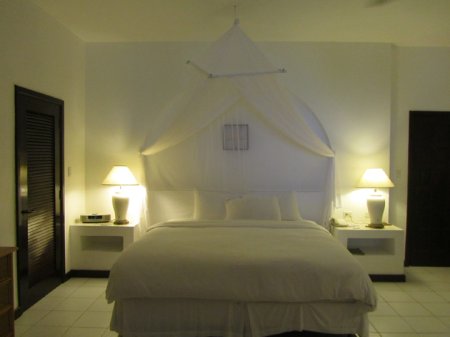 My villa was a junior suite. It was outfitted with a bathtub for two. Fresh lavender scented bath beads were replenished daily and placed in a crystal decanter on the tub along with an assortment of soaps, lotions and body washes. There was a bidet, huge walk in marble shower, easily big enough for two, with both a hand held hose and shower. Double sinks with marble countertops and plenty of storage space and lighting made bathing more than just taking a bath. It was a total experience in luxury.
The villa was stocked with a refrigerator with sodas, fresh waters from sparkling to mountain springs and complimentary until they were consumed. A free continental breakfast in the villas was an option enjoyed by every guest. I placed the breakfast menu card on my door before midnight, ordered my selection of foods and what time I wished to have it served. The next morning my tray was served to me outside on my patio just steps from the beach. The breakfast included fresh fruit, in addition to a variety of breads, rolls, jellies, jams, butters and hot coffee in a silver pitcher. Did I forget to mention that fine linens and fresh flowers accompanied my breakfast?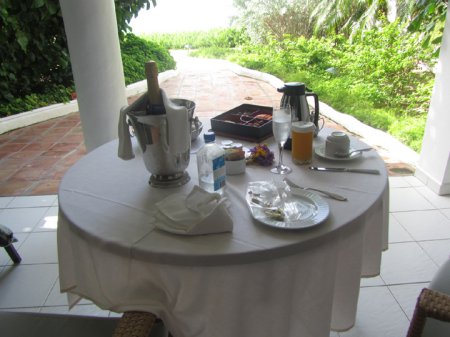 The villas are also stocked with two types of robes, heavy terry and lighter weight cotton robes, Bose Wave music systems, iPod docking stations, wireless internet, flat screen televisions, sofas and lounging areas.. Safes were placed in the large walk-in closet and they worked very easily. The safes had to work because guests are not given a key to rooms. Doors are locked when you close them from inside and open when you want to retire.
I really had a hard time venturing out from the resort because there was so much at Cap Juluca that I enjoyed. Most of the water sports were free. I could snorkel, learn how to sail, windsurf, or go kayaking. However, my favorite pastime was reading on a comfy chaise lounge on the beautiful Maundays Beach under my umbrella that was set up by an attendant. The attendant also brought me fresh towels and a cooler filled with chilled water. Every afternoon I was feted with a selection of sorbets at the beach.
Friday evenings are special at Cap Juluca. There is a buffet dinner on the beach with musicians playing island music. The buffet had a separate grilling station with lamb chops, an assortment of freshly grilled fish, including my favorite, crayfish. Several types of salads, grilled vegetables, ribs and decadent desserts completed the evening meal under the stars.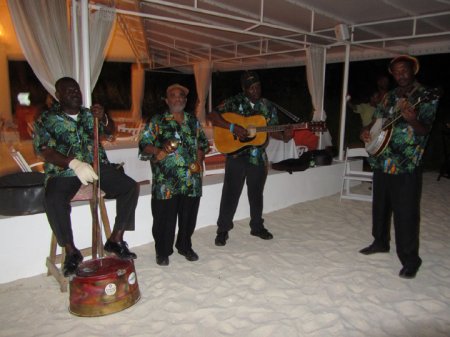 Flights, a wine bar at Cap Juluca is the perfect place to watch the sunset. It faces the beach and flights of wine are served from various vintages around the world. In addition to the flights, champagnes and wines are served by the glass from 6 to 9 p.m. The resort also has Spice restaurant where Pan-Asian cuisine is served, Pimms, serving European and Caribbean fusion foods and Blue with international cuisine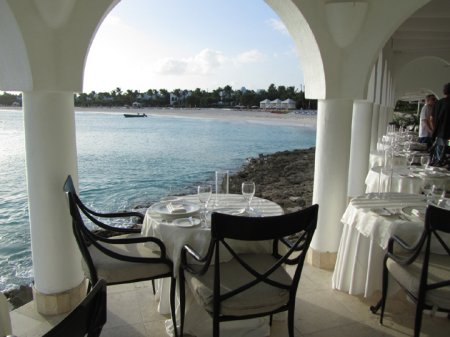 A wellness center offers a variety of new cardiovascular training equipment, including treadmills, stair climbers and light weights. Massages were offered in the spa or the room. I opted for an in-room massage. It was wonderful, executed by a very competent massage therapist. Other resort amenities include two fully stocked libraries and free use of computers in the libraries.
Not far from the resort is the only golf course on the island. Temenos is a lush Greg Norman Golf Course managed by Cap Juluca. The 18-hole course has the mountains of St. Maarten in the distance and the sea nearby. The course is a challenge for experienced golfers and also playable for average players.
I did manage to visit some of the other luxury properties on Anguilla and had dinner at the Viceroy, a multi-million dollar property that opened in late 2009. The CuisinArt Resort was another stunning resort. Both of these properties are located on beautiful beaches and have many amenities.
CuisinArt has a Hydroponic Farm and serves organic meats and chicken in their restaurants. The executive chef has a garden on the property where he grows fresh herbs which are used in the preparation of meals for guests. CuisinArt also has a lavish 19,000 square foot spa offering a variety of specialty treatments including a Healing Waters Mineral Soak. The resort also has beautiful gardens throughout the property.
The Straw Hat Restaurant at the Frangipani Beach Resort is another dining option. The restaurant serves a fusion of local and Caribbean creations and has tables overlooking Meads Bay. The Malliouhana Hotel and Spa also overlooking Meads Bay is an exceptional resort for families. There is a water park adjacent to the resort that is owned and operated by the hotel. Wine enthusiasts should check out Malliouhana's wine list. There are more than 25,000 bottles of wine in their cellar and the resort offers wine tasting events under the direction of long time, Sommelier, Albert Lake.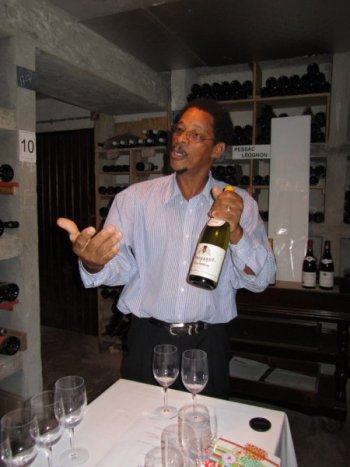 I took time to explore is the Heritage Collection Museum which contains historical relics from the island and its inhabitants. There are also about two dozen art galleries on the island which offer a mix of local and migrant Anguillian artists.
Sandy Island is a fun day trip. I took a boat to the island and enjoyed a lunch of crayfish and island cuisine and snorkeling in the beautiful turquoise blue waters. I also relaxed in a hammock by the sea. What other way is there to live? Let me know.
Phyllis eating Crayfish on Sandy Island
Photos by Phyllis Steinberg
Cap Juluca, www.capjuluca.com
CuisinArt Resort, www.CuisinArtResort.com
Island information, www.anguilla-vacation.com
Viceroy, www.viceroyanguilla.com
Sandy Island, mysandyisland@hotmail.com
Heritage Collection Museum petty@anguillanet.com
Straw Hat, Frangipani Beach Resort,www.frangipaniresort.com
Malliouhana Hotel and Resort, www.malliouhana.com
Premier Taxi Service, premiertaxiandtour@hotmail.com