Ingredients: Good People, Outdoor Adventure, Romance, Black Eyed Peas and a bit of Jamaican Rum! (perhaps more than a bit)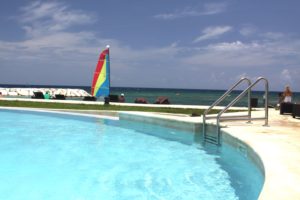 Getting There
Jamaica is conveniently located only about 90 minutes from Miami. A number of airlines make this route daily including American and Delta and Jamaican Airlines flies to other select cities in the USA. When you want a vacation with as little hassle as possible, a vacation in which you leave work somewhere else – where everything is included, consider staying at some of Jamaica's top all inclusive resorts. Jamaica is an all season destination but is especially popular during the winter months as well as Spring Break.
Where to Stay
Secrets Resort, Wild Orchid
This classy adults only resort is located in Montego Bay or as the locals say, "Mo Bay" and had been open only several months as of the time of our recent stay. This is the type of resort that has strong appeal to couples, especially those deeply in love on honeymoons or those wanting romantic getaways!
The resort boasts 350 plush suites. The rooms are definitely one of the highlights here – they are very well appointed and furnished – you feel like a king or queen in one of the large beds which are surrounded by an elegant canopy with draw curtains. Too far to walk downstairs to the hot tub – use the one in the room, complete with jets.
Unlike the lady we saw floating in the swim up suite pool with cell phone plastered to one ear and a drink in the other, most people when taking their vacation here do so without being glued to the cell phone. How much do you want to do, how little do you want to do? It doesn't matter.
With 8 restaurants located on site with cuisine ranging from French to Japanese to Mexican and a number of buffet options it is guaranteed one will never go hungry. Too lazy to go downstairs to find food, just call room service.
The bars of course are one of the highlights of this inclusive resort. Choose from eight of them! Barracuda Bar is always a happening hangout and with an amazing selection of drinks and versatile bartenders you never have to have the same drink twice. The "Bob Marley" is especially popular with customers, and as expected, this drink is red, yellow, and green.
Interested in drinking late? Check out the nightclub which stays open until 2am.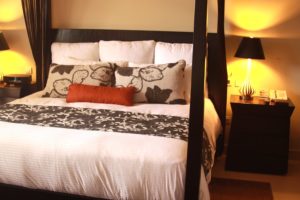 The Secrets Spa by Pevonia anchors one end of the resort, away from the activity of the pool scene. Use the spa or make an appointment for one of the treatments including facials and massages which take place in one of their 15 indoor treatment cabins (couples cabins are of course available for simultaneous treatments).
The water experience is certainly a big part of this spa. After your treatment jump into the the hydro bath and choose from a variety of jet and waterfall shoulder massage options. Several water treatments are available including the foot bath stone walkway which begins with an ice cold foot bath and ends with steaming hot water. A sauna and a steam bath are also on site. A separate room contains foot and manicure stations. It is pretty easy to whittle away several hours inside this Spa.
Sandals Negril Bay
Sandals has 11 properties on the island including Sandal's Beach Negril located at one end of the enticing Seven-Mile-Beach. Negril is self titled, "The Capital of Casual". This all inclusive resort has everything to keep one happy there are many activities including water sports, nicely designed pools including swim up suites, 7 restaurants and a plethora of interesting bars. Those who want a greater detail of service can opt for the butler suites; a butler is at your beckon call from morning to evening.
Choose from six restaurants on premises including the quieter (at the end of the resort) Barefoot by the Sea. As the name indicates it is literally located right on the beach with sand underneath your dining tables. Couples opting for more intimate and romantic dining experiences can reserve private beach tables lit by candlelight – these are away from the main dining area.
No island resort would be complete with out its swim up suites and swim up bars. Sandals delivers both of these and more – the "more" being live entertainment at the poolside including when we visited, a game show type host conducting water bingo. Judging by all the drinks in hands of the contestants floating in the pool, and the loud laughter, everyone was probably going to claim to be a winner.
This Sandals property has also attained the highest level of LEED Certification. In 2008 they were certified LEED Green Globe Platinum and were the first hotel on the planet to reach this coveted status. Weddings are a daily event.
Negril Activities

If your looking for fun and a well stocked bar consider taking a ride in the large Catamaran at Sandals Resort in Negril (about 60-90 minutes driving from Montego Bay). We've heard that Jamaican's have the most churches per capita and also the most Rum Bars – you can even find Rum bars at Churches – as well as on boats. This catamaran is no exception – they have a well-stocked mini bar. If there ever was an LA song, it is "I Gotta Feeling" by the Black Eyed Peas, but we will always remember the good times rocking on top deck of the Catamaran with this song blasting away!
A highlight is pulling into the small cove that sits in front of one of the world's top beach bars – Ricks. This place is always packed, especially in the afternoons and definitely in the evenings where its one of the most happenin' places to watch the sunset.
Not to be outdone by the sunset are the free divers who dive from frightening heights. Watch them climb up a tall tree which sits at the edge of a cliff, then they perform acrobats in their free fall to the ocean below. The "rest" of the adventurous divers, do so from ledges built above the cliff, and for those who want to say they've "dove off of the cliffs at Ricks", can do so from a small platform maybe only 10 feet above the ocean!
Area Attractions
A number of intriguing attractions are located within an hour or two driving of Montego Bay.
Look no further than Chukka Caribbean Adventures to satisfy any outdoor adventure cravings you may have! From Dog Sledding, Ziplining, River Rafting, Cave Tubing, ATV rides, horse riding & swimming in the ocean and more, Chukka is the go to Adventure company on the island.
Look no further than Chukka Caribbean Adventures to satisfy any outdoor adventure cravings you may have! From Dog Sledding, Ziplining, River Rafting, Cave Tubing, ATV rides, horse riding & swimming in the ocean and more, Chukka is the go to Adventure company on the island.
Chukka has done a remarkable job with dogs that were rescued from the streets or from the Jamaican Society for the Prevention of Cruelty to Animals (SPCA) and housing them and turning them into sled dogs. Sledding in the Caribbean? Believe it. The dog teams get really psyched up to pull you (fast); before leaving they strain at the leash and bark, only to be in their "element" once they are actually running…and run they do with speeds up to 30 mph. At these speeds you whip around corners among trees while the driver deftly handles the tight cornering. All this happens close to the jagged coastline where part of Papillion (1973) was filmed, starring Steve McQueen and Dustin Hoffman.
Jimmy Buffet has his name or his namesake song, "Margaritaville" plastered on a number of locations on the island. As soon as he heard about the idea of a Jamaican dogsled team he became exited and now is one of their main supporters. Around Chukka, he is affectionately referred to as the "godfather".
Rose Hall – Annie Palmer was a small lady who liked to kill her husbands as well as some of the slaves that lived on the property. She is referred to as the 'Witch of Rose Hall' for good reason. Some of the murders were downright gruesome, involving knife stabbings and hot oil. This massive building is privately owned and is open to the public. A tour is with a guide and you will visit all the main rooms in the house including where the murders took place.
Annie's grave sits outside the house. If your lucky, your guide will break into song next to her tombstone and treat you to a rendition of 'Ballad of Annie Palmer' that Johnny Cash wrote in the 1970's in tribute to Annie. In the 1980's mystics conducted a voodoo ritual at her gravesite which was never completed (3 crosses are hand painted on the grave with the 4th side not marked). As a result, it is said the ghost of Annie Hall is able to escape the gravesite through the unmarked side and wanders the house and property.
Still, your in Jamaica – despite the gruesome murders that took place here, the dark cellar can be a happening place with a well stocked mini bar.
Dunn's River Falls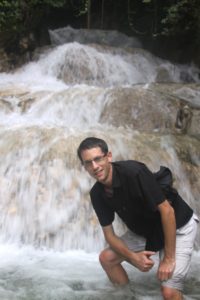 What sounds more cool on a hot humid Jamaica day than cascading natural waterfalls in the jungle flowing down steep rock faces which drop directly into the ocean. You can experience this in Ocho Rios at Dunn's River Falls. This is one of the most popular outdoor tours in Jamaica…for good reason. Its an adventure that can be enjoyed by all ages, from those who are more adventurous and want to climb up the river with a guide or those who simply want to relax either on the beach or in the river.
This is a river experience, you will get wet! The water is refreshingly cool (compared to the ocean). All climbers hook hands while climbing and the guide gets the camera's. With a large group our guide was wrapped in straps and cameras, but not a camera was wet by the end of the climb!
While there is a plethora of food at either Secrets of Sandal's resorts, consider checking out some of Jamaica's local cuisine. Where better to do this then at Scotchies, in the region of Ocho Rios (not far from Dunn's River Falls). The specialty here is Jerk Chicken and other Jerk Meats.
A huge "Jerk" kitchen or "jerk pit" if you will, is open for viewing. Watch the large pieces of fire roasted wood as they slowly turn, cooking the meat. This type of cooking was introduced in Jamaica during the time of slavery by a group of people called the "Maroons", those escaped slaves who fled to the hills forming their own communities and types of food. Their cooking involved secrecy – cooking underground so that the smoke would not be seen. There are few places on the island whose Jerk Meat is on par with Scotchies. They also have a restaurant in Kingston. When thirsty, reach for an Appleton, Jamaica's own Rum producer
More Resources
Visitor Guides
www.visitjamaica.com – official visitor's guide
www.islandbuzzjamaica.com – videos and other tourism media buzz
Inclusive Resorts
www.secretsresorts.com/en_us/resorts/jamaica/wild-orchid-montego-bay.html – Secrets Resort, Montego Bay
www.sandals.com/negril – Sandals Resort, Negril
Attractions
www.chukkacaribbean.com – Chukka Caribbean
www.rosehall.com – Rose Hall House
More Photos