Visitors to Madrid in Spain are always enthralled by the myriad activities and attractions throughout this beautiful city. From its beautiful squares, scenic artistic landscapes and fascinating history, you'll never have a dull moment. Among all those attractions, however, one spot really stands out from the crowd, and is a must-see while you're visiting this charming city: the Plaza Mayor.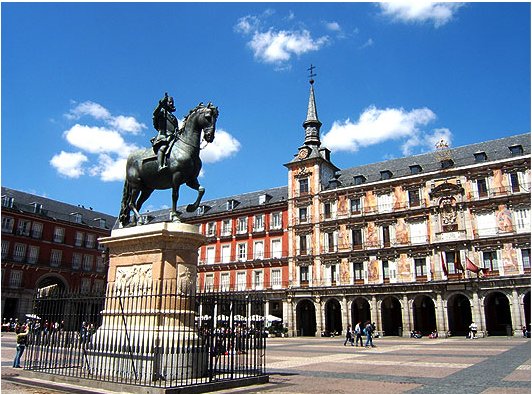 The Plaza Mayor is one of the absolute best spots in the city to relax and observe its liven up atmosphere. The plaza isn't very large – in fact, it only measures 130 metres long by 90 metres wide – and though it can hold up to 50,000 people at a time, it's a surprisingly peaceful spot. You're more likely to see lounging tourists and strolling couples than large crowds.
While the plaza won't likely be bursting with people, it is absolutely packed with history. The site dates back to the Middle Ages, though at that time it was little more than a public market. In the 1560s, King Philip II commissioned Escorial architect Juan de Herrera with the job of turning the market into a real city square. King Philip II unfortunately didn't live to see his project through to fruition, and it wasn't until 1617, during the reign of King Phillip III, that the plaza was completed under the direction of Herrera's successor, Juan Gomez de la Mora.
The original square was surrounded by wooden buildings, which at one point were six stories high. Unfortunately, the buildings surrounding the Plaza Mayor have been destroyed by fire a total of three times since the original construction was completed. The first fire burned the plaza down in 1631, followed by a second fire in 1672 and a third fire in 1790. Each time, the plaza was rebuilt. The plaza that exists today was constructed from the designs of Juan de Villanueva.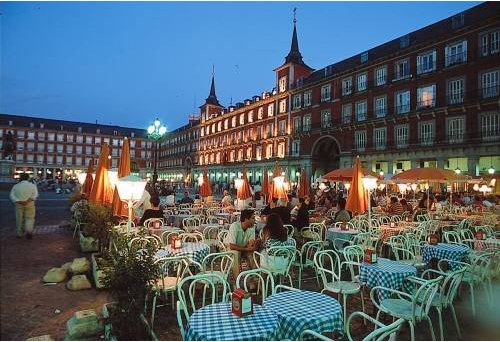 At the center of the plaza stands a statue of King Phillip III cast in bronze. It was constructed in 1616 by Italian sculptor Giovanni de Bologna and his apprentice Pietro Tacca. The statue was originally housed at the Casa de Campo, but it was moved to its permanent home in the square in 1848.
Since its conception and original construction, the Plaza Mayor has been a sort of cultural hub in Madrid. The square has seen events ranging from festivals and bullfights to royal coronations and public executions. While you're unlikely to see any beheadings and coronations, the plaza is still used for frequent public celebrations – and even an occasional wedding.
During the summer months, tables and chairs are set out scattered across the plaza. Tourists are welcome to relax and rest their feet, and waiters from nearby restaurants will approach to offer food and drinks from their menus. The dozens of cafes and restaurants offer excellent fare, and once you've rested up a little, there are loads of shops where you can browse through rare coins and other antique items.
Also, plaza mayor is a great spot to find cheap apartments in Madrid that you can book online and come to spend a great break with your family! Come a check all the beauty of the Spanish capital.
Author Bio
Hans Beltran is a world traveler, who enjoys writing everything regarding holidays and vacations. Passionate about SEO and world history, found in writing the perfect way to share his experiences with his fellow travelers.