Maybe it was a bad omen that I'd memorized Cinderella before I could read.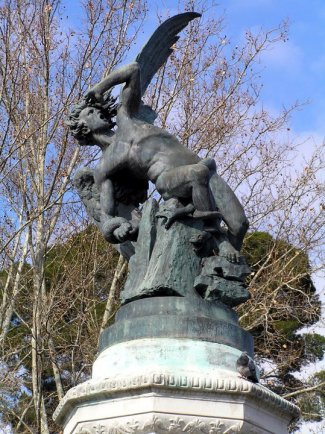 By winter 2004, I had to accept that my life was turning to ashes. Single, living alone in Manhattan, I found myself without steady income, and few, if any employment options. My seemingly endless supply of crazy ideas to otherwise help keep me clothed and sheltered had long gone up in smoke. Factor in frequent, lengthy illnesses and my lifelong propensity for being physically near major disasters – earthquakes, erupting volcanoes, fires, 9/11, bombings – my friends said that I clearly was in need of rescue.
The image of a knight in shining armor riding in to save me from the big, bad dragon, Life, was insulting. On the off chance though that I should entertain this fairytale idea, for a mere second, what shape would my gallant knight take?
My champion would enjoy travel and foster relaxation.
My chevalier would support my creative pursuits and dreams.
My caballero would be sunny – no, not in disposition, in actual climate and temperature!
Adding in my love of good food and wine and "pretty" surroundings, it became clear that my prince was a knight of the European realm, but which one remained unclear.
While walking Manhattan's snowy and icy streets, my thoughts of this chivalrous rescuer evolved from annoying to amusing to assured. Italy could be my errant knight – no, too predictable. All women "in transition" seem to run off to Tuscany. Having fallen in love with France, its food, culture, language and people on my first trip abroad, it was another obvious choice. I'd already been there though, and wanted to be rescued somewhere new. A good friend had gone to Spain and LUVed it, but I'd never really thought twice about the country before.
With each crunch of my black boot on the fresh white snow, I mulled over possible European knights: France, Italy, Portugal, Spain, Greece. Then I caught a bit of the conversation between two people walking in front of me.
"She speaks a little English, he speaks a little Spanish, it works for them, so he's moving to Madrid."
Madrid, Spain, a home to knights! Why not Madrid? Spain's golden sun could re-energize my stagnant life. I would lounge in the warm Spanish climate, sipping tinto (wine) and scribbling great thoughts with the language's rolling rr's, lilting ll's, and quaint "lisp" happily dancing around me. I would travel and write; I could write about my travels. Spain likes writers, or writers like Spain – "Hemingway wuz there" – so it would be the perfect place to pursue my writing – a near impossible quest while bouncing between jobs in New York. Yes, the caballero (knight) I needed was Madrid. I was in love and we hadn't even met yet, Madrid and I.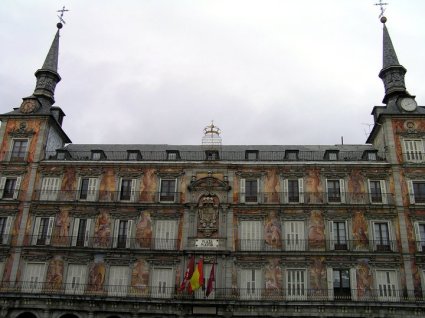 In a burst of excitement, this Cinderella gathered her fine clothes, climbed into her grand coach – Iberia Airlines – and was whisked off to the ball – in Spain.
Mi vida espanola (Spanish life) began with a two week "pre-vacation" in Sevilla – I wanted to build the tension and anticipation of connecting with my true love, Madrid. Through Spanish classes, I started to make friends with fellow students. Wandering the cobblestoned streets, I was awed by the remnants of ancient Roman aqueducts, just hanging out there in the middle of streets and in between houses, as modernity whizzed by them without a second glance. I marveled at the tasty simplicity of garbanzos con espinacas (garbanzos with spinach), and the complex beauty of the Catholic Cathedral with its Muslim Giralda and the Moorish fort and palace, the Alcazar. During the ferias (festivals) or while out with friends though, my mind fixated on Madrid – my skin tingled at the mere mention of the capital city.
When the time came for me to leave Sevilla, I was excited. I was nervous. I was finally going to unite with my caballero. A couple of hours after leaving the warm Sevillian sunshine, I descended from the AVE coach into pouring, bone-chilling rain. I arrived at my apartment, isolated from the heart of the city, in some desolate outskirts barrio that had nothing more than a sparse couple of apartment buildings, a pharmacy and a freeway overpass. As I stood at the door to my new, questionable Madrid residence, my fairytale dreams starting to tatter, a mouse scurried across my foot. Maybe he was once my coachman.
The next day, I began my second round of Spanish classes, but unlike in Sevilla, I connected with no one. Then came the raging case of bronchitis. It left me bedridden, when not in class, for most of my first two weeks in the capital city. Any remaining romantic Spanish notions disintegrated with each spike of the thermometer and painful cough. During my convalescence though, Madrid hosted a fairytale wedding complete with princes and dukes and earls. Sadly, Principe Felipe hadn't come for me.
The sun finally came out, drying up my illness and the city. I moved from my outskirts apartment to something more central to the sights, the language school and more lively neighborhoods. Yet I still felt like I was living on the outside. The language classes having proved a bust, I tried to build a community elsewhere. Each day at the same time, at the same place, I would have a cafe solo (espresso). Spaniards would burst in with their greetings of buenas, slam their cafe, chat with "Jimmy" the barista and leave. Unsure of customs and conversation starters in "traditional" tapas bars, bistros and cafes, I sat alone before the counter like Cinderella before her fireplace. Surrounded by loud energetic chatter, I sipped in silence.
Around town, at museums and landmarks, at Parque de Retiro and in the gardens surrounding the Palacio Real, I watched the madrilenos (people of Madrid) pass by. They came in groups, in pairs, no one was ever alone – only me. Upon arrival in Spain, I'd picked up a temporary cellphone. I had a couple of acquaintances in Madrid, plus I'd thought I'd make more friends. Sitting on a bench in the Jardines de Sabatini, the warm air cooling as the Spanish sun slowly set, I'd wondered why I'd bothered to get a phone. I'd left messages for people, but the phone remained silent.
I guess building a connection with one's caballero takes time and patience, virtues I don't really possess. This must be the part of the fairytale where Cinderella occupies herself, probably with menial chores or in my case, looking for work, while Prince Charming is out searching for his princess with the glass slipper.
Americans not transferred to Spain by American companies or married to European citizens have few employment options, typically only one: teaching English. The interviewers ranged from the strange – the man who seemed to be interviewing the fly in the corner not me – to the disorganized, sending teachers 50 kms outside of Madrid to teach a class starting at 7:30am not to have another class until 5pm. Yet in the end, all the administrators said they couldn't get Americans visas anyway. What? Then why had I bothered? This meant that if they gave me work, like many English teachers I met, I'd be living and working in Spain illegally. And Cinderella worked below her skill and pay level to dodge La Migra (immigration), living happily ever after – until her eventual deportation. "Illegal" – definitely not part of the fairytale.
With no social or professional network to call on, the clock quickly ticked down to the midnight when my tourist visa turned into a pumpkin and I'd have to leave at my scheduled departure, a flight I'd booked with no intention of taking. Should I stay – illegally? Was this it for my fairytale expatriate existence? Did my caballero not want me as his lady fair? Damn him!
Even as I waited in line to board my flight back to the States, I hoped a knight would swoop in on his steed to save me. But that only happens in fairytales.
A couple of years ago, I returned with a friend to Spain, to her hometown, Valencia. But Madrid was there, tucked not so far away in the fan folds of my mind. While in Valencia, I contracted bronchitis yet again. Okay, Spain, I give up! How about we just be friends?
Recently, a big change and a big move came once again knocking on my door, as often is the case for us wanderers. Before undertaking my next awesome adventure on another continent, I felt driven to visit places nearby that I haven't yet been to as well as to return to some old friends. Paris, I've missed you. Lisbon, let's lunch. And then there's my hard-to-get prince, Madrid. Should I return to Madrid?
The idea lingered with me for a couple of days. I could give Madrid one last chance. The more I thought about the trip, the more I liked it! My former champion was calling me back to his streets, his barrios, parks and people. Yes, I wanted to go. I was even excited to go! Vamos a Madrid! (Let's go to Madrid).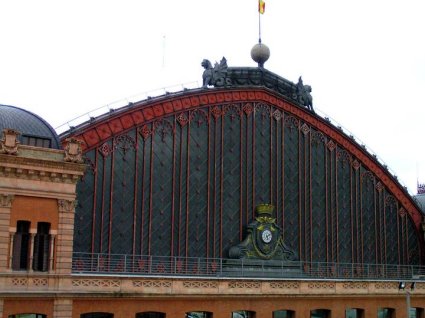 Madrid-Barajas Airport looked different, thankfully smelled differently, too. I was tired, and a bit anxious to be back on Spanish soil, but once I boarded Linea 8 towards Nuevos Ministerios, my muscles relaxed. By the time I arrived at my transfer station, Colombia, my breathing had evened out. As I made my final transfer to Linea 2 at Principe de Vergara, I felt almost like I'd never left the capital city. Metro signs and directions looked familiar. Even with luggage, I moved easily with the crowd. Finally, I arrived at Puerta del Sol, the same area I had stayed in so many years before. I ascended the station into crowds, police activity and pockets of small fires. Madrid seemed to be giving me an exuberant welcome. It turned out that the police and fires were part of labor reform protests, but what the hell, !Hola! Madrid.
I easily found my former hostel a couple of blocks from the metro station, amazed that after almost seven years, I knew where I was: the museums are to the left, Plaza Mayor and Atocha to the right, Palacio Real right and "down", and Parque del Retiro towards Atocha and then a bit more left.
I strolled the calles (streets) with the confidence that comes with familiarity. Spanish, I spoke with less confidence, but managed to get my basic points across. Like a local, I went to a friend's concert, had drinks and met friends of friends. I think one of the band's members thought I was a random groupie until a couple of days later when he realized I was "with the band" – me, a Spanish groupie!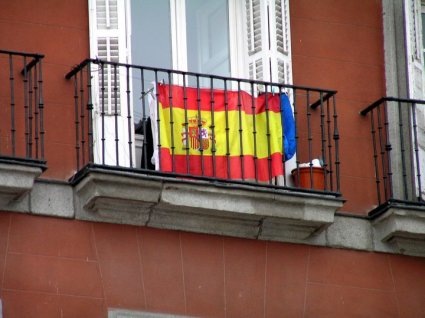 Mediterranean food and bit-sized tapas provided comfort during lonelier times in Spain, so while lounging in bistros writing postcards or taking story notes, I treated myself to some favorite snacks. The sauce of the patatas bravas (spicy fried potatoes) didn't taste as spicy as I remembered. The dense egg and potato richness of the tortilla espanola (thick potato egg omelette) though, was more delectable than ever. The large variety of tintos remained magically refreshing and delicious.
While at the museums and parks, I noticed more individuals among the throngs of couples and groups. Lazing under a crisp blue January sky by the statue of the tortured Angel Caido, (Fallen Angel), I felt calm, almost at home.
My quick Madrid return ended with a cozy dinner at my friend's house outside of the city. The food was simple, fresh and flavorful and the conversation fun and lively. Maybe I could be the belle of the ball without a companion prince.
My original fairytale madrileno hadn't ended in happily ever after. I didn't get my principe and ride off into the majestic Spanish landscape. But this time as I said adios to Madrid, it was more like saying good night than good-bye to a treasured friend I knew I'd embrace again soon.