The architecture, art work and monuments in Rome deliver infinite examples of the classical art movements and religious art. Botticelli, Michelangelo, Da Vinci, Donatello and Titian are among the big names in Roman art whose art can be admired in the city. Architectural structures such as the Colloseum, the Pantheon or St Peter's Square in Vatican City are significant landmarks in the city that represent the elegance and classic beauty of the city.
But also lovers of contemporary art and modern architecture won't be disappointed when renting apartments in Rome. As of last year the city has an impressive counterweight to all the classic art that can be seen in Rome. I am referring to the MAXXI, Italy's first National Museum of XXI century art. What is particularly striking about the MAXXI isn't just what you will find inside, but also the building itself is a true masterpiece of modern-day architecture. Designer of the building, architect Zaha Hadid has won the prestigious Sterling Prize for this project in 2010.
The museum stands in the rather dull district of Flaminio characterized by apartment buildings and formerly the place of army barracks. This in mind, a futuristic complex building would be the last thing that would fit into the scenery. But Hadid is a true professional when it comes to weaving a building into its surroundings which she has proven before with a factory she built for BMW in Germany.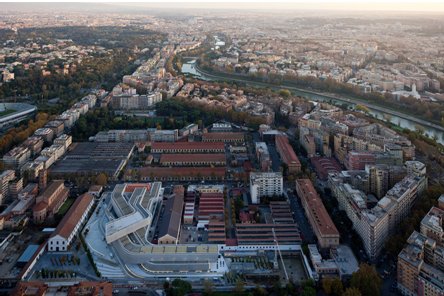 Walking up to the MAXXI you don't see an exaggerated super fortress but a subtle and smooth concrete building that bears interesting constructions and silhouettes when you get closer. Integrated in the space are moving walls to be able to separate into different exhibition spaces. The hallways are differently shaped and curvy and add a sense of movement without being too overbearing.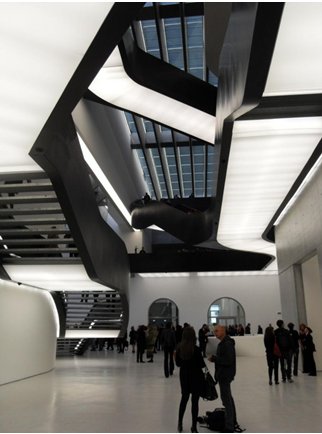 The MAXXI is an important address for people who are interested in architecture and contemporary art of with a focus on the Italian art of today. In addition to exhibitions – permanent and temporary – the MAXXI organizes activities and cultural programmes.
I have been to Rome twice; the last time last year, but unfortunately I didn't have time to visit the MAXXI. The pictures I have seen of the building are incredible. It is definitely on my list of things to do the next time I rent apartments in Rome.