110 degrees. All day, all night. This was my first Grecian experience. That, and an old man waving his reproductive organ at us as he peed in the street outside of our hostel. Welcome to Athens.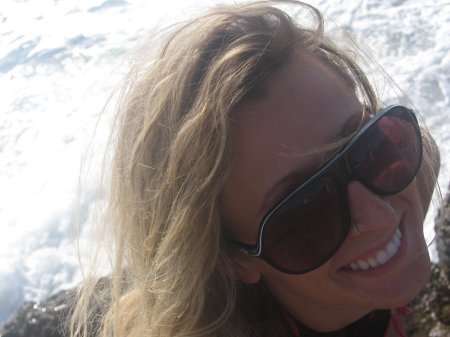 My friend Melissa and I were prepared for the overly friendly old men (we had just come from Spain after all), but the heat was another story. All day and night we would laid there, in our non-air conditioned hostel, with no fans, waiting for that one hour between 3 and 4 AM where the temperature got down to 90 degrees and we could catch a nap before the heat escalated again. Now, there was no denying that Greece did have it's splendors and beauty, but even the majesty of the Acropolis and the fact that we passed the Temple of Zeus on our way to McDonalds were both dampened by the stifling humidity.
Most backpackers know, however, that there are certain kinds of travel disasters that either defines you as a traveler or just a vacationer. The Grecian heat we were experiencing was one of those defining moments. Melissa and I, we were travelers, which meant we looked Apollo in the face and said, "Bring it on! You can't stop us!"
He did. Four nights of sleeping on the cement balcony of the hostel in hopes of catching a breeze had done it, and the next day we were on an overnight boat to the Greek Island of Santorini.
Stepping off the boat, we realized we had left the heat of the Hades and arrived in heaven. Snow white, round-roofed buildings with blue doors made up little towns along one side of the island, black sand beaches lined the coast on the opposite side, and family owned wine vineyards filled the spaces in-between.
After a good night sleep, we found a place across from our hostel that rented four-wheel quads. Since the local island busses made their rounds whenever they felt like it, we decide to rent the quads for transportation. We met the owner of the rental shop, who, thanks to his fancying of Melissa, gave us his two brand new quads and huge helmets to rent for the next two days.
We rode to all four corners of the island, going to the several beach cities, view points, hill tops, and of course, a mini-quad wine tour of the local vineyards. We followed the one (and only) road all around the island, and discovered that it led us to a dead end: the port. The port, where ferries and cruise ships docked, was located at the bottom of a very long, steep, and windy road.
After making it safely down the road, we explored the port for a while, then decided to get back to the hostel before dark. Just as I was about to mount my bike to rev off into the sunset, I realized I had a problem. My helmet. I just could not been seen wearing that big, bulky-bowling ball helmet any longer. My head was too small, and it either rocked forward, covering my eyes, or backwards, chocking me with the neck string. Since the helmet seemed determined to be the end of me, I decided not to wear it. Besides, none of the local bikers were wearing helmets. I might as well strap a light on the back of my bike that said "tourist!" To my dismay, however, the helmet was so massive, that there was nowhere on the quad to keep it besides my head. Grumbling, I snapped the strap on and began the ride up the steep road.
The road was so long and windy, that after about ten minutes, my mind began to wander. I looked around at the view. I looked off into the crisp, blue Aegean Sea with all the boats hovering in the bay, waiting for their turn to dock. So beautiful.
But wait, what is that? I squinted.
It was a boat, but it didn't look like the other white modern cruise ships. It was wooden, with long black sails, and it looked strangely familiar.
Oh no! I gasped when I realized, It was a pirate boat! I'd seen all three of the Pirate of the Caribbean movies; I'd recognize those boats anywhere!
As I was mentally preparing for a pirate ransack of Santorini, I hadn't realized that my quad was veering off the main highway and riding along the large rocks on the shoulder of the road. Before I was able to correct my path, my quad caught on a steep rock and WHOOSH! It flipped upside down and set me flying through the air!!
It's funny how those moments when you know you are about to experience great pain, or possibly death, go very very very slowly. Too slowly. So slowly that my whole life could be replayed before my eyes like a movie. But finally, I hit the cement, landing on my head and neck, bouncing back up into the air, then landing back down on my back, and skidding across the one lane road, before coming to a halt on the opposite side.
For several minutes I just laid there, sprawled out across the pavement, hoping that a bus wouldn't come down anytime soon. I could hear Melissa screaming as she ran closer to me.
"Oh dear," I thought, "she is probably going to bring up the fact that I opted out of the travelers health insurance I swore I didn't need."
By the time she reached me she was in hysterics. I hadn't determined if my legs still worked, so I remain sprawled out on the highway staring at the sky. But the fact that I could hear her screaming told me that I was still alive. That was a relief. I wiggle my fingers and toes. Well, I'm not paralyzed. That's good. That would definitely put a damper on the rest of the trip.
I was able, with Melissa's help, to get up to my feet. Once I was standing I did a mental inventory of my body parts to make sure they were all there.
"Well, my right arm doesn't have much skin left on it, and my big toe nail is gone, but that seems to be the worst of the damage." I noted.
As I headed over to the quad (laying upside side, wheels spinning in the air) the wind blew and my back lets out a piercing sting. I reach behind to feel and my hand came back covered in blood. Yikes. I guess this is what happens when you ride quads in a bikini.
"How does my back look?" I asked Melissa.
"Um, there are long gashes across it that are bleeding." She replies.
"Oh…Like Jesus?"
"Yea, like Jesus."
Well, that can't be good. We all know how Jesus ended up.
I, however, surprisingly did't feel much pain, probably because the shock of it had not worn off yet. After assuring Melissa that I was alive and could walk, we turned our attention to my belly-up quad. We managed, with much wrestling and rocking back and forth to finally get it right side up and surveyed the damage. There was gasoline splashed all over it, and one side was severely scratched, but that was about all.
"I hope it starts," I half-said, half-prayed aloud as I turned the key. It grumbled angrily to life, and we both sighed a sigh of relief.
"Ok," Melissa said, "let's take this stupid things back before you kill yourself."
I didn't even bother to argue.
By the time we got back to our hostel the sun was setting. I took a long shower to wash the blood off me and cleanse my wounds. Then we sat on the porch together, staring at the scratched up quad and trying to strategize a plan to drop it off without the owner noticing the battle scars. He had specifically mentioned that the bikes were new, and that we would have to pay for any damages done to them. What was he thinking, giving two American girls brand new quads?
Well, since only one side of the bike was scratched, we came up with the ninja-assassin plan to wait until dark, drive around the block so we would approach the bike shop from the right side, and I would park the bike extremely close to the side of the building, that way the scratched side would be covered by the wall, at least for a few minutes. Then we would run.
The plan worked. I was able to park so close to the wall that I almost couldn't get my leg out.
"Did you have fun girls," the owner asked in his thick Greek accent.
"Uh-huh," I responded as I handed him the keys. Melissa was already halfway across the street.
As took off my helmet, I notice for the first time the large crack and the conclave indent on the back, no doubt from when I hit the asphalt. And to think I almost didn't wear that helmet! That would have been my skull! If I were not trying to swindle my way out of damage charges, I would have dropped to my knees and said a prayer of gratitude. I guess that to wait until that after I made my escape to the bar.
I made a mad dash for the local tavern down the street. Melissa was at the counter already on a barstool. I gave her a high five. We did it! With the stress of the day finally over, we both began laughing hysterically with relief as we reenacted the whole story for the bartender. But right as I was coming to the final scene of the story, Melissa and I both felt a hand on our shoulder. Startled, we looked to behind us to see the owner of the shop, hugging us each with one arm, his face right between ours. Uh oh.
"Um, girls," he started, "did something happen to one of the bikes today?"
Melissa and I looked at him, then at each other, and then at the bartender, who was looking just as guilty as we were.
"Um, which bike?" I stalled, trying to think of an excuse.
"The blue one, the one you were driving."
Silence. The bartender turned around and began pour beer from the tap into a glass.
"No."
"Nothing"
"Nada"
"Not at all." Melissa and I were talking at once.
"Or maybe someone hit it while it was parked!" I came up with the white lie a bit delayed. Melissa gasped, as if she had never heard of someone doing such a horrible thing. The bartender was shaking now from trying to control his laugher.
"You know, it might have been the person who used it before you," the owner said, as if trying to help us get out of our own pickle.
"Oh, well then, yes, of course, it must have been them."
"Definitely them," Melissa emphasized, nodding.
"Ok then, that's alright, don't worry about it girls!" the owner clapped us both on the back, shook our hands, wished us a good time in Greece, and left the bar, mystery solved.
As the bartender shook his head at us, laughing, I remembered the words of the Greek philosopher, Plato, who said "Honesty is, for the most part, less profitable than dishonesty." He apparently had crashed a quad before. I waved the guilty feeling aside and decided to take Plato's advice. Guess we were avenged for everything Greece had put us through.