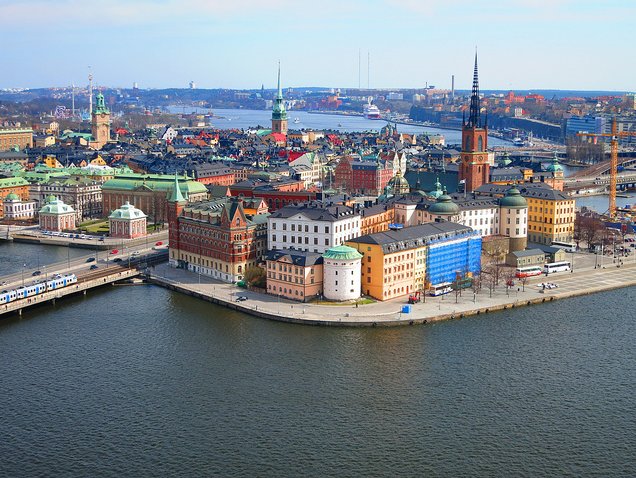 Located on the east coast, Stockholm is Sweden's largest city and its capital. Vibrant Stockholm is actually built upon 14 islands but is easy to traverse on foot and is the perfect location for an exciting weekend city break.
Stockholm is an amazingly diverse city, a mix of the historic Old Town, modern architecture and natural beauty spots. This was the first city in the world to have a natural park in its city as well as the world's only fully-preserved 17th-century ship in one of its many museums. A beautiful city to visit, Stockholm breaks also offer the best in restaurants and nightlife options as well as the chance to go island hopping by ferry.
Stepping back in time
The city of Stockholm boasts many fascinating museums and the Vasa Museum is one of its most famous. The Vasa attracts millions of visitors each year who come to view the amazingly well-preserved Vasa war ship built in 1628 and viewable over six different levels. The Royal Palace is also well worth a visit and contains five museums as well as reception rooms dating back to the 18th century. To save time and money it's well worth buying The Stockholm Card, which provides admission to 80 museums and attractions as well as free travel on public transport.
Dining out in Stockholm
As you would expect from a cosmopolitan city, there is no shortage of restaurants and cafes in Stockholm. According to the experts the city is experiencing a culinary boom and new restaurants are constantly springing up. Södermalm, called Söder by the locals, is one of Stockholm's most diverse and colourful areas and contains a wealth of bars, cafés, clubs and trendy restaurants. The island, which can be reached by bridge, contains dining options to suit every taste and budget including Chinese, British, American, Turkish, Moroccan and, of course, traditional Swedish cuisine.
Sightseeing in the city
This city contains many sightseeing options including the largest hemispherical building in the world, the indoor arena Ericsson Globe. If you want some of the best panoramic views of the city then head to the top of the City Hall Tower, which rises 106 meters. Step back in time by visiting the Gamla Stan medieval Old Town, which dates back to the 13th century and contains a beautiful town square surrounded by narrow winding streets. If you're looking for family entertainment then the 200-year-old Gröna Lund Amusement Park features roller-coasters, haunted houses and a Viking ship ride.
Island hopping in Stockholm
If you have the time to spare then take an island-hopping trip around Stockholm's archipelago by ferry. There are more than 30,000 islands to explore and you can enjoy hiking, swimming, cycling and canoeing with accommodation comprising of campsites, hotels and hostels. Ferry passes are available for up to a month's worth of trips. If visiting during the summer months there are some beautiful beaches to enjoy such as those on Sandhamm and the resorts of Möja.
Images by akasped and akasped used under creative commons license