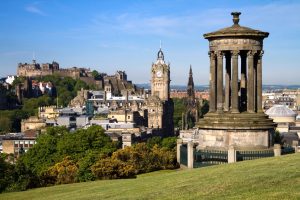 If you've landed in Edinburgh for a day or two, there's so much to see in so little time. It is strongly advisable to bring a good pair of sneakers, as everything is uphill, with cobblestone streets. Flip flops and Edinburgh don't match! I'm here to tell you how to squeeze in the top attractions when you're in a crunch for time. Believe it or not, what you're about to read is everything my travel buddy and I accomplished in 12 hours.
Scott Monument
The tower was built for the late Scottish author, Sir Walter Scott, in 1844. You can find the monument on Princes Street Gardens, steps away from Waverley train station. If you're willing to pay 5 pounds to climb 287 steps up a spiral staircase, and be dizzy the entire time, it's worth it. The views are spectacular! You can walk around to all 4 sides of the tower, which overlook the famous Edinburgh Castle. There's also views of the cliffs and the city.
Edinburgh Castle
I strongly suggest purchasing tickets in advance for this popular attraction. The ticket queue's can be a long wait during peak tourist season. Nevertheless, Edinburgh owes it's fame to the walled Castle. One can spend approximately 1 to 2 hours inside.
There's several buildings to see. For example, the castle is home to the Scottish Crown Jewels. Take the time to read the information plaques, as the history is very interesting.
My personal favorite was the Prisons of War. You can enter the cells where prisoners once lived. There's also some fantastic artifacts on display. The wooden cell doors are well preserved, and there's many little prisoners crafts. The engraved writing and drawings on the doors are still legible, if you look closely enough.
Arthur's Seat
This is truly a challenge for even the most experienced hiker. This attraction is exhausting, so I suggest leaving Arthur's Seat for the end of the day. It doesn't sound convincing, but I promise the end is worth it.
Do some research beforehand, as there are multiple entrances to the trail. Naturally with our luck, we took the longest and most intense trail. The path can get quite narrow and steep at some points. Good, non-slippery shoes are a must, because it can rain at any second in Scotland. It also gets very windy at the summit (to the point where it almost pushed me over), so a good coat should be on your packing list. Side note, a rain poncho doesn't bode very well in the windy high mountains of Scotland. Learn from my mistakes. At the top you'll find lush green landscapes, panoramic views of the entire city, and the North Sea. We had to take a taxi back because our legs were so knackered at the end (our hostel was only a 10 minute walk).
Walking tours
To end our evening, we participated in the spooky walking tour. The tour was mostly along The Royal Mile. It gives you a detailed history of Edinburgh's gory past. The guide tells stories of the Castle's darkest events, tortuous punishments used on criminals, and a walk through a cemetery. I always try to do the walking tours in Europe, as you learn about the city's history that you won't find anywhere else.
Getting from one destination to the next was also time well spent. It was really nice just walking around and looking at all the old architecture, and hearing the music of street performers. We stumbled upon a man with an owl perched on his arm. Hazel the owl, was definitely the main attraction of our Edinburgh segment. I've seen an owl maybe once in my life, let alone hold one! The owner felt that my travel partner was left out, so he surprised us with another owl friend, hiding in a cage.
My point is, Edinburgh is thriving in culture. Walk the streets and alleyways. Whether it's majestic creatures or abstract street performers, you never know what you might find.