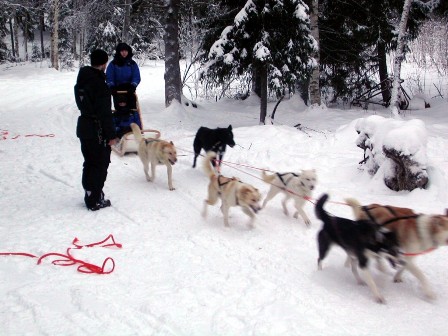 My love affair with Finland began the moment I stepped off the Finnair plane. My ancestry is Norwegian and I guess something primal in my Viking genes bonds me in kindred spirit with this unique Nordic land. Having toured over a hundred countries, this is virgin territory for me and what an utterly cool place to visit in January. I've packed enough thermal gear to survive the most brutal blizzards but on arrival in Helsinki today, there is no snow.
This is a friendly cosmopolitan capital for all tastes. Everyone speaks English, it's safe and I'm told, the cleanest city in Europe. It is virtually graffiti free as I stroll the elegant Esplanade. This is the boulevard of trendy shops and cafes. The sidewalks are heated. So much culture here with 7 symphonic orchestras, opera house and a library on each corner. Fins are big on design and big names have left their distinctive mark around the world with cutting edge style.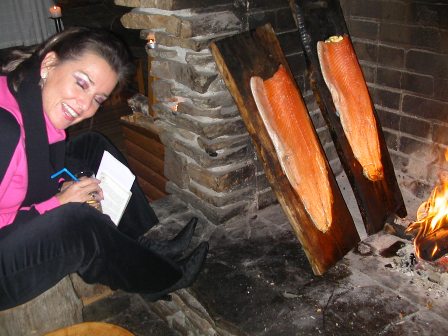 I am grateful to be here by invitation from the Finnish Tourist Board for a site inspection and travel conference. After hotel check in, I am given a private city tour by Irene, a local guide with sincere passion for her city. There are 560,000 inhabitants and 43% are single! What a venue for a creative AFS trip. Finland is 10% water with 187,000 lakes and 584 islands.
This is a high tech capital of the world. Fins have an extreme appreciation for innovation and love their toys. Everyday tasks are preformed on their Nokia Imaging cell phones. With it they can buy a tram ticket, pay a parking fine or program their lights to turn on before they arrive home. This is also "sauna world" where nearly every house has an electric sauna. There are over 2 million and even some restaurants have them. Cafe Tin Tango is a place where you can do your laundry, eat lunch and sip a beer in a sauna with locals discussing how to solve the world's problems.
The shopping is great for designer knitwear, jewelry and glassware. Although tax free, prices are high, yet I am told Oslo is far more expensive. At night locals fill clubs that provide some Nordic oddity like "gay karaoke", sauna and ice bars.
Sunday I fly the polar express 600 miles north to Roveneimi, gateway to Lapland and where the fun begins. People here ride bikes in the snow, swim in the ice holes and do artic picnics. The hottest activities happen in winter. Last month the city of 35,000 received 20,000 visitors. It is 2′ Fahrenheit and considered exceptionally warm.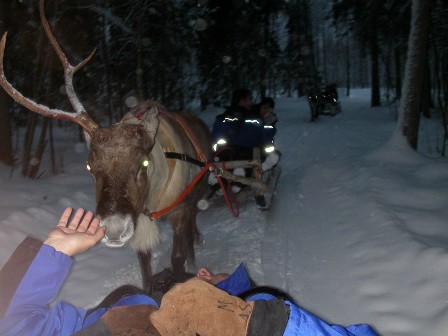 We are a group of 22 tour operators from around the world and check into a cozy wilderness lodge. Each room has a private sauna. Dinner is presented in a rustic lodge lit with traditional candles muted lighting. Glow fried salmon was prepared over an open hearth along with wild mushroom soup and blackberry mousse. Afterward we gather to bake in a smoke wood sauna.
Monday morning we are outfitted head to toe in Gortex artic suits for a full day snowmobile safari. We each mount our super Skidoos and head out to the forest. Across the lakes we reach speeds of 50mph! First stop is a husky farm with 200 dogs to greet us. Seven blue eyed huskies are chosen per sleigh for our dog sled adventure. The cacophony of yelping, howling and barking is near deafening as the dogs anxiously await their turn to run. So strong, so gentle and they love their work. Upon rope release, they're off like a bullet and the journey is thrilling. We get to view 9 new puppies. After a thousand licks, I hate to leave.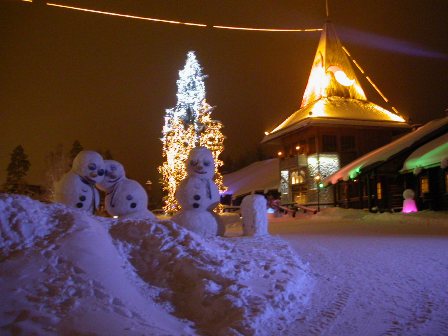 We stop at a farmhouse for a lunch of sauteed reindeer, goat cheese potatoes and cranberry ice cream. Back on our snowmobiles, we traverse a snow covered paradise. We cross the Artic Circle, the most northern terrain of all my travels. Parallel with Siberia and just 40 miles to the Russian border, I want to defect but we soon stop at a reindeer farm to be greeted by costumed Lapp-lads. They perform the customary Lappish baptism and give us an official border certificate as well as a reindeer driver's license. We then enjoy a sleigh ride from the docile yet powerful deer.
This is the land of the indigenous Sami. We learn of the fascinating culture of these semi-nomadic people who live on top of the world. Reindeer husbandry is the oldest livelihood. They possess a genuine love of this frozen land.
We had 4 hours of daylight today. As I change back into my jeans, I recall that I was never cold, not even my toes. We motorcoach north to Luosto, a village of 40 residents and check into a beautiful ski resort. Outside on my balcony is a theatre of wilderness. The purity of nature is shown through a forest of birch trees backlit by the moon. The snow listens. White silence surrounds me. I am entranced by the tranquility. This is a romantic environment where all haste is forgotten. Simply put, it is spectacular. Here I wait. Here on earth, the Aurora Borealis presents its most amazing spectacle. Perhaps I'll get a glimpse. A peaceful sleep overcomes me after a totally exhilarating day.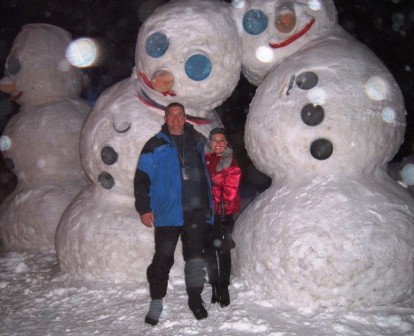 The next day we dine on a hearty breakfast of smoked fish and set out to tour the area. One resort has 310 log cabins each with a private sauna. We tour an amethyst mine, the largest working mine in Europe. With picks in hand, it was a treasure hunt to dig out the brightest purple gemstone. On to the tiny ski town of Pyha, where we lunch at the worlds largest log cabin. There is a snow chapel here entirely sculpted from snow and ice. Weddings are routinely performed. With ice pews, the sermons are short. Another highlight here was a visit to Santa Claus Village. I got to meet the "real" Santa. He lives here and is fluent in a dozen languages. His elves are busy in the post office answering the annual 40,000 letters from children around the world.
Back at the airport, our plane lifts off a runway of solid ice. I will miss the polar darkness and yet long to return for a visit in the summer with its 24 hours of sunlight.
The following days are productively spent at the travel trade show in contemporary Helsinki. I have learned so much of a land that exceeded my expectations. I never had a chance to overnight in the Ice Hotel of Kemi, ride the Sampo Ice Breaker or swim the Baltic Sea in a floating survival suit. But I'm grateful for a taste of Lappish adventure. On my last night, a flickering of northern lights dance in the sky. It's a perfect scene to bid me farewell and is said to bring good luck. I hope good fortune will allow me the chance to share this adventure with a group soon. It is like no where else I've been. Everyone should experience such a warm atmosphere in the heart in winter.
Join us on our tours! See Adventures For Solo Travelers www.afstravelers.com 770-432-8225 for details.