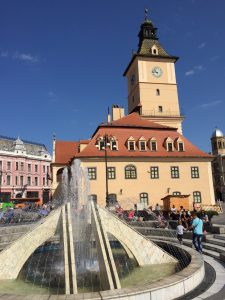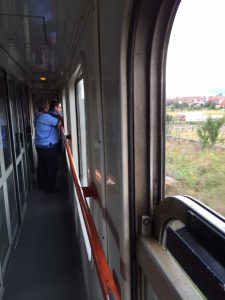 After a fun-filled day of exploring the historic and scenic sights of Sighisoara, I made my way back to the train station. The earlier encounter with the eccentric Romanian family was still vivid in my mind. I wonder what the next train ride back to Brasov had in store for me.
The train back to Brasov was a couchette car. It was old, stuffy and reeked of cigarette smoke, a far cry from the train I took earlier with a modern and air-conditioned coach. The coach I was in was nearly empty and my discomfort was worsened by the presence of child beggars who were there bothering me for spare change. I settled down in an empty compartment furnished with a tattered bench seat. Feeling bored and restless from the heat, I slid down the window and popped my face out to enjoy a breath of fresh air in the countryside.  While I was spacing out at the picture-perfect villages and scenery outside the train, I felt a chill at the back of my neck, telling me someone was behind me.
I turned around and saw a teenager in baggy clothes standing at the doorstep. He looked like a Latino, dark-skinned and his facial expression took on a sly and cunning aura.
"Run for your life, this guy is dangerous!" – My gut feeling was screaming at me.
He started rambling on in a language that I could not understand, with a few occasional English words like "It is OK, YES, please, money," and a hand gesture as if asking me for a favor. The whole situation really gave me the creeps especially the look of his eyes telling me he was up to something evil.
"Alright, that's it, bye!"-  I snatched my bag from the seat beside me and bolted for the door.
He was, however, one step ahead of me, jumping right in front of me with his arms out to block me from slipping out.
"What do you want from me!" – I yelled at him, my heart was pounding in my chest, beating so fast.
A smirk was plastered on his face.
I was frozen in terror, my mind went blank and my body turned numb. In that critical moment, I quickly gained back my senses and stood there debating my next move. He was about six feet tall and had an athletic physique. In retrospect, if I had broken out in a fight with him, I could have been easily knocked to the ground by him. As a person who always defends justice, I did not want to stay put and resign my fate to being a crime victim.
It was a tough call, however, I knew I had to do something, first thing first, I got to get out of the compartment!
An idea suddenly flicked through my mind, I put a hand on my tummy and twisted my face into an inconsolable wince, faking a stomachache in an attempt to get out of this mess.
"Excuse me! Bathroom, Bathroom!" – I thrust myself forward and forcibly shoved past him.
When I was in the hallway, I immediately leapt into action, yanking the doors of every compartment open in hopes of one of those were occupied by some passengers who might be able to come to my rescue.
First compartment – EMPTY!
Second compartment – EMPTY!
Third compartment -EMPTY!
Fourth compartment – EMPTY!
"DAMN! THIS IS A GHOST TRAIN!" – I cursed under my breath, getting more and more panicky with every passing second. My fear climaxed when I realized he was following closely and trying to pull my backpack away from behind.
Finally, I arrived at the last compartment and as luck would have it, there sat a beefy local guy who was in his 50s, holding a fishing rod and appeared to be enjoying the privacy of having the whole compartment to himself. I charged into the compartment like a lunatic and closed the door behind me.  Needless to say, the big guy was taken aback by the sudden presence of a trespasser. I moved my eyes motioning for him to look out the door, hoping he would understand my predicament of being hunted down by a potential predator. He was a smart guy, His eyes immediately lit up knowingly, asking me to come over and sit across from him, which I gladly obliged.
The Latino dude seemed to never give up, he was pacing the hallway as if trying to size up the situation before he acted. My rescuer shot him a fierce look, sending him ducking behind the door. I thought he was gone but actually, he was hiding in a corner outside the compartment, peeking through the door every now and then as if trying to wait for an opportune moment to rob the hell out of me.
"Why can't he leave me alone!" – My fear was turning into anger. The feeling of intimidation was dissipating, and it was slowly replaced by a burning fire of fury building up inside me.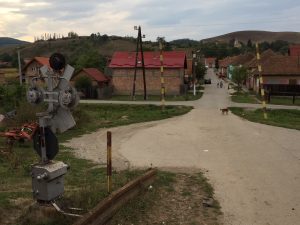 At one point when he was taking a surreptitious peek into the compartment, our eyes met and locked, a menacing and murderous look in my eyes made him retreat a step backwards. His reaction to my look was hilarious!  I was trying very hard to hold in a laughter.
After a while, the train pulled into the next station, he finally gave up on me and got off the train. As my eyes followed him, I saw him walked across the tracks to join a group of dodgy-looking youths in front of a dilapidated shack. Their friends seemed frustrated and disappointed with him coming home empty-handed.  When the train blew its honk indicating its departure, I tapped on the window to get their attention. They all looked to my direction with a rage in their eyes, one of them grew so upset that he picked up a rock and tossed it in my direction.
As the train picked up the speed, I stuck a hand out and waved at them, and soon clenched it into a fist, with a middle finger pointing up to the sky.