Twenty years after cycling the length of Great Britain with two friends, I received an offer to do it all over again. My initial thought was to say no, because I had since moved from England to Western Australia and it was a long way to travel for a bike ride. Also, our first attempt had been a foolhardy escapade, with little training or planning, resulting in a harsh lesson into the trials and tribulations of cycling on Britain's main roads in the peak of summer. Despite our naivety, it turned out to be an exhilarating adventure. After a few weeks training, we set off from Land's End, a majestic outcrop in England's southwest corner towards John O'Groats, a windswept enclave in the far northeast of Scotland. Along the way, we discovered that many of the hills in Cornwall and Devon were steeper than the roads in Scotland and met many amazing characters during the 13-day venture.
So what convinced me to fly to England, to do it all over again? The animated phone call from my friend was very compelling as he explained, "We've planned an alternative route and will be cycling off the beaten track most of the time."
"Tell me more", I asked and within minutes, was hooked. Whereas before, we had relied on paper based maps, this time our route had been meticulously investigated, then mapped out using GPS and downloaded onto a cycle computer. I was enthusiastically informed that our route would be along canal paths, bike tracks and country roads. Major roads were unavoidable in some places but would only be used when absolutely necessary. The only downside was that I would need to be fit enough to ride at least 1000 miles, in 13 days and had twelve weeks to prepare!
Each year, thousands of people attempt the end-to-end challenge, which is a minimum distance of 870 miles, if you travel on the most direct roads. Most cycle, some walk, others run and a few will drive. A small percentage start in Scotland and head south, but the majority commence in Cornwall and it was here that I found myself on a sunny afternoon, approximately 20 years after my first challenge.
We arrived at Land's End and were greeted by bright sunshine and a party of enthusiastic relay runners who had just crossed the finish line after 10 gruelling days and nights. While they celebrated by the cliff top, we posed in front of the famous signpost for a photo before commencing our own adventure.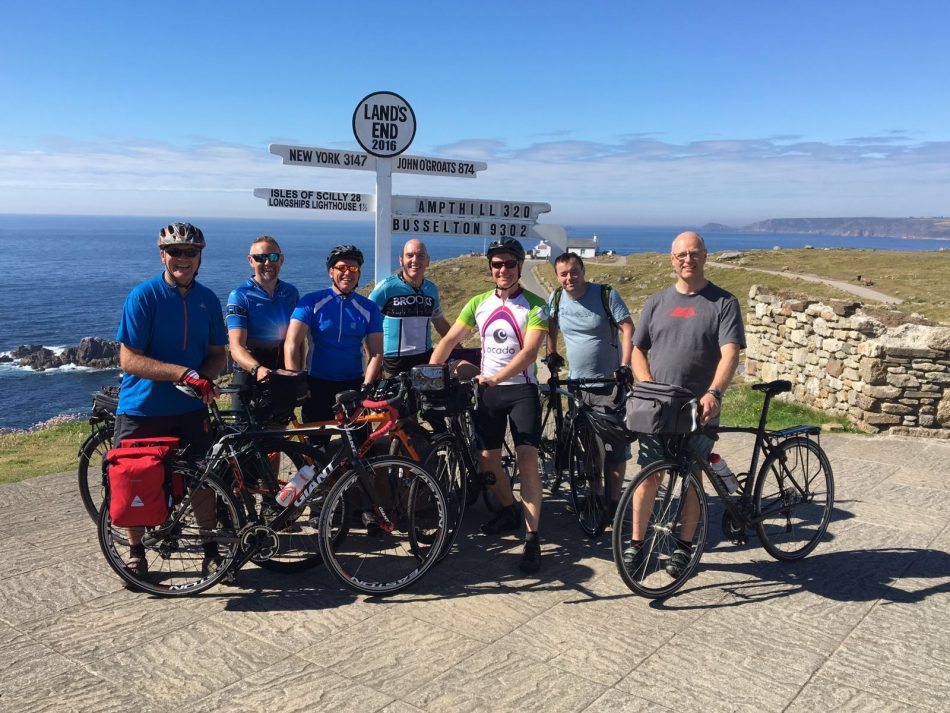 During our twelve-night escapade we experienced the full spectrum of British summers, from sunshine to storms. Our accommodation was pre-booked and ranged from basic hostels to welcoming farmhouses.
As expected, the hills of Cornwall were punishing, but it was the unseasonal 33-degree temperatures that sapped our strength. We passed through quaint fishing villages, overtook tractors and bypassed the busy A30 multiple times by using the designated cycle paths. Each rider had a map of the route downloaded onto bike computers, which beeped quietly on their handlebars as we zipped along country roads.
Occasionally, we cycled alongside canals and waved to moored boat owners, enjoying their breakfast. Our food intake differed each day. In Devon we found thatched cafes selling cream teas, further north we stopped at village stores for homemade pasties and tea.
Mousehole, Cornwall
After the undulations of southwest England we blitzed through central England and somehow slid through the urban mass of Liverpool by trail blazing along a converted railway line.
As we grew fitter, the hills skirting the Lake District seemed easier than anticipated and before long we were watching couples tie the knot, in the famous town of Gretna in Scotland. There was little time for sentiment, with long distances to travel each day and it was with weary legs that we went in search of food each evening. Sometimes we treated ourselves to pasta at Italian restaurants, and at other times, enjoyed simple meals in remote village pubs.
When at lasts the rains came, it was in a three-day deluge. But in the wilds of Glencoe the Gods were on our side, allowing the Scottish mist to momentarily lift as we battled high winds and tourists buses to gaze in awe at the steep sides of nearby peaks.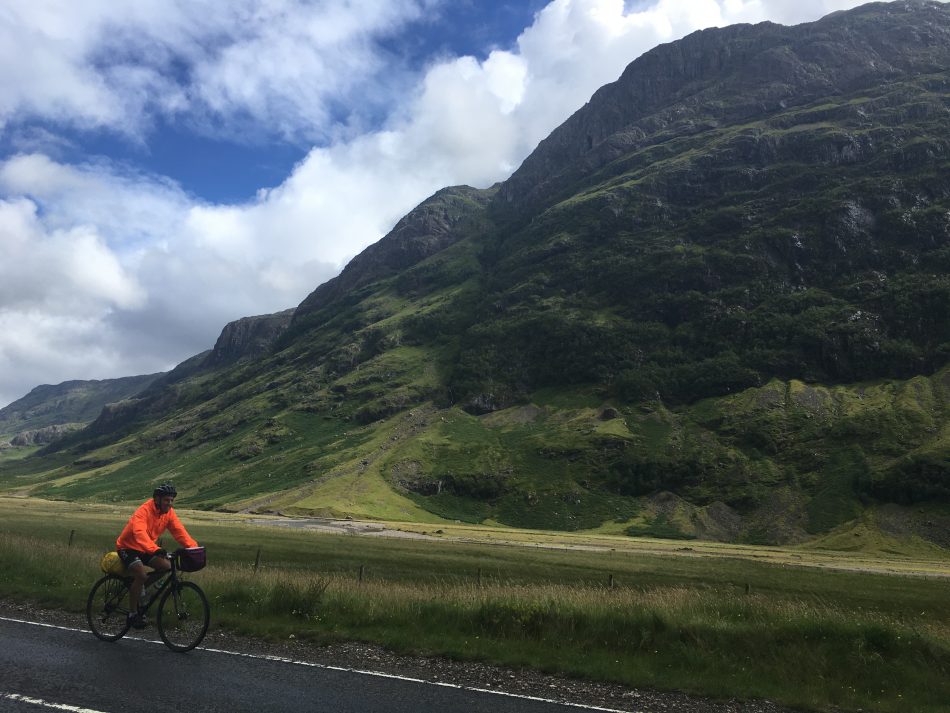 Riding in Glencoe
A day later, we went in search of the Loch Ness Monster and by nightfall, enjoyed a traditional meal of haggis, turnips and potatoes.
There were times when I got lost, or felt despondent, and times when I felt deliriously happy or too exhausted to turn the pedals. In the Highlands, I found myself on a windswept moor, with no cars, houses or people in sight for hours. While cycling, I called out to Highland Cattle and sang to the disheveled sheep that joined me on the lonely road.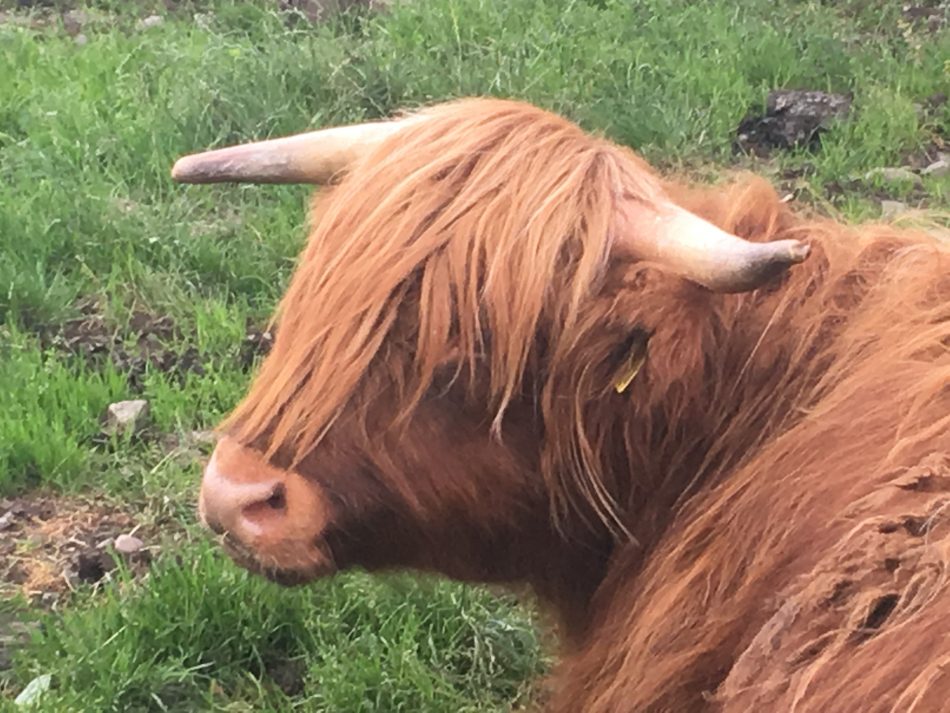 A Highland Cow! 
Cycling into John O'Groats with my friends on that final afternoon was a special feeling. Onlookers clapped and somewhere in the distance, bagpipes echoed across the dark waters of the North Sea. Some of us had shed blood, all of us had sweated and one or two shed a tear as our epic bike trip finally concluded. Our total elevation during the 13 day ride was 48,629 feet, which is approximately one and a half times the height of Everest. After 1,046 miles we had earned the right to call ourselves end to enders.