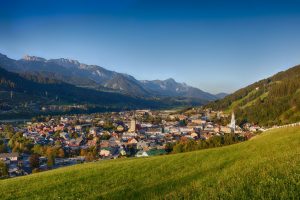 I live in Germany so Schladming, Austria was not my first choice. It was not my second choice. I'm not even sure if it was not my third choice. I wanted to go some place where they don't speak German but my husband wanted to go… so… okay, why not?
It was a two-day drive. The first night we stopped along the autobahn at a random hotel. Our overnight stay was nothing special. The hotel served its purpose and we were all packed and ready to go the next day.
Back on the autobahn. My husband was driving. I can drive, sort of. I mean, we would probably have lived to tell the tale if I drove, but as we got closer to our destination there were moments where I swear we would fall off the mountain. So in retrospect it was good that my husband took the wheel.
When the fear of dying on the side of the mountain passed, I found myself in awe of a magnificent view from the top of the world. It was summer, so we stood in the middle of lush green trees and plants but looking to the very top of the mountain I saw white that could only be snow. I felt like I was in a fairytale.
The hotel was nice. That's an understatement. Due to its location it was one of the most breathtaking places that I've ever visited. I could see mountains and valleys from every window. And one day while I was having lunch, there was a double rainbow in the midst of the valley. I didn't have my camera with me but there was no way that I was going to leave the window to go get it. Not every moment needs to be captured on film; some of them are captured in your memory. And this is one picture that I'll never forget.
I'm not going to write the name of the hotel because it's not the hotel that made this vacation memorable. I think most of the hotels in Schladming would give you the same effect. Being in the mountains is a special kind of magic and you will feel it even if you are staying in a tent.
We took several small tours during our stay. One of the most relaxing activities that I've ever done was taking a hike up one of the nearby mountains. The scenery, if you can imagine, was magnificent but what most people forget to describe is the quality of the air. I don't know if it was just me, but the air tastes so much cleaner. Also the higher you hike the more tired you feel because the air becomes a little bit thinner. We had to take several stops along the way to catch our breaths and while we were resting two old men past us and greeted us, "Grüss Gott." This is the Austrian way of saying hello, but if you translate the German word for word it means greet god. Since you're so high up in the mountains and since you're so close to heaven, if you see God then say hello for me. What a wonderful and lovely way to greet someone. These two very fit old men actually past us twice. It's a little bit embarrassing, but they live in mountains. I suppose mountain living just makes you stronger.
One of the most adventurous drives I've ever experienced was driving on the Grossglockner High Alpine Road. Once again the view is spectacular. We drove all the way to the top of the mountain and walked across the Dachstein skywalk. This skywalk is made of see-through glass so walking across it feels dangerous but it's perfectly safe. You won't fall. Looking down while you're so high up reminds you how small you are. And looking across and seeing the vast glacier, that's slowly melting, is one of the most memorable things that I've ever done.
Please don't forget your camera. The pictures we took are gorgeous. Also it's very cold up there, even in the summer, so take a heavy sweater or coat with you. I recommend putting sunscreen on your nose and ears because the sun can do a lot of damage even when it's cold. My husband got a little sunburn on his ears.
Driving back down the mountain was a little scary as my beloved purposely drove crazy around some corners, but I lived. I got my revenge by threatening to drive back home. You have to throw a little crazy in the marriage once in a while.
I don't like saying I was wrong about anything, but I was wrong about what Schladming could offer. It was not on my list of places to visit and things to do at all, but it turned out to be one of the most beautiful vacations that I've ever had.