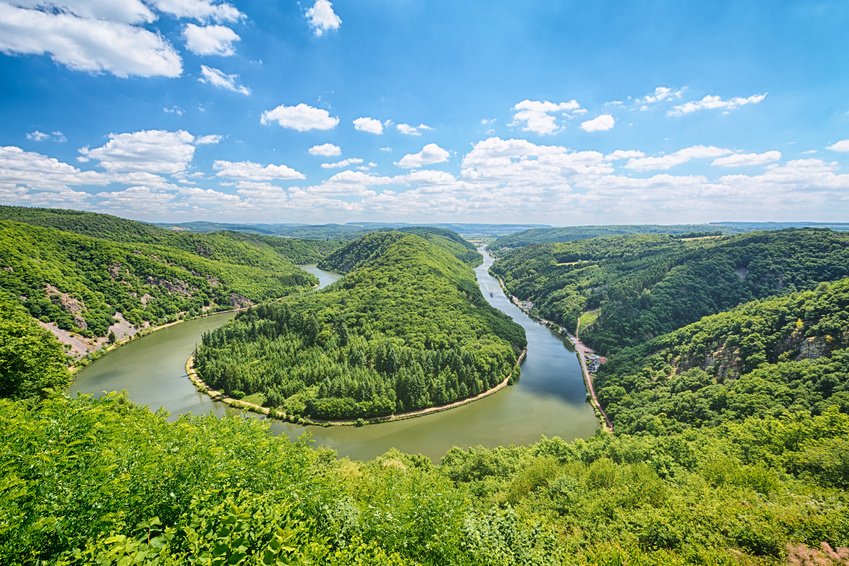 My fondest memories as a kid growing up in Germany typically involved hiking in green forests, visiting medieval cities, exploring roman ruins, cycling along river banks, driving through vineyards dotting the many low rolling hills, or taking daytrips to the French side of the border to gawk at life on the other side. This is Saarland, Germany's hidden gem. If you've followed any of my other articles, you'll know by now that what I enjoy most is to visit places that are not particularly commonly visited.
That's why, after 30 years away, I decided to go back last autumn to reacquaint myself with my old stomping grounds and show off to my children where I lived when I was their age. I was itching to know, had life changed much? Not surprisingly, I found it largely as I remembered it: rural and scenic, sparsely populated, and gorgeous as ever. The best part? No tourist crowds to avoid.
A brief history of Saarland
Saarland, named after the river Saar that meanders through it, is tucked on the German side of the France-Luxembourg-Germany tri-border region. To this date, it remains a major coal-producing region of Germany, a particular circumstance that has resulted in its long, contentious and incredibly important history. In fact, because of its industrial prominence, Saarland has been a key factor leading to some of the most consequential events of the 19th and 20th centuries, namely the Franco-Prussian war of 1870, which erupted right through the region, as well as World War I (see my related post on Verdun.) Even today, coal and steel are of vital importance to the local economy and numerous major factories here contribute to German economic might.
Going back to ancient times, the nearby city of Trier is also Germany's oldest city. It marked the western-most expansion of the Roman empire into the Germanic lands. In fact, Trier grew to be one of the most important cities of the western Roman empire – only Rome itself superseded it in grandeur and importance (see my other related post on Trier.) Important disclaimer: technically, Trier is in Rhineland-Pfalz, not Saarland, but it's so damn close that I'll just lump it in.
Talk about off the beaten track
I won't claim that Saarland is completely pastoral. But it's pretty darn close. It's also is not for everyone. However, those who seek a change of pace, who wish to go somewhere authentic where only German is spoken, should come to Saarland to destress. Here, you don't need to avoid throngs of souvenir-laden tourists who ruin your every mood. There are none to avoid! Life harks back to a much slower and more relaxed past and Saarland is perfect for those who wish to disconnect from the tubes of the internets and the googles for a while. (Seriously, Wifi is not widely available.)
The dialect of German that is spoken here is also unique to this region, and it's even more pronounced in the smaller villages and countryside. Even though I'm fluent in German, I still had to pay close attention to every word in order to understand what was said. Most Germans in the sophisticated big cities snobbishly dismiss the "farmer dialect" of this region but as Herr Johannes pointed out to me, it is remarkably similar to the dialect that Charlemagne himself spoke almost 1300 years earlier. (Oh yes, that other piece of history that I neglected – Charlemagne, father of Europe, was from the nearby Aachen region.) Saarlandic natives however, are not ashamed of their regional tongue. As the local saying goes, "If the dialect was good enough for Karl der Grosse (Charlemagne) then it's sure as hell good enough for us!"
Farm stay and other activities
We packed up the kids, loaded up the car and found our way to Wehingen, a pea-sized village just a stone's throw from the Luxembourg border. Here, we quartered at Bauernhof Johannes, a fourth-generation family-run working farm, one of hundreds that speckle this region. We spent our days volunteering our (kids') time contributing to the running of the farm. Every morning, the boys heartily bounded out of bed at 6am and sprinted to the barn to feed the horses and clean the stalls (in stark contrast to waking up on school mornings when we practically have to drag them out of bed at 730am!)
The rest of the day is spent relaxing, picking apples from the orchards, going for hikes along farms, up and down the hilly countryside and through forests. Wikipedia actually claims that almost a third of the Saarland region is covered by forest and, from the looks of it, it might be true. Bikes can be rented to leisurely ride along extensive cycling trails while river boats are at hand for those seeking further scenic experiences. Don't forget to pack your swim clothes, my favorite activity as a kid was to take a dip in the river while we were picnicking along the banks. Or simply behold the beauty of the region by driving through its many country roads, passing through villages that seem to have stalled in a different era. You'll definitely enjoy driving up steep slopes with extensive vineyards spread out over the hills as far as the eye can see.
While you're out and about joy-driving, make the Saarschleife ("Saar loop") a necessary stop on your route. It is where the river Saar bends back on itself in a 180-degree hairpin loop. A scenic overlook makes for magnificent pictures of the river and surrounding countryside (see if you can spot the hidden castle ruins on the opposing hilltop.) You can also hop on a riverboat to experience the views from a different angle.
For a piece of interesting industrial history, one can visit the original ironworks at Völklinger Hütte, a UNESCO World Heritage Site that is worth visiting. The views from the top of the blast tower are brilliant, if you can get yourself to scale up the hundreds of steps to the top. Definitely not for the acrophobics out there! But if you do dare, take a peek down to see how the forests are slowly reclaiming this once mighty symbol of human industry. Shockingly enough, a couple of the large hills in the immediate vicinity, so lush and covered with green trees, are not natural but rather the result of decades of coal ash deposits. The look pretty so let's just pretend we don't know the truth behind them.
Have I convinced you yet? Give Saarland a chance. If you are looking for a quiet holiday away from everything, you'll love it here.