These are some of the highlights of visiting select locations in Croatia, Hungary, Montenegro and Serbia. This trip was totally unscripted and unplanned. All we had were our plane tickets to Europe. We used public transportation to get around – buses, trains, city trams and metros where available. Note that while distances on the map don't look that far from each other especially along the Dalmatian Coast, the roads are narrow, windy and very slow going. Allow 3-4 weeks for this itinerary.

Belgrade Serbia
One of the nicest hostels we've stayed at is Spirit Hostel – the staff is welcoming both with their personality and the local alcoholic drink which greets you when you arrive. The staff sits down with you and reviews a local map, attractions and provide suggestions for what to do in town.
We received better hospitality here than in hotels two and three x the price. They have a limited number of rooms – bunk beds for couples and rooms with multiple beds for more people. We were surprised to also find slippers and a bathrobe on our bed! WiFi is included and they have several computers on site as well. This hostel is within walking distance to a number of popular streets and not far from the tram stops (public transportation). Visit: www.spirithostel.com
Belgrade is a fun town – especially for those who like to eat late, party late and generally enjoy the night life. The "bohemian" part of town is the Skadarska district and its main walking street. Many restaurants and cocktail bars are located within this area and Fridays and weekend nights get very crowded. Start your evening in the Skadarska district and then proceed to the clubs. A number of floating night clubs are located on barges/boats on the Danube and Sava Rivers. Oh and these clubs typically stay open until 4am – none of that early 2am closing you find in some countries.
This guy was wandering around in the middle of the street drinking beer. Cars were swerving to avoid him and honking – he was in danger until his friend pulled him out of the street. Oh yea!
Kalemegdan park – Belgrade fortress. This is a relaxing place to visit with great views of the Sava & Danube Rivers as well as central Budapest. A number of winding paths, grassy areas and park benches are here as well as a military display right outside the main walls. This is the oldest settled area in Budapest and for many years the city was contained entirely within its protective walls.
Tesla Museum – This museum is definitely one of the highlights when visiting Belgrade. The museum is small but many of Tesla's inventions are on display (a number of them still work). Guided tours (in English) are given and it is during these times that some of the models are demonstrated. Highlights include a Tesla coil which throws off an impressive purplish spark when turned on and the world's first remote controlled device (a large propeller driven boat with an equally large remote control device – first demonstrated in New York's Central Park). A golden globe in a separate room contains Tesla's ashes. The man is an under-appreciated genius whose inventions and ideas have profoundly changed the lives of millions of people. Visit: www.nikolateslamuseum.org
Knez Mihajlova street is setup for two things – shopping and people watching, oh and in the summer its a great place to grab a bite to eat from any of a number of restaurants who serve food from the outdoor tables. The shops typically aren't International high end brand names but are of very good quality.
Cathedral of Saint Sava is the largest Orthodox Church in the Balkans and one of the largest in the world. It is a rather new building and while the structure is entirely completed the interior still needs some work including murals and decoration. This is a rather impressive building – it is open to the public and donations are accepted.
Na Cosku or Iguana Restaurant serves International food at decent prices with a tasty array of dishes. It is a corner restaurant located just down from the Tesla Museum. From the outside you might miss seeing it as its fairly unassuming but the inside is elegantly decorated. Location: Beogradska 37.

Budapest, Hungary
Make a beeline from the bus station (walking distance) or one stop on the metro to Nightingale Mini Hotel (formerly Mandragora Hostel) at Blaha Lujza ter on the metro red line. This clean very quiet mini hotel offers a number of private rooms and the great part is its located in a building mere steps from the entrance to the metro and across the street from the street trams. WiFi is included in every room – the main reception has a small kitchen.
The metro here is Europe's second oldest (opening after the tube in London). The yellow line 1 is truly like stepping back in history – quaint and decorated like something out of a fairy tale. Be very careful that you always purchase and get your ticket stamped by the machines before getting on the metro. The metro "police" take their job very seriously and will fine you immediately for any unvalidated ticket. Unlimited 24 hour transportation tickets are also available.
Budapest is in part known for its Thermal Baths. Look no further than the extremely popular public Szechenyi Thermal Baths. They are a series of indoor baths at different temperatures ranging from painfully cold to hot – with saunas also at different temperatures. Cabines are available to rent for changing and storing items while you make use of the facility. Massage rooms are available in one building next to the outdoor pools. Visit: www.szechenyibath.com
Caves make up a fairly large part of the underground of some of Budapest's residential neighborhoods. Nowhere can you experience the darkness and claustrophobia better than in the 19km long Pal-volgyi-Matyas-hegyi cave in Duna-Ipoly National Park. you can take public transportation here from within central Budapest. The caving experience is typically 3 hours (heavy duty overalls, a helmet and headlight are provided). You will explore only a select portion of the cave but because of the small multi-level chambers and very tight squeezes it will feel like you've explored much further. There are a number of sections where you have to get down on your stomach and inch through like an inchworm because its so narrow on all sides. There is one rock with a small hole that only a small percentage of people who try to go through it will actually squeeze through. Its all about the size of your hips! For more information visit: www.palvolgyi.atw.hu
Caving: lets do it!
Castle Hill affords one excellent views of most of central Budapest including Obuda Island (home of the famous annual Sziget Music Festival) in the middle of the Danube River and of the very impressive Parliament building. No cars are allowed in this area (other than the main drop off point) so you can either take a taxi, bus or walk here from the main city below. The "hill" is a major tourist attraction and during the summer there will be bus loads of people here.
The Royal Palace is certainly a highlight of a visit here (although never occupied by the royals!); it contains several museums as well as the National Gallery.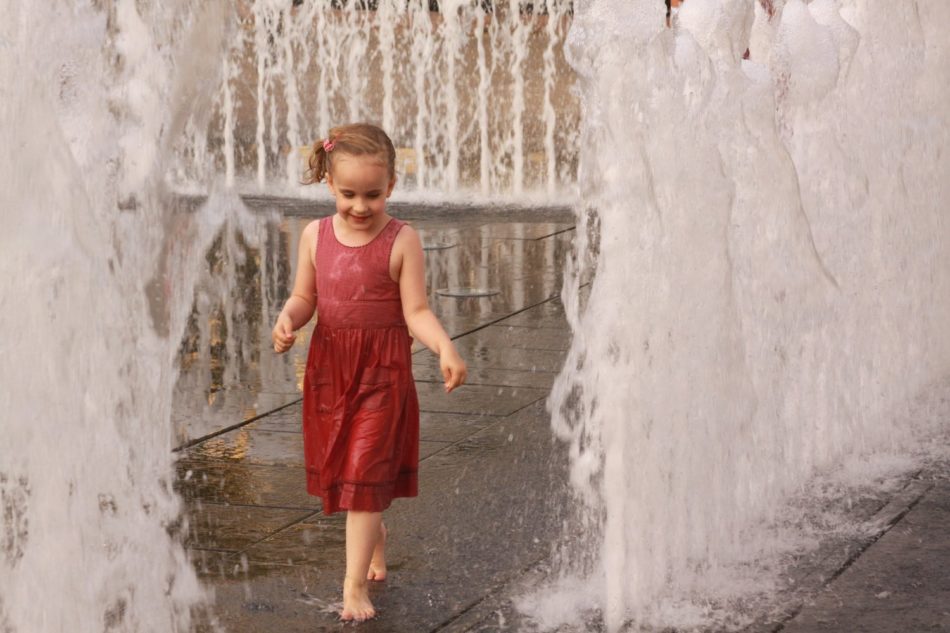 Buda Castle Labyrinth is an odd attraction that features fairly dark tunnels that wind beneath residential neighborhoods. This attraction used to be a wine cellar as well as a shelter during WWII. They certainly have a number of inviting signs around Castle Hill promoting the attraction but its actual location is rather hard to find due to its very small sign and the fact that it sits among a bunch of nondescript houses. The tunnels are mostly empty but there are a few very odd and eclectic displays (garbage piled into a corner, toilet sitting by itself, items encased in plastic, footprints in concrete claiming to be thousands of years old etc). There is even a "fountain of wine" which you will surely smell from a distance. In actuality there might be some alcohol in the liquid but its mostly turned to vinegar. Tasting or drinking this is not recommended due to it being recycled so it can keep flowing out of the spigot. For more info visit: www.labirintus.com/en
If the wine spigot in the Buda Castle Labyrinth has got you discouraged head over to the House of Hungarian Wines (also in its own caves) for some real wine tasting featuring as advertised, "Europe's 6th largest wine cellar". Enter and choose from a variety of wine tasting options then wind down the stairs to their actual cellar (a number of displays) and tasting room. Besides a nice escape during the summer from the searing heat, the highlights here are the Hungarian wines from Hungary's 22 wine regions, especially those from the Tokaji region (dessert wines).
Matthias Church is beautiful inside with lots of gold and ornate decorations; construction was started in the 13th century. Purchase your tickets across from the main entrance at the ticket booth.
Fisherman's Bastion is a white tower and lookout area behind Matthias Church. There are great views looking across the Danube River onto the Pest side of the city.
Ruin Pubs are located in "ruined" buildings that have been converted to pubs/restaurants. The ruined part of the building will feature in the restaurant – outdoor seating surrounded by old crumbling walls for example. A number of these are found throughout the city.
Its extremely difficult to find authentic Thai food outside of Thailand. The well-known chef, David Thompson who runs Nahm Restaurants in Bangkok and London never eats Thai food outside of Thailand. We can see why – its just not the same and often cooked for different "tastes". So it was rather surprising to find a small restaurant in Budapest that served rather authentic Thai cuisine. Thai Buddha is small, has an open air kitchen and some outside tables. The food is well prepared, tasty and pretty "thai" considering its location!

Kotor, Montenegro
This charming very picturesque town sits at the end of Europe's southern most fjord – the town by itself would be a postcard fit but when you add the cobalt blue water and dramatic mountains you have an idealic location. You also don't have the crowds of Croatia and its slightly less expensive. There are no major beaches in town although there are plenty of places to access the water for swimming and people do. If you want beaches, crowds and nightlife, Budva – about 35 minutes away has much larger beaches and crowds to go with them.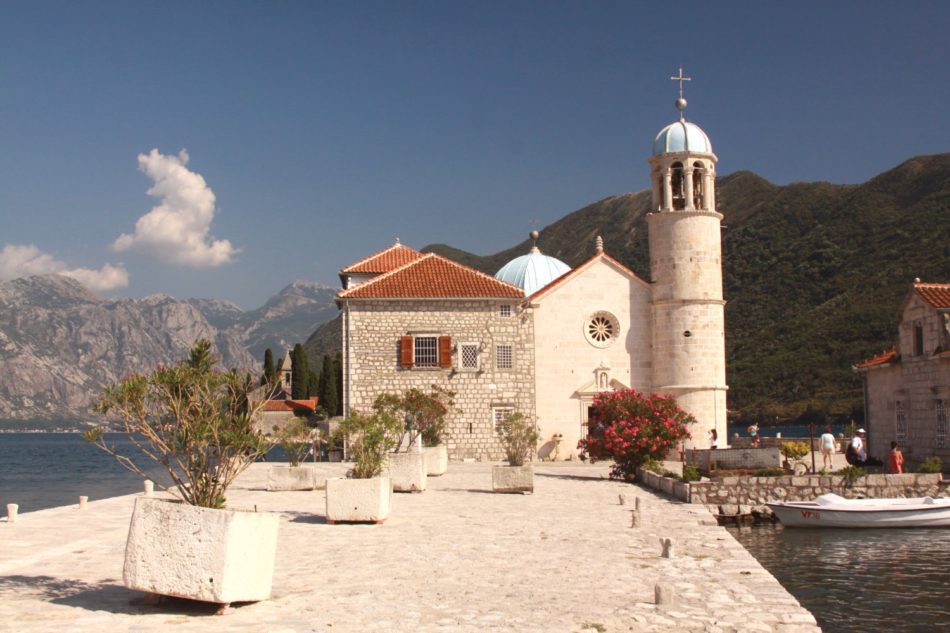 For those in shape and wanting some great views hike above the old town to medieval St Ivan's Fortress (two walkways lead to the trail from the back of old town). There's something like 1300 steps along the rocky trail and it usually takes one 45 minutes to an hour to reach the old fort. During the day there are ticket collectors at the bottom of the trail collecting nominal hiking fees.
There are a number of accommodation options in Kotor – nice hotels in the old town as well as private home-stays. If you arrive by bus chances are you will be met by several people offering to show you their home at the central bus station. The old city is the center of town and some of the home-stays are on the outskirts of town (making it difficult to reach if you don't have your own vehicle). We found several home-stays simply by walking into the old town and asking small shop owners if they knew of people renting rooms. Several owners didn't speak English so we merely made the universal hand and head signal for sleeping and voila one of their friends showed up with keys to a room! Old town can get quite noisy at night so check for restaurants/bars below and in the vicinity of the room.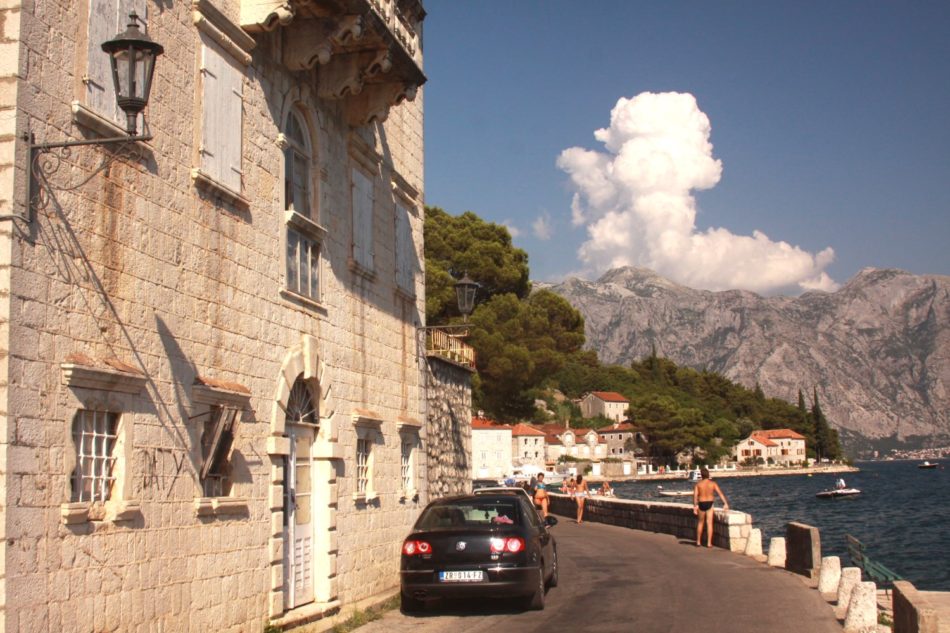 A must do half day trip is to the small town of Perast – about 35 minutes from central Kotor. This charming long bay side town is most visited as a place to catch boats to two small islands – St. George island and Gospa od Skrpjela (Our Lady of the Rock). Each island contains a small church. There are no sand beaches in Perast but there are plenty of swimming spots and even a few gravel beaches outside of town. The water is super clear here.

Split, Croatia
– Brac Island
For a friendly place to stay as well as being a hangout for International travelers check out Al's Hostel – www.hostelsplit.com/ located in the heart of old town. This hostel is setup for single travelers – all dorm style, but in the summer Al can recommend nearby home-stays for couples. When you arrive in town you will be sure to be greeted by the "grannies", older ladies who hang out trying to attract the attention of tourists so they can show them rooms. We checked out a few of these rooms – they were generally higher priced and not as attractive as some of the established hotels.
Split offers the quintessential summer time crowded Mediterranean experience. Hordes…droves of tourists crowd the narrow streets of the old city and pack the harbor front in all directions. Its people watching at its prime.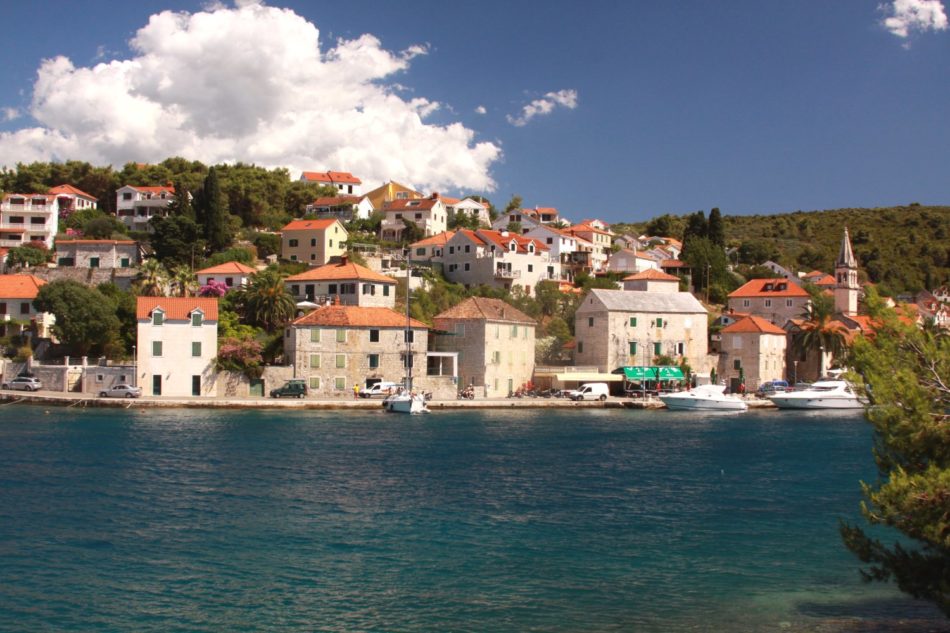 It is always nice to experience this craziness, yet at the same time if you are looking for a break, head across the water to the island of Brac (pronounced Brach). You can buy your ferry tickets near the entrance to the ferry harbor. The trip takes about 50 minutes on the car ferry (during the summer ferries leave every hour to 90 minutes) and you will arrive at a small town called Supetar. This pretty town can easily be explored on foot but to see the rest of the island on your own you can rent a car or motorbike here. There are several vehicle/motorbike rental companies in town including one close to where you exit the ferry. Buses also make the trip around the island if you have more time.
The island's main road is super narrow and windy and often with little traffic during the summer days (everyone already at the beach!) it makes for a pleasant ride. Nothing comes close to riding a motor bike on a warm European summer day on an island. The beautiful blue and aqua marine water is never far away as well as the aromatics that only the Mediterranean can deliver. The smell of fig trees, lavender and pine trees were all enjoyed while riding past small vineyards, olive orchards and even old Roman quarry's. This island is well-known for its high quality marble – the marble that was used to build the white limestone columns at the White House in Washington DC came from this island.
Motorbikes are great – you can get off the beaten path and even explore rugged roads/trails that normal vehicles don't have the clearance for. We found such a road on the north side of the island. It cut between two small villages and included fun stretches of steep rocky ruts which required some careful navigation. But the reward was small coves with small beaches, clear blue water and no one there (sort of a rarity in these parts!). The small town of Pucisca is a gem and this time of year, made for swimming and seemingly that's what most of the town was doing – all ages.
Eating, drinking and swimming – from village to village. Most restaurants serve locally grown ingredients for their salads in the summer. This is the way a salad should be delivered – all fresh with unfiltered vinegar (right, one shouldn't be able to see through the vinegar), oil, salt and pepper you grind out in large chunks. You prepare the dressing yourself, simple and delicious – so Mediterranean.
—
Airfare – there are several low-cost European based airlines that fly to a number of cities. Easy Jet, Ryan Air and Wizz Air have well established routes and often decent prices – even at the last minute. Note that these airlines have a variety of other add on fees on top of the base fare including checked luggage fees.
Money – Hungary accepts the Forint, Croatia takes the Kuna, Montenegro has long accepted the Euro and Serbia accepts the Dinar.

More Information
Serbia Tourism: www.serbia.travel/
Montenegro Tourism: www.montenegro.travel