France's oft-neglected eastern border is notable for a few things: lush countryside, Germanic architecture, and storybook charm. There's nowhere in the world that sings to the heart like Alsace; somehow, its cobbled streets create the desire to get lost in back alleys with a pastry or two.
Alsace is a fairly small section of France, with just under two million people calling it home. Strasbourg, seat of the European Parliament and capital of the newly-created Grand Est region, is an easy two-hour train journey from Paris. Other major cities in Alsace include Haguenau, Ribeauville, and my personal favorites, Mulhouse and Colmar.
Mulhouse
I arrived in Mulhouse ("Mull-ooze" in French) entirely by chance. Unfortunately, my travels through the area coincided with a nationwide railroad strike (not uncommon in France, as evidenced by websites such as C'est La Grève). As a result, many trips via rail required multiple transfers, including mine from Dijon to Besançon. While reading my map aboard a train outside Besançon, the doors closed just as I realized I needed to switch. I arrived forty minutes later in Mulhouse, a town in the Haut-Rhin département. Rather than immediately departing for Besançon, I decided to explore.
Mulhouse is notable for its variety of architecture, from the Beaux-Arts façade of the Musée sur l'Impression sur Etoffes de Mulhouse to the ultra-modern lines of the Origami socio-cultural center. Mulhouse's center square, Place de la Réunion, boasts a particularly beautiful combination of buildings. It was stunning but empty, with only a few locals out for lunch or sitting on the steps of the church.
Colorful buildings line one edge of Place de la Réunion. To the left is the Hôtel de Ville.
Imposing Temple Saint-Étienne and the carousel beside it. Large pieces of the church were being redone while I was there.
I spent three hours just walking around and looking at the buildings. I punctuated my strides with trips into The Book Corner, where I purchased yet another Harry Potter novel, and two different bakeries. Alsace is known for its kugelhopf, dense and rather cylindrical pastries served with candied fruit and powdered sugar. Ravenously hungry, I picked up an extra to take with me on the train.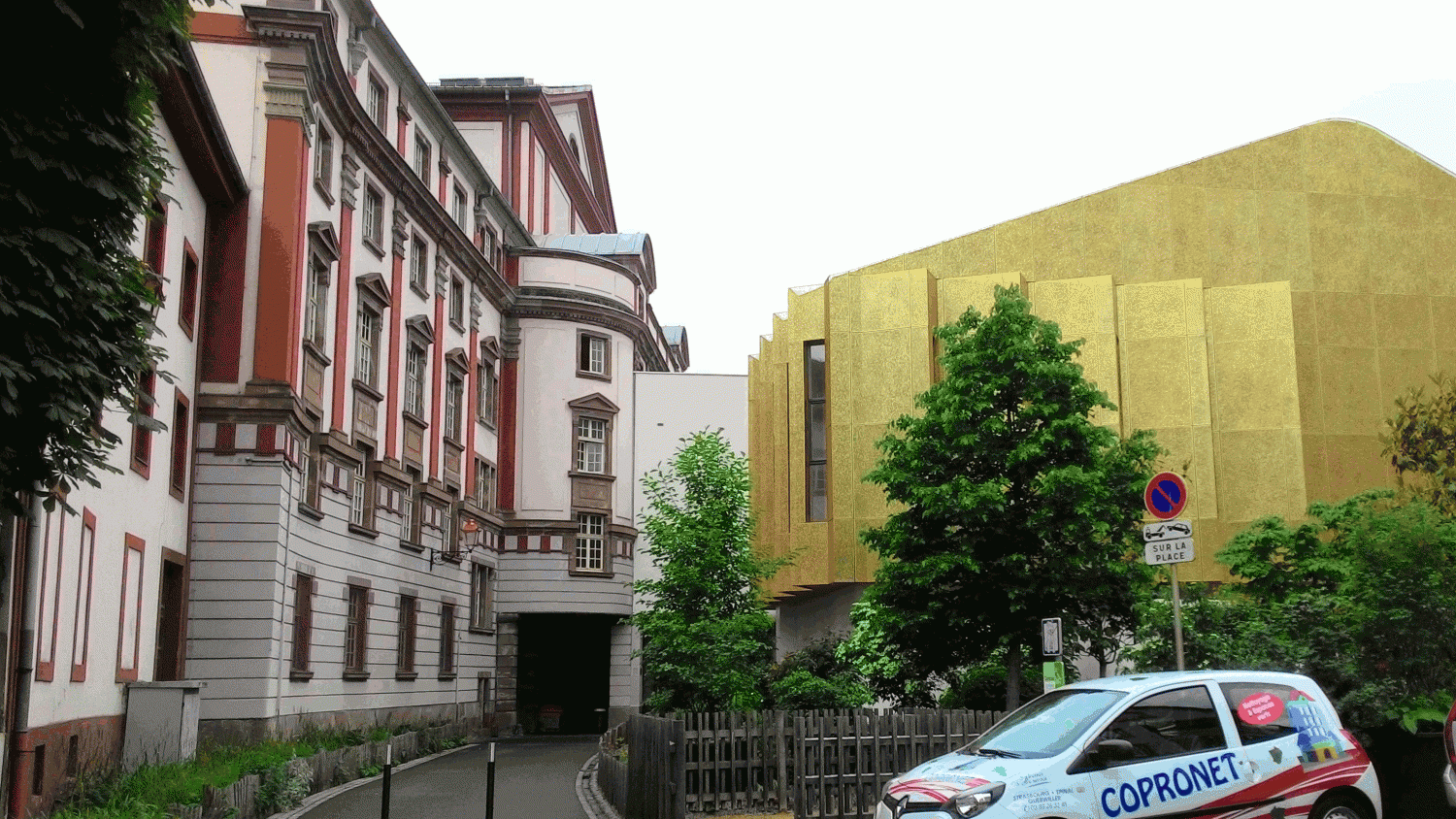 A good example of the mixing of architectural styles in Mulhouse.
After returning to the train station I discovered my proximity to Colmar, a famously-beautiful French town close to the German border. Instead of backtracking to Besançon, I decided to visit Colmar. Twelve euro and twenty-two minutes later I gathered my things and stepped off the train.
Colmar
Surely, there is no city more stunning than Colmar. Reportedly, Walt Disney modeled scenery in Beauty and the Beast  after Colmar's pastel timber frames, as did Hayao Miyazaki in his film Howl's Moving Castle. Much of the tourism in the area is confined to La Petite Venise, a quarter centered on the town's picturesque artery canal. I sat comfortably by the river with young families and teenagers having picnics and soaking in the sunshine.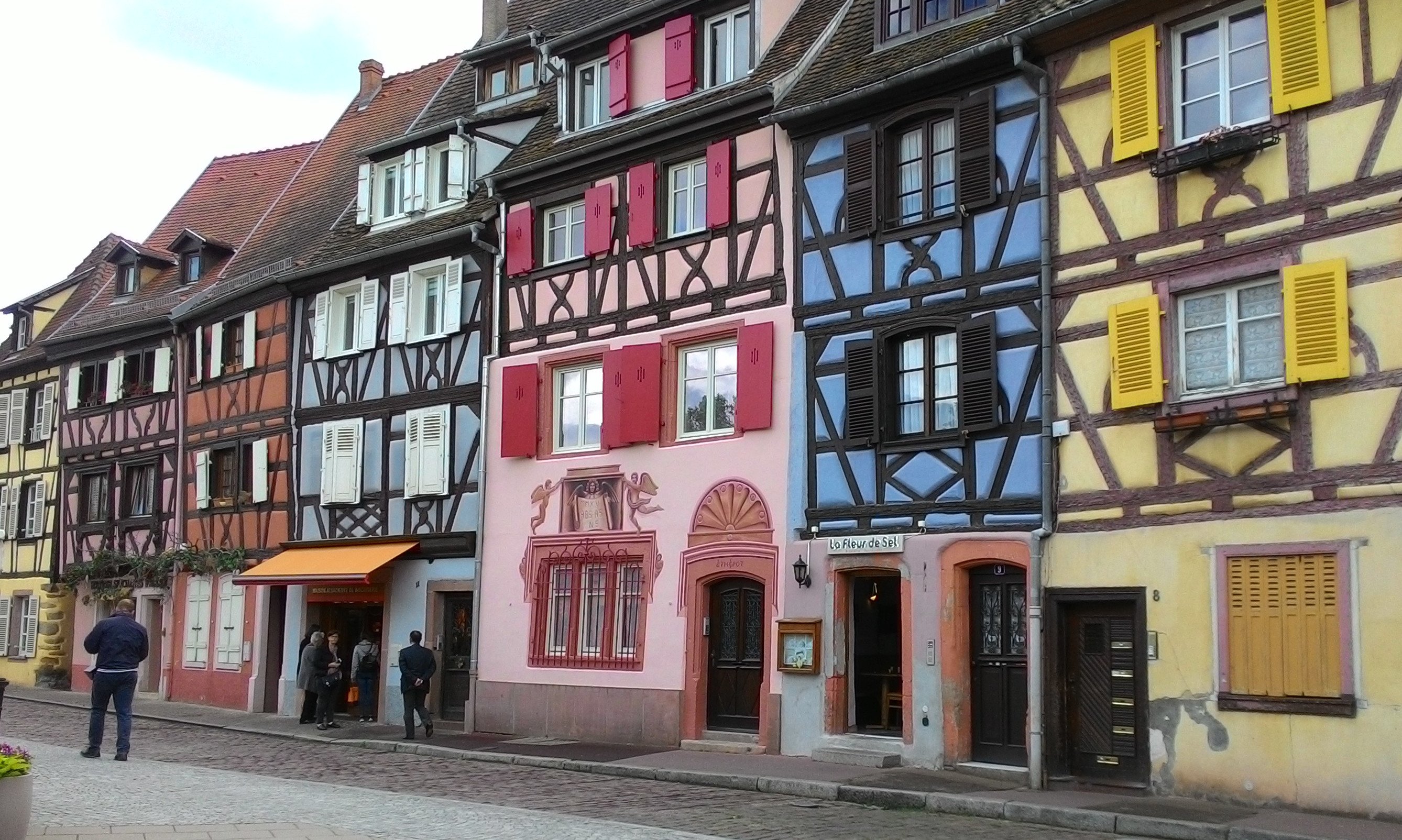 Timber-framed buildings in a medley of colors.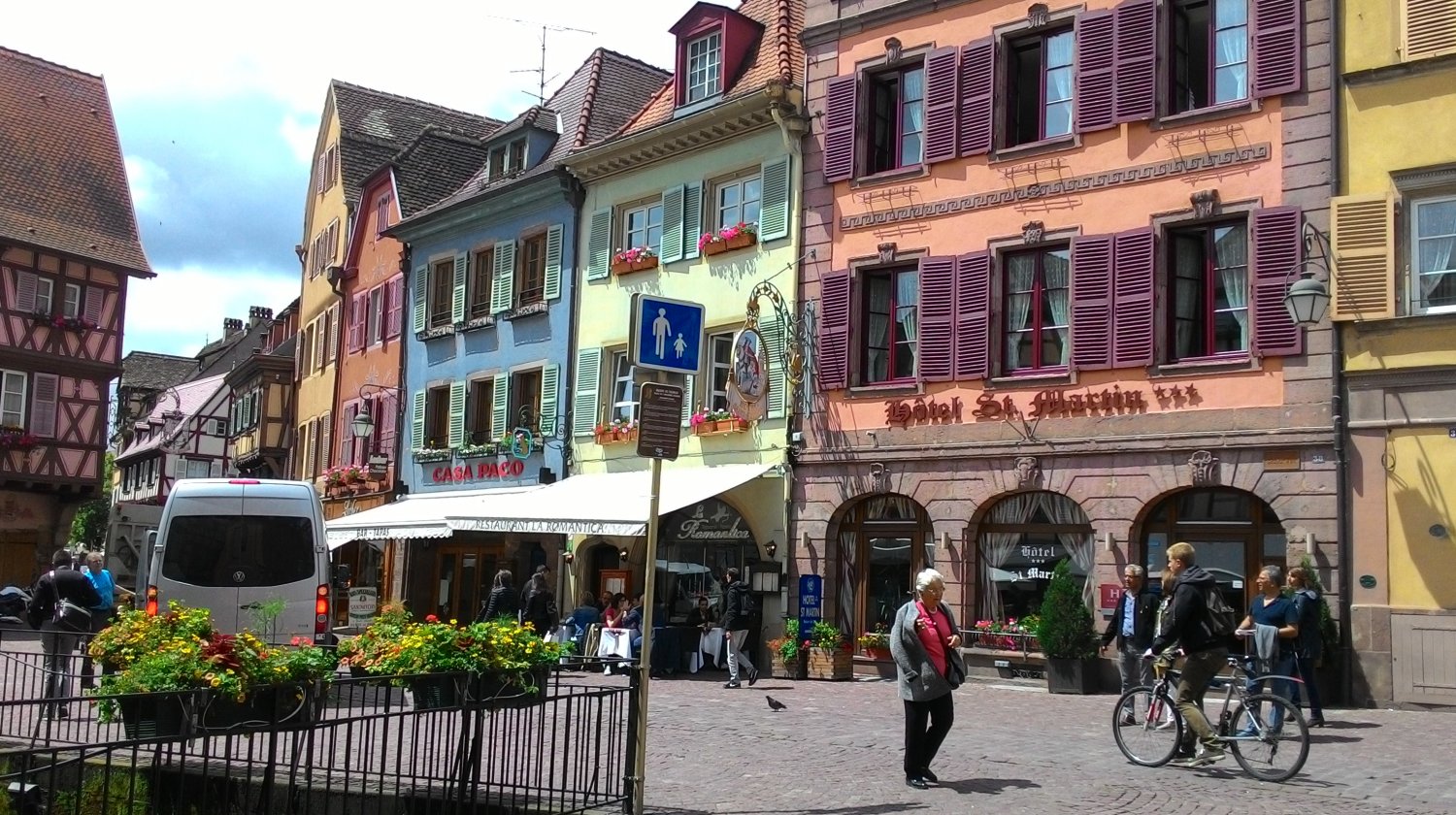 La Petite Venise. The fencing to the left marks La Lauche, a tributary of the Rhine River.
The canal, while beautiful, was packed with people so I decided to head to Musée Unterlinden, Alsace's most popular museum. A recent renovation by Herzog & de Meuron more than doubled the museum's square footage. Its collection includes the Isenheim Alterpiece (by Matthias Grünewald) and a variety of pieces by Renaissance-era French and German artists. Housed in a former 13th century convent, Musée Unterlinden retains distinctive period architecture, including dramatic ceilings and a courtyard framed with arches. While you're there, make sure to check out the room entirely dedicated to recently-acquired wine barrels.

The heart of former convent Musée Unterlinden. Note the emerald-hued greenery and moss creeping up the side of the cloister.
After the museum I strolled to the Église Saint-Martin, passing fifteen or so stalls offering trinkets and children carrying ice creams. Also known as the Collégiale Saint-Martin, the Église sports two rare details: a
toit bourguignon
and two
Judensäue.
Toits bourguignons
are roofs paved with lacquered tiles, usually in intricate patterns. Another can be found in Colmar on the Koïfhus building. 
Judensäue
are not quite as beautiful: representations of Jews emulating or appearing as pigs, the Nazis used them as propaganda during the Second World War.
My eight hours wandering through Mulhouse and Colmar were surprisingly rewarding. Alsace is quite possibly France's most stunning region, and as a bonus, it isn't unbearably crowded even in summertime. To add to the appeal, small bakeries and other hidden treasures dot the streets, offering additional incentives to abandon the map and read the roads instead.