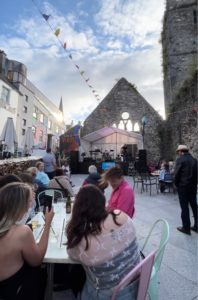 I heard it, I felt it in my bones, and my mind let go. Since I was a child, I dreamed of what this would be like, of what I would hear, of what I would experience, and this…isn't what I imagined. Have you ever had an experience where your expectations are different than your reality? Where imagination gets the best of you and hopes get shattered? Now, now let me provide some context, it was my first time going to Ireland, my dreams were finally coming to fruition.
My advisor had said the words and I was in secret unconditional joy. Sitting in her office wondering which program I was going to be sent away with simply by the sound of her voice and the requirements of my major, I heard the words "You're going to Ireland" I didn't refute her, all I did was smile and happily accept such a proposal. This had been a dream; it was a dream, wasn't it? And I was going to live it out. I gathered my courage and my anticipation, not realizing that one was disguised itself as judgment.
On the plane I began to listen to the music I had heard countless times before Celtic Women's 2005 album. I memorized each word, even the order of the songs. I knew the rhythm like the back of my hand, even quoting the Gaelic lyrics felt simple, practicing based on my trained ear while learning how to form my mouth around the syllables, and the placement of my tongue. So of course, before I came, I imagined this place where everyone would be singing songs I knew nothing about and speaking a language I wish I knew.
I stepped off the plane, and the voices with their specialized accents made my heart lift in it's tune. I was in Ireland, I had arrived, I was here I couldn't believe it. The old, tired world I knew, was reborn and new once again. So, my expectations carrying me along, I made my way happily toward the place I would be staying for the next month and a half, dreaming of hearing their music touch my ears for the first time. Experiencing was the goal.
It was a Saturday night, and my group and I wanted a night out on the town, to do just that. Journeying through a small alcove of buildings, that was seemingly in the middle of nowhere and basically an alleyway, we found a small (and tightly packed) gathering of people. We waited in anticipation for The Brass and Co, a local band that held these sessions every Friday and Saturday night, as we were surrounded by the modern and towered over by the ancient stone structures behind them.
I moved closer to the front to get some ease from the crowd as well as get a front row to my dreams becoming reality. A band of 7 men of varying ages ranging from mid-30s to upper 60s I looked on in confusion. This was the traditional Irish band? Where was the fiddle and harp? The saxophone, drum, electric guitar, saxophone, trumpet, and trombone were what appeared before us. I should have known after all they were the Brass Co.
They opened with "Bittersweet Symphony" by the Verve and my ears perked at the sound of it. I knew this song, I wasn't supposed to know this song. Shocked and confused at first, I listened on, and the song "Dance with Me" by Walk the Moon rang out of the lead singer's voice. Looking around the crowd began to become lively, getting up from their seats, grabbing their pints and moving to the beat. Something rose within me, and I couldn't help but freely dance along, not caring who saw me or how loudly I sung, or how wildly I danced.
I was free, they were free, and the expectation began to fade… No one ever talks about if the shattering of one's hopes was actually a good thing do they? But there I was dancing and singing with absolute strangers. I wasn't an outsider, I was never an outsider, not in that moment anyway. I felt eyes on me but the eyes were that of communion not separation.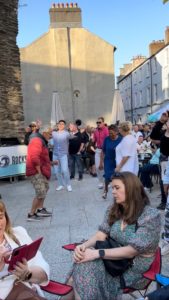 You see Irish music is derived from the Celts who arrived in 500 BC bringing their Eastern influences with them, that I knew, but it was also derived from the Scots and their bagpipes, the English and their tin whistles, the harp and their Egyptian origins and the banjo and its African influence, so it was no wonder that Irish music has evolved to incorporate other genres like pop and country we love today. They were not stuck in the past, they were evolving to fit the future, by remembering what was to showcase what now is.
I think we tend to be so stuck in what we think it should be that we forget of the potential it can be. 'Craic agus Ceol' which literally means "music and good times." The point was to simply get loose and enjoy oneself, not get caught in what was or what we think something should be. Reality was this, right here, with all of them.
It was the time I became a local.
Every pub will have live music, but if you want to differentiate what is authentic and what was fabricated then look at the people. If they beckon you to dance with them. If the spark in their eyes indicates their excitement and wiliness to dance like no one is looking, then you'll know if it's true. If not then, move along, because the point was not the music, it was about the fun.