One of the most fascinating aspects for me about traveling Internationally is tasting food from different cultures and regions. What we think of Middle-Eastern food in the United States is a generalization of a wide range of countries based upon a few dishes which have become westernized. In actuality, within even one country – there can be dramatic culinary differences based on spices used and preparation styles.
The culinary traditions of Jordan stem from Levantine cuisine, sharing traditions and similarities to Syrian, Lebanese, Turkish and Palestinian foods. My favorite experiences in Jordan, next to meeting hospitable and friendly people, is tasting the various foods. During my most recently trip, I can honestly say that I did not have one bad meal. Most dishes seem to exhibit 'umami' flavor – engaging a wide array of taste buds. Food is a very important aspect of Jordanian and Arabic culture, in addition to 'tea time'. In more traditional villages, meals are a community event with immediate and extended families present – a way to show their generosity and hospitality regardless of their income status.
Petra is the most popular stop for those traveling to Jordan. Some embark on a 2-day trek from Israel, while others make this their first stop. Besides visiting this fascinating historical site where Indiana Jones "enjoyed his last crusade", we had the opportunity to participate in a cooking class at Petra Kitchen in the evening.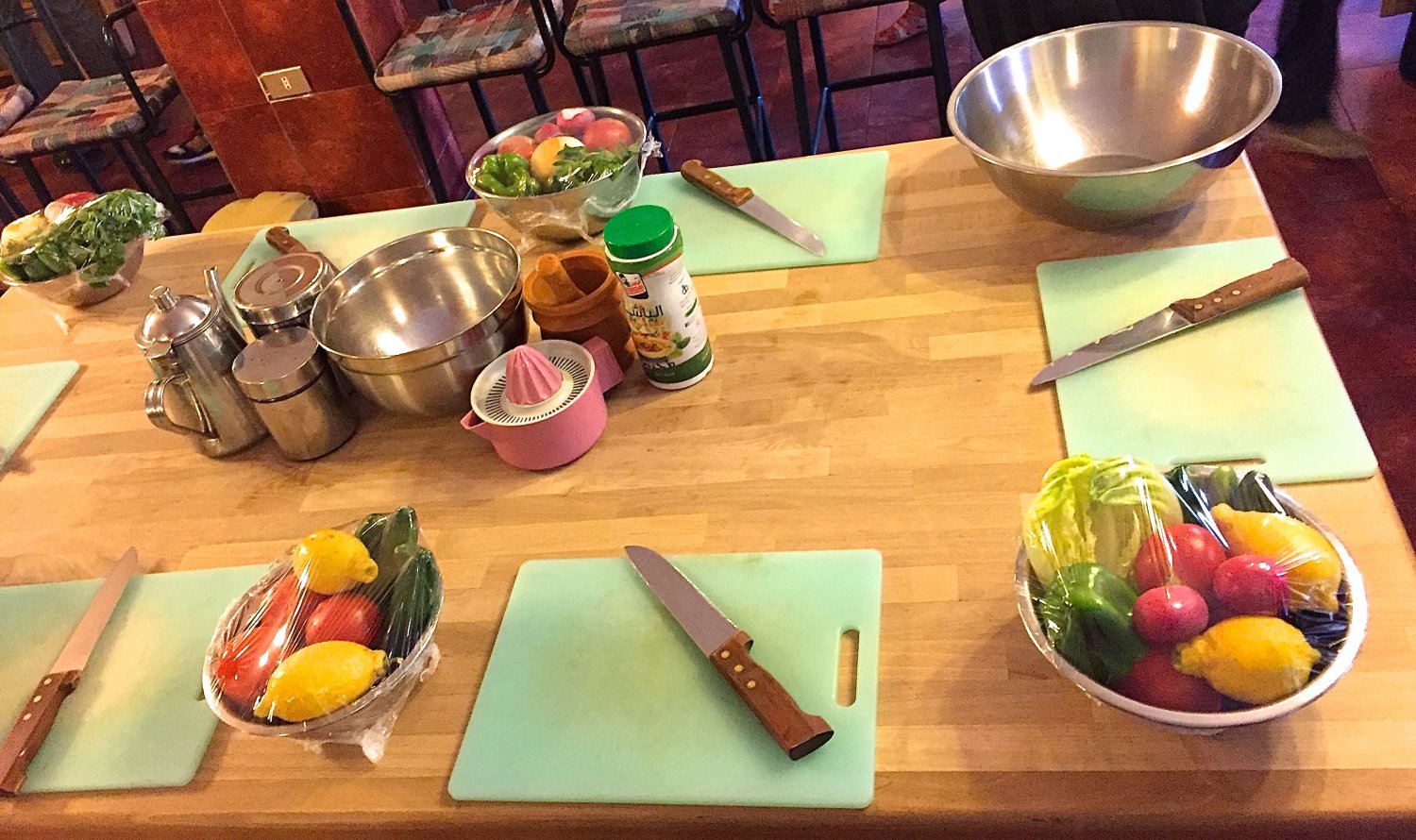 Petra Kitchen offers nightly cooking classes and dinner which showcases the local authentic cuisine in a family atmosphere (meals always served 'family style'). The chefs are highly trained with local women who will teach you how to prepare each dish from scratch, show you how to serve them and provide historical details about each dish. Ingredients are entirely locally sourced and are organic; these are items that would be found on a typical family menu. If you have more time, there is an option for a Multi-night cuisine course where one can visit local markets and food suppliers with the chefs before preparing the meals.
The course lasts about 3 hours, costs 35 Jordanian Diners/person (approximately $50) which includes the cooking course & a full dinner. They limit each class to 48 people.
A typical Jordanian meal usually features 6-12 "mezza" dishes, a hallmark of Levantine cuisine including appetizers, sides, and salads. Some mezzas are served cold and some hot, along with bread, soup, the main course and dessert. Women and children often look forward to this daily gathering when they prepare and cook food. It is a time to meet and discuss the day's stories and gossip. Time goes by fast with good company and good food!
---
On the Menu:
Cold Mezza
Salatat Khodra bil Tahina (Tahina Salad)
Fatoosh (Cucumber & Tomato Salad)
Salatat Khyar (Cucumber & Yogurt Salad)
Hot Mezza
Galayat Bandura (Skillet of Tomatoes)
Baba Ganuj
Araies Lahmah (Bedouin Pizza)
Sambousek B'jibn & B'zatar (Cheese & Thyme Pastries)
Main Course
Kabsah Dijaj (Rice with Chicken)
Shourbat Adas (Lentil Soup)
Dinner is Served
---
Simple Recipe for Baba Ganoush
Ingredients:

2 lb Eggplants
1 large Tomato
1 Green Pepper
1 medium Onion
2 Garlic Cloves
1 tbsp Salt
1 tbsp Mint
1 tbsp Olive Oil
1 tbsp Lemon Juice
Roast the eggplants on a baking dish in 450 degree heat for 15-20 minutes, until the skin is charred and begins to split
Break open the eggplant & scoop out the pulp. Mash the pulp with a fork to a smooth puree.
Add olive oil & lemon juice.
Chop the tomato, pepper and onion very finely and add them to the eggplant puree.
Crush garlic in pestle with salt (I like extra garlic!), then stir into puree.
Add in the chopped mint.
When ready to serve, garnish with fresh tomatoes or parsley sprigs in shallow bowl.
---
Jordan Gallery & Giftshop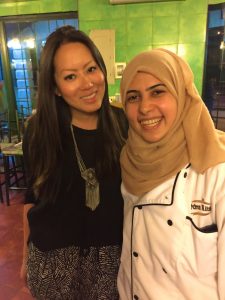 After you have enjoyed your delicious cooked Jordanian meal, stroll upstairs to their gift shop and browse high-quality handicrafts produced in Jordan by local craftsmen and craftswomen. Only local materials are used in these items.
These handicrafts make awesome souvenir gifts; there are premium kitchen supplies such as clay pots and dishes, hand-sewn bags, wallets, traditional clothing and more – all inspired by the local culture and history of Jordan.
A portion of the proceeds is given to the artisans who designed them.
---

Interested in a Cooking Class in Petra? Contact them directly at info@PetraKitchen.com / http://www.PetraKitchen.com

Only a 5 minute walking distance from the UNESCO World Heritage site of Petra: 
P.O. Box: 40 Wadi Musa
Petra, Jordan
Phone: 00962 3 2155900
Sat-Thu. 9:00 AM—11:30 PM
Fri 12:00 PM—11:30 PM
Nightly cuisine courses start at 6:30 PM