I've been in Venice for 10 days by the time I meet Enrica Rocca; long past the point where I can stomach another meal from a restaurant with unappetizing photos of pasta plastered in the window. I'm desperate for something authentic and, as I walk with her through the Rialto markets, I sense I've found it. A native Venetian, Enrica is on a first name basis with most (if not all) of the vendors and shopkeepers in the city. The fishmongers at the Pescaria call out to her in greeting, waving her over to show off the morning's catch. At the Erbaria, the produce vendors are equally eager to sell her their finest – baby artichokes from nearby Sant' Erasmo, bergamot from the province of Reggio di Calabria, and long curly heads of Treviso from the Veneto region. She adds bright green bunches of parsley, winter squash, cauliflower, and plump porcini to her shopping list before a beaming moustached-man tucks her purchases into her cart.

Pristine local ingredients are essential to Enrica's cooking. She doesn't use recipes, doesn't own a set of measuring cups or spoons, and rarely makes dessert. She relies instead on spontaneity and creativity in the kitchen, and encourages her guests to do the same; to let their senses be their guide. "Stick your finger in the pot and taste it", she urges. How else will you know if the saffron-scented cauliflower purée needs more salt?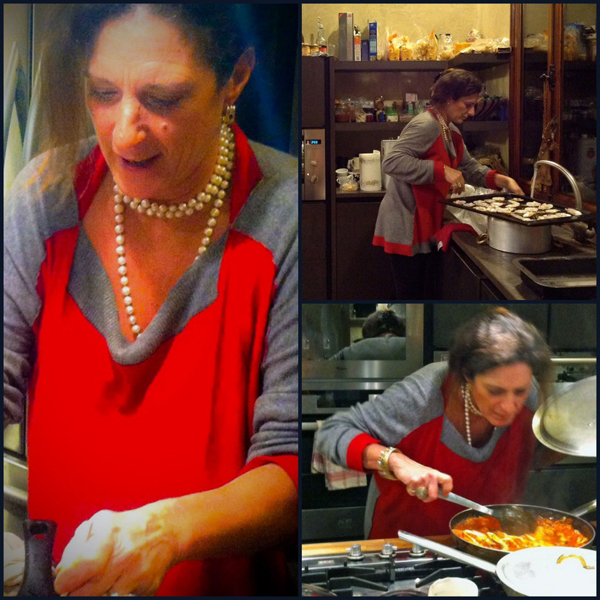 The cooking class takes place inside Enrica's family palazzo on a side street in the Dorsoduro sestiere; a calle so quiet that when I toss a bowl of shrimp shells out the window, I can hear the gentle splash they make in the dark canal two stories below.
Each of us decide for ourselves how much we want to take part. I pair up with Kristen, a friendly woman from the Midwest who is on shore leave from one of the enormous cruise ships docked at the Venice Cruise Terminal. Together we clean a mountain of slippery squid (not a task for the squeamish), pulling off their heads to remove their innards, then poking our fingers inside to extract the hard quill that serves as a backbone. While we work, Kristen's husband stations himself next to the refrigerator door, ensuring that no wine glass goes empty. The class is as free-flowing as the Prosecco – more like a stylish, upscale dinner party with an international guest list (including the beautiful wife of a famous Italian jewellery designer) than an instructor-led classroom.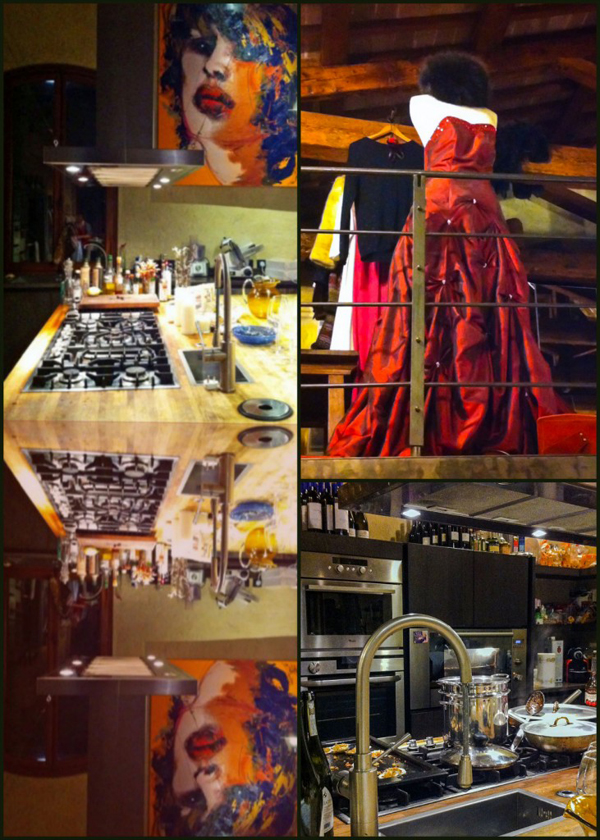 The food we cook turns out to be the best meal I eat during my entire stay in Venice. We start with the antipasti – baby scallops sprinkled with bergamot peel, bread crumbs, ginger and thyme, a satisfyingly crunchy salad made from prized castraure artichokes, and then bitter-sweet Treviso glazed with honey and balsamic vinegar. Next, the primo, or first course, where I savour the calamari I cleaned earlier, now stuffed with sweet winter squash and sautéed until golden brown, followed by tender monkfish cheeks served on a bed of perfectly seasoned silky cauliflower purée. I'm astonished by the sheer volume of food and wonder how I find room for the main course, the secondi, La Pasta alla Busara, a fiery combination of pasta with scampi, baby tomatoes, garlic, and chilli. We finish our feast with Grey Mullet Mare e Monti (meaning where the sea meets the mountains), a whole mullet roasted atop buttery porcini – and I'm relieved that Enrica doesn't 'do' dessert.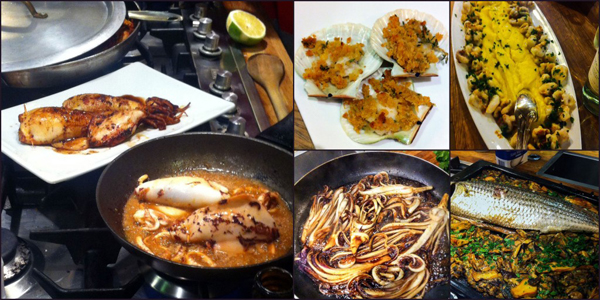 It's after 11:00 pm when I walk back to the Accademia vaporetto stop. The water bus runs less often at night and, judging from the ripples on the canal's surface, I've just missed it. As I settle in to wait for the next one, I re-visit the day's textures and tastes in my mind, wanting to commit each one to memory. I know I've experienced the real Venice, a side of the city I would have never found on my own, and I appreciate how Enrica Rocca's private cooking school earned its reputation as one of the best in the world.