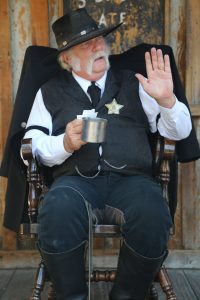 If you want a little more out of a vacation, take the kids somewhere history comes alive. More than just a collection of artifacts, living history museums bring history to life in a way that children remember long after the visit. Think walking along the streets our founding fathers did or touching 450-year-old buildings. Imagine mining for gold or driving the first motorized vehicle. These hands-on experiences put you in the middle of history and teach children, often without them realizing it! I've put together a collection of living history museums that I think help encompass a wide range of US history.
Please note, this article contains affiliate links. At no cost to you, these links help support this blog. All opinions are my own.
Freedom Trail – Boston
Walking the Freedom Trail in Boston was one of the favorite travel experiences I've had to date. The walking tour is hosted by a costumed character of a real person during the Revolutionary era. We learned about the Old South Meeting House, the Old State House, the Boston Massacre, Faneuil Hall, and our favorite, The Granary Burying Ground. Even after departing the tour at Faneuil Hall, we were treated to a random live demonstration, as would have occurred in 1774 or 1775.
To explore Boston, we used the Boston Go Card, which was flawless. You can do an All Inclusive, and Explore or Build Your Own. We did the Build Your Own and saved over 20%. We were able to add an entry into the Old South Meeting House, the Old State House, and Paul Revere's house. Because we saw so much, I highly recommend.
Greenfield Village
Greenfield Village, part of the Henry Ford organization of museums, has seven historic districts. These districts include a working farm, Menlo Park complex, a historic main street and a place where you can ride in a Model T Ford. It's located in Dearborn, Michigan, not far from the Motor City of Detroit. Your kids will get an impression of life just before the industrial boom.
Get Greenfield Village tickets here. 
Colonial Williamsburg
Step back further in time with another community at Colonial Williamsburg. This fully immersive experience offers several areas to see artisans create the 18th-century tools, as well as the Nation Builders who portray real historical figures associated the era.
The Historic Triangle Ticket allows you access to five historic sites. It's a little pricey but does offer shuttle service.
Get your Williamsburg Tickets here. 
Old World, WI
Old World shows the life of the settlers of 19th century Wisconsin. Another large open-air museum with costumed interpreters. As you can see, you could find almost any era, in any area of the country. What I like about this place, true to Wisconsin ingenuity, you can witness historic brewing. While not for the kids, this adds something for everyone here.
Learn more about Old World Wisconsin here. 
St. Augustine
Did you know that St. Augustine is the oldest city in America? It's been settled since 1565. There's a lot to do in this city, and living history museums are just the beginning of this enchanting educational city. Start with the Old Florida Museum. See early Spanish American history. Also visit the Fountain of Youth, where authentic Native Americans demonstrate early Florida history. Plus you get the added benefit of drinking from the fountain.
Get Fountain of Youth and more Tickets here. 
Related: Plan Your Florida Vacation with these websites.
Calico Ghost Town, California
Calico Ghost Town, in San Bernadino County, is a real live resorted ghost town from the 1880's. Here, you can visit a mine, take a historical train ride, or pan for gold, among other things. Because Calico is part of the state park system, there's also camping and cabins, making this a destination vacation.
Read more about Calico here.
Cherokee Heritage Center, Oklahoma
The Cherokee Heritage Center was perhaps one of the best living history museums we've visited. Located in Park Hill, OK, the area includes a full-scale Cherokee village. Here, you can see the inner workings of life in the village. We saw the inside of huts, tried shooting arrows, played Cherokee games. In addition, the Heritage Center has a powerful museum featuring the Trail of Tears. Additionally, it serves as the central genealogy database for the Cherokee people.
Visit the Cherokee Heritage Center Here.
Have you visited any of these living history museums? Did I miss any? Be sure to comment and let me know your thoughts.