I've always been a fan of Salvador Dali and the Dali Museum. The museum holds a special place in my heart as it's one of the first trips my husband and I took when we were dating. The museum changed location since our first visit nearly 20 years ago, so we jumped at the chance to visit again on our most recent trip to St. Petersburg, Florida.
To me, visiting a museum is an intensely personal experience. Art, subjective as it is, affects us in different ways. That being said, I do think there are a few things to make your visit to any museum, including the Dali Museum, a more enjoyable and thorough visit.
How to Visit the Dali Museum
 
Docent
Docent Tours at The Dali Museum are available every half hours. The docent expertly guides you through the signature pieces in the collection, beginning with how The Dali museum got it's start. While the docent won't have enough time to go into detail every piece, she hits the key styles, themes and historically significant areas of Dali's life. This, by far, is the best way to learn about Salvador Dali and the works of art you're viewing.
Some of the art works in the Dali are larger than life, and during a docent tour, I learned more about the significance within each piece as well as parts of the portrait I may not have noticed on my own. The docent is available for questions if you want more information.
How will you #unwind this #weekend? #SalvadorDali pic.twitter.com/wGjHGdPrEv

— The Dali Museum (@TheDali) November 12, 2016
Audio
An MP3 device is available free of charge when you enter the museum. Even if you take a docent tour, pick up a headset. This way, you can learn more about individual pieces of art. The audio tour also includes information about whatever special exhibit is in-house when you visit. At times I did get lost within the tour, not knowing if I should move on to the next room. Overall, however, I did learn more by listening than I would have by reading the informational plaques.
Scavenger hunt for the kids
Kids can enjoy Dali, simply for the weird, strange surrealism pictures. However, through the audio tour, kids can learn with a playful "Mr. Mustache" tour designed for ages 5-13. Older kids, make it a scavenger hunt. Have them do a little research ahead of time and seek out what interests them best.
Garden
The garden around the Dali Museum is one of my favorite parts of the museum and I like to save it for last. The garden has fun, whimsical statues based on Dali or on his works. There's a small hedged maze. My favorite part is the mathematical depictions of pi and square roots. Dali was intrigued by math and how it connects with art.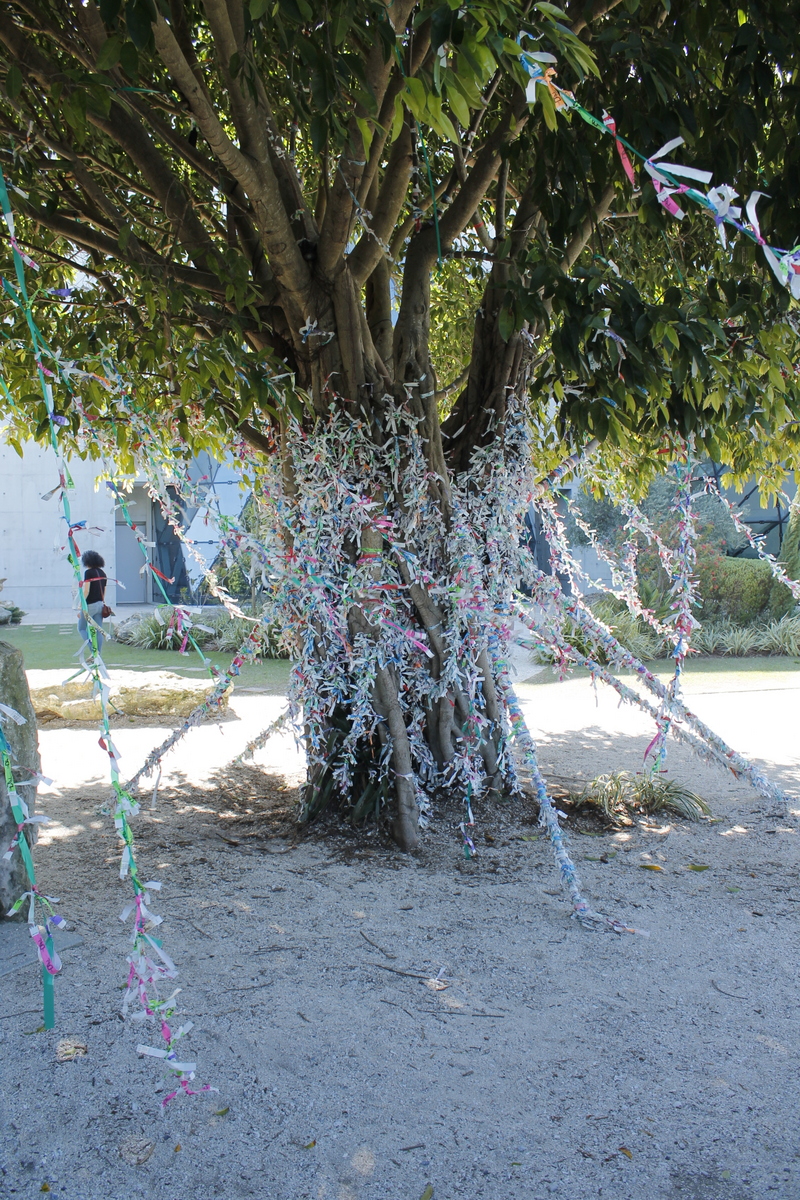 Cafe
If you're at the Dali Museum for a long period of time,  you may want to sit and have a bit. The Cafe Gala is situated at the lower level in the glass "bubble" and opens out to the garden. The lighter fare menu is enough to get you through a late breakfast or light lunch.
Time allowed
Personally, I'd plan 3 hours at least to visit The Dali Museum. An hour for a docent tour and permanent collection, an hour for the special exhibit and an hour for lunch and the garden. Honestly, I'd probably spend more time here as I'm fascinated by his life and work.
Have you visited the Dali Museum in St. Pete? What is your favorite Dali museum piece? I'd love to hear more…leave a comment in the comment section!