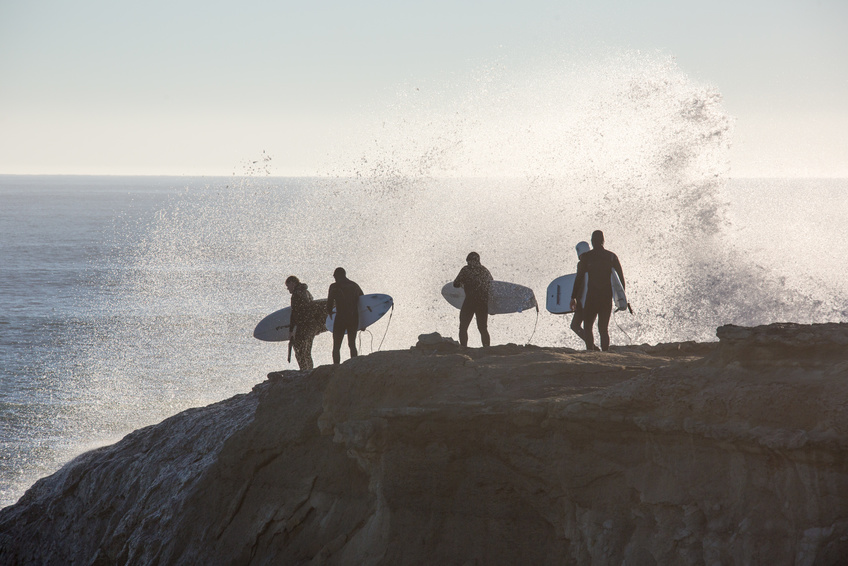 California is well known for its awesome weather, beloved beaches, and monster waves.  Originally known as the Grizzly Bear State but the bear population went extinct due to hunting and human activity, the state is now commonly known as the Golden State. The sun is what makes California so epic and especially the beaches of Santa Cruz.
There is a stunning array of beaches in Santa Cruz, you would be hard pressed to visit them all in one day but why would you want to.  Spend some time getting to know the best beaches of Santa Cruz first.  If you are ever in the area you can find lots of other activities to do in Santa Cruz.
Seacliff State Beach
This beach is best known for the famous SS Palo Alto, a concrete ship that was originally built to be use as tanker in the First World War but the war ended before the construction finished.  The ship remained unused for nearly 10 years when a company decided to use it as a tourist attraction with a heated swimming pool, dance floor, café and fishing area.  The fun only lasted for 2 year as the company went bankrupt and the boat was striped only to be used for fishing.  Current day the boat is not safe but you can fish from the pier.  The bathrooms and picnic areas are wheel chair accessible, there is even showers, BBQ pits and drinking water available.  Overnight RV hookups and the hiking/biking trails are well looked after. $10 for Parking. For camping reservations call 1-800-444-7275
Main Beach/Cowells Beach
A great place to learn how to surf, catch some sun rays or go for a joyful walk.  There is a boardwalk, a wharf and volley ball courts.  Lifeguards are only on duty in the summer and this is a relatively safe place to go for a swim.  The beach is close to downtown so this is a perfect place for locals to come for a little break.
Cowell Beach
Located directly on the other side of the wharf from Main Beach if you are a visitor you would think the two are combined but the smaller beach to the west is known as Cowell Beach to the locals.
It's Beach
Also known as dog beach, yes the park is open to dogs for walking but be sure to bring a plastic bag and pick up after your friend.  After 4pm the dogs are allowed of their leash to run and play with the other dogs, a great social atmosphere for your four legged buddy.  The beach is also home to the Santa Cruz Surfing Museum and there is a lighthouse at the point.
Seabright Beach
This public beach permits dogs on a leash, washrooms and outdoor showers are available.  The best part about this beach is the fact that a rock wall hides it making it feel like you are far away from the crowds but in fact you aren't.  Many people come here during the weekends, the fire pits can draw a crowd.  Open between 6am and 10pm with free parking.
Twin Lakes State Beach
Most well-known for the cool lighthouse and outstanding views of the ocean and all the birds.  A great spot to bring your binoculars and spend some time viewing all the birds.  The beach is one mile long with beautiful sand, this is a great spot for a picnic and swimming. Call (831) 427-4868 for more information.
Natural Bridges State Beach
A nature lovers happy place especially bird lovers, also catch some seals and whales.  There is a creek that runs through the park that attracts birds and other nature in the fresh water wet lands.  The remarkable natural bridge is a great place to catch all the birding acting.  You can also find a natural butterfly reserve that is a temporary home to the beautiful Monarch Butterfly.  Park opens at 8am and closes at sunset.  For more information call (831)423-4609
Sunny Cove Beach
This one is on the list not for its popularity but because of the fact that not many people know about it, this is an insider's pick.  A great place to let your dog off the leash as there are not so many regulation like other more populated beaches.  Some good waves for surfing and body boarding.  Parking may be a little hard to find but there is a market close by that you can park at.
26th Street Bridge
This is a favorite for people that roam outside the more talked about beaches of Santa Cruz.  You must be careful swimming and surfing at this beach however as the wave's crash very hard on the beach.  Coves provide privacy at this small beach and you will not have to deal with too big of crowds.  Park at Moran Lake and walk two blocks because parking can be a little scarce at this dog friendly beach.