Quebec Outaouais Casino du Lac Leamy
We were excited as we walked in a glass walkway between the Hilton Hotel and the Casino Lac-Leamy located in the same complex in the city of Gatineau, across the river from Ottawa, Canada's Capital. This evening we were going to dine in the Casino's gourmet restaurant – one of the best dining places in the Ottawa Region – the only CAA/AAA Five Diamond ranked in the area. "Move quickly!" One of my colleagues advised. "I can't wait! I feel that 'lady luck' is with me today, and I am dying to try their renowned dishes." Her words reflected my own feelings. I had visited the glittering Casino several times before but it had never lost its flavour and appeal.
Quebec Outaouais Casino La Lemay Restaurant Chef
Among numerous tourist attractions, in the Ottawa Region, Casino du Lac-Leamy is a top drawing card. My previous visits had left an impression on my mind and now, a few years later, I was again entering this Casino – now an icon of the Ottawa region. As we walked along I could see through the glass, across a huge parking lot with 3,800 free parking spots, the rolling Gatineau Hills, which provides a splendid setting for the complex of the Hotel Hilton and the Casino.
Quebec Outaouais Casino Lac Lemay Restaurant
The complex edges Gatineau Park, a giant slab of virgin land measuring 363 sq km (140 sq mi), is an open air window to Canada's National Capital Region. A magnificently green and superb nature reserve covering 35,600 ha (88,000 ac) of forest, the Park encompasses 40 crystal-clear lakes and its forests contain 1,000 species of plant and 40 types of trees – 90% of which are maple. Across its wooded hills there are 185 km (115 mi) of hiking and biking trails and 12 picnic sites. The Park also offers cross-country and downhill skiing facilities, snowshoeing trails, beaches and campgrounds.
Today, a protected nature reserve, it has become vital to the oxygenation of Canada's capital. Year-round, some 1.5 million annual visitors take part in the Park's outdoor activities or simply enjoy the serenity of its natural environment. In the words of an Ottawa taxi driver who drove me through the Park, "It's a great outdoor relaxation spot during the day and complements the Casino's entertainment in the evening."
Soon we were stepping through into a world of glitter and allurement, especially for those who want to have an affair with 'Lady Luck'. The way the interior was designed captured my imagination. The thousands of tropical plants were artfully designed to fit amidst reflecting pools, walls of glass and natural cherry wood and waterfalls. For a first time customer, the decor alone is worth a visit.
Quebec Outaouais Casino Lac Lemay Restaurant Appetizer
The Casino, only 4 km (2.5 mi) from Canada's Parliament Buildings, is nestled in a fantastic setting on the shores of Lac-Leamy and is surrounded by fountains, trees and the adjoining ultra-modern five-star Hilton Lac-Leamy Hotel. A world-class urban resort, it is much more than a dazzling gaming centre, it is a must for anyone travelling to Canada's National Capital Region. With its almost tropical forest setting, fine dining places like the highly coveted Five-Diamond rated Le Baccara Restaurant, a world-class theatre, a polite and friendly staff and glittering gaming machines enshrouded in a lively and spectacular aura, the Casino has earned its rightful place among the world's most outstanding entertainment destinations.
Inaugurated as Casino du Hull when it opened its doors in 1996, it was renamed Casino du Lac-Leamy in 2002. In these few years of existence, it earned a world-wide attraction, drawing more than three million visitors annually from the four corners of the globe. Adding to its allurement is its promotion and supports for community affairs. From among these, the Casino sponsors, during Ottawa's famous Winterlude celebrations, some of the world's master ice carvers who in Ottawa's cold winter demonstrate their skill, creativity and endurance in creating works of art from ice and snow.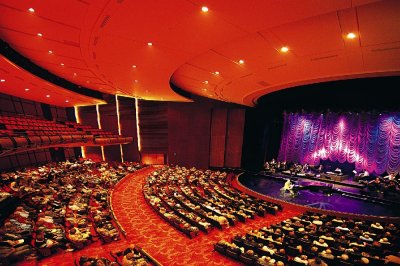 Quebec Outaouais Casino Lac Lemay Restaurant Appetizer
Designated with the attached Hilton Hotel as a non-smoking area – there are smoking rooms for smokers – the Casino, which can accommodate 6,500 visitors at one time, has much to offer. Inside its wall are performance and reception halls and a Convention Centre with ultra-modern tele-electronic facilities, 2,590 gaming spaces, 1,870 slot machines and 64 gaming tables offering baccara, blackjack, roulette as well as other casino games, bingo fun, electronic horse racing and numerous other activities all which give travellers a wide selection of things to see and do.
From among the Casino's other major attributes are artists' exhibits and the 1,002 seat Le Theatre du Casino which opened its doors in 2001. An elegant ultra-modern theatre, it can accommodate full-scale musical revues as well as spectacular solo renditions. Stars such as Bill Cosby, Gino Vannelli and Chubby Checker, Helmut Lotti, Joan Rivers, Michael Buble and numerous others have performed on its stage.
The evening we were there, after enjoying the pleasures of the Casino, as we watched the dancers and singers of a musical, a famous North American musical, I thought of the Casino and its many attributes. Travellers entering into this enchanted gamblers' paradise of dancing waters and lush greenery can, besides seeking their fortune aided by 'Lady Luck', stay in a luxury abode, dine in some of the best restaurants in North America, then relax and enjoy, in the Casino's theatre, some of the best entertainment in Canada.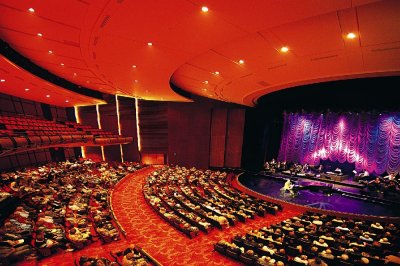 Quebec Outaouais Casino du Lac Leamy Theatre

An all-round Tourist Shangri-la where one can combine business with pleasure; Casino du Lac-Leamy is a siren, not only for gamblers, but for all travellers. Situated in the heart of National Capital Region, it adds a measure of excitement to tourist activities, making Canada's capital and environs a favourite wayfarer's destination.
If you go:
1) The Casino is open seven days a week, 24 hours a day. Admission, parking and coat check are free.
2) Game winnings are paid out in full and are non-taxable.
3) The Casino is easily accessible by bus or car and has a marina that can accommodate 20 pleasure crafts. As well, there is also a heliport on the premises.
For Further Information About the Casino, Contact:
Casino du Lac-Leamy, 1, boulevard du Casino. Gatineau, Quebec, Canada J8Y 6W3.
Tel: (819) 772-2100 or Toll free: (800) 665-2274. Website: www.casino-du-lac-leamy.com
For More Information About the Outaouais Region, Contact :
Outaouais Tourism, 1-800-265-7822. Website: www.outaouais-tourism.ca
Quebec Gatineau Park Pink Lake
Quebec Outaouais Gaiineau Park Museum Deer
Quebec-Outaouais-Casino Lac Lemay Restaurant Stuffed Lamb Rib