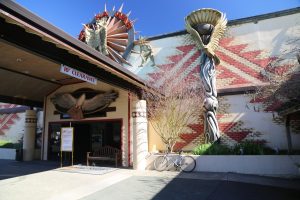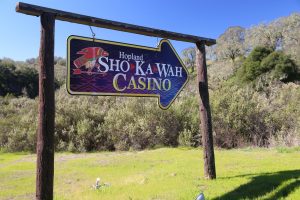 Sho-ka-wah Casino is located a short drive east of Hopland. As you drive northbound on the 101 take a right at Highway 175. The sign at the junction here may say its only 3 minutes to the casino – but in reality its at least 10 minutes (more or less). You will certainly see the large billboards advertising this casino on your drive along the 101. Highway 175 is called Hopland Road. You will pass though the tiny town of Old Hopland on your way to the casino. The casino is located on the grounds of the Hopland Indian Rancheria operated by the Hopland Band of Pomo Indians (known for their intricate and beautiful basket weaving).
Pull into their driveway off of the 175 and within a minute or two you will be pulling into the casino parking lot. Plenty of parking is located on site. Before you enter, check out the several cool statues in and around the parking lot. One or two security staff will always be lingering around the entrance. The actual casino building is rather small and somewhat dated looking these days. The main room inside the entrance is totally empty of slot machines – walk through this and turn to your right for the entrance to the actual slot and gaming space.
The gambling age in California is 18.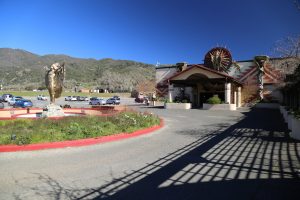 We have been here a number of times in the past few years and even on the weekends we have always seen few gamblers inside. The casino appeals to a local crowd (mostly Lake and Mendocino inhabitants) – and we have never seen tourist buses in the parking lot like at other Indian casinos further to the south. This casino is one of the further ones from the population center in the 'north bay' and perhaps has been hurt by the opening of the Graton Casino near Rohnert Park. We remember many more people here in prior years.
The machines are either operated by a push button or a side lever you pull down. If you come out ahead, you can get cash by pressing the "pay" button and a receipt will be printed. Instead of crumpling up this receipt and throwing it into the garbage, we highly recommend you immediately take it to the cashiers office.
Perhaps optimistically named, the Sevens Bar and Grill is located next to all the slot machines and features cheap hot dogs and cheap beers.
A very basic shop located to the right of the prominent feathered native American statue (as you face the casino entrance) offers drinks, ice cream and miscellaneous snacks.
What is now a 'relic' in the general public these days can be seen inside the casino – that is an automatic cigarette dispensing machine (similar to soda machines). Regardless of whether you spot this machine or not, you will leave the casino with clothes and hair that reeks of smoke.
Visit their website for more info: www.shokawah.com