Organic farmer, Jay Ruskey has been at the forefront in California of commercially growing exotic and rare fruit species at his farm perched on the side of the Santa Ynez Mountains above Goleta since the mid 1990's. The 42 acre farm is about 650 feet above sea level about two miles inland from the Pacific Ocean and on a clear day (of which there are many at this elevation) there are great views of the ocean and the Channel Islands.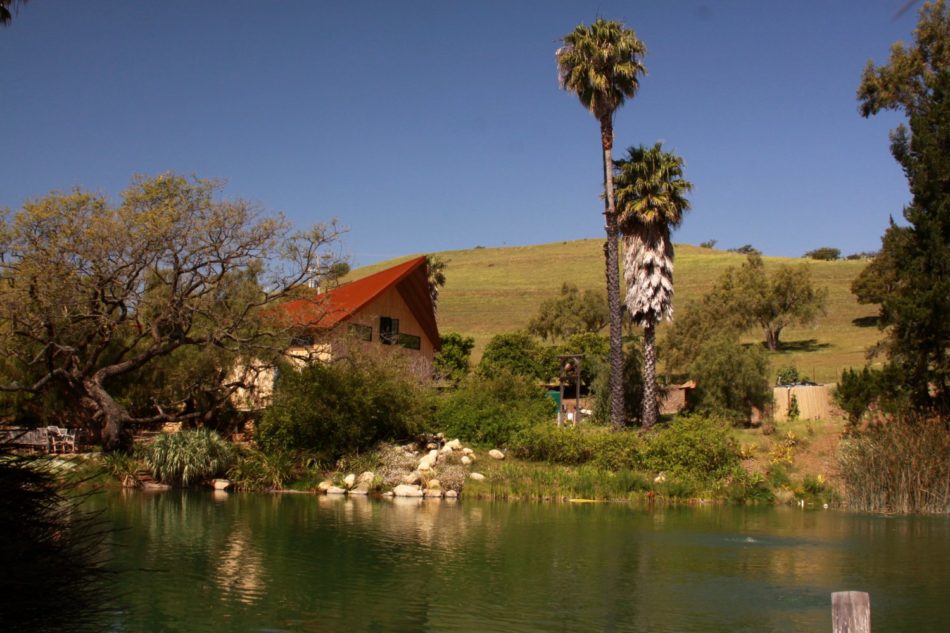 For many years it was a rare opportunity to visit his farm but now he has opened up the property to tours on a limited basis. Jay farms entirely organically and is certified CCOF; he farms various crops year round so there is always a number of fruits and agricultural products regardless of the time of year. His tropical fruit company is named Goodland Organics and the products come from his Condor Ridge Ranch.
California certainly has its share of special places and the hills above the town of Goleta just north of Santa Barbara where Jay's ranch is located is one of these places. This area is generally above the fog – typically is frost free year round and even in the winter can have pleasing weather, as in appropriate ranch attire can often equate to shorts and t-shirts. This mountain range is one of only two prominent east west ranges in the entire country.
Jay's focus is on the delicious Cherimoya, a fruit native to the coastal highlands of the Andes in South America. This fruit can often be found in Asian markets and when cultivated properly, is known for its pleasing delicate flavors and creaminess (varies according to the variety). This is very much a labor intensive fruit to cultivate. In order to ensure a healthy crop, Jay's employees have to hand pollinate each flower one at a time.
But now, Jay is now doing something that no one else is doing in the Continental United States…growing coffee as a commercial crop. The coffee industry is watching his project closely – already several producers from Ethiopia (original source of coffee trees) have visited his property and Starbucks even recently filmed a coffee commercial on site.
Jay recently attended the Specialty Coffee Association of America's annual trade event which featured numerous coffee brewers – all of which source from orchards between the Tropic of Capricorn (approximately 23 degrees south of the equator to the Tropic of Cancer – about 23 degrees north of the equator). Jay's farm sits at more than 34 degrees north of the equator. At this convention he was the *only* producer of 700 represented with a commercial orchard outside this accepted range of production!
Tours highlights the unique and various agricultural products growing on the property including the cherimoya, dragon fruit, several longans and lychees from some experimental farming, and culminates with a visit to the small coffee orchard. Jay currently has 650 mature producing coffee trees and is experimentally growing a number of other coffee varietals including the Geisha varietal which at one time fetched a whopping price of $165/pound (known for its delicate floral tea like flavors and aromas)!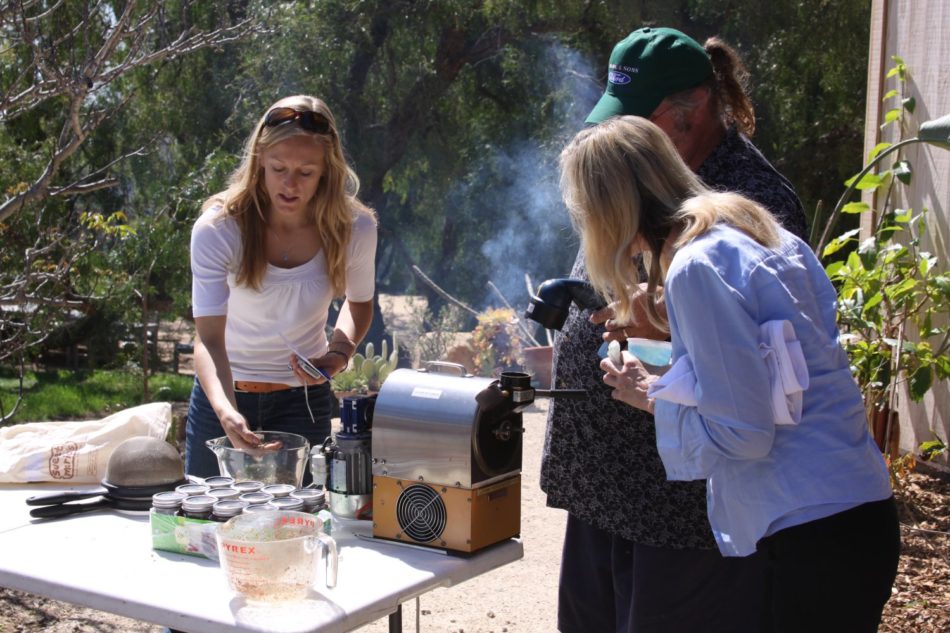 Coffee farming around the world is in general very much a hands on operation and it is no different here. The small trees are perched on steep slopes and the "coffee cherries" as they are called in the industry ripen throughout the year. All fruit has to selectively be picked by hand.
Hang-time for these "cherries" typically increases with altitude and 6-8 months would be considered long hang times in the industry for full ripeness. What is unique about this site is their hang-time is typically around 10 months before full ripeness. As in the wine industry hang-time can lead to additional complexities and flavors – and is part of the reason mountain grown coffee is so coveted.
It is an intriguing and unique feeling to be walking through a coffee orchard in California (something we are more used to doing in Costa Rica or Panama). Small buckets are provided and each person can pick and or eat any ripe sweet fruit. Just save the seeds for their de-pulping machine – the seeds are what coffee is made from.
Not only do you get to see and learn about the various products grown on site – you also can try them. Fresh orange juice, seasonal fruits such as the delicate Cherimoya and of course freshly roasted local coffee are available for tasting.
An interesting crop that Jay has spent significant time developing is the "caviar lime" which originates in the Australian bush (first discovered by Aborigines). Visually, the trees have a number of similarities to the wild chaparral that grows in this area and as a result blend in well on the steep hillsides.
These small finger looking limes are full of tiny uniquely flavored caviar sized beads. This "micro citrus" delicacy has only been in commercial production in California for several years and is quickly gaining popularity with chefs to pair with a number of seafood dishes. Oh and pop them into your sparkling wine – they add some nice character!
A number of exotic fruits and other products are available for sale through their website – for more information visit: www.goodlandorganics.com