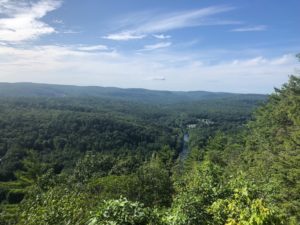 I've traveled a lot around the United States, and I haven't met a lot of people with Connecticut at the top of their must-see list. However, as a resident of Connecticut, and someone who has spent countless hours and hundreds of miles hiking, kayaking, and backpacking in more remote areas of the state, I truly believe Connecticut has a lot to offer anyone who loves the outdoors.
Connecticut is a perfect location for day hiking because of its size and location near major metropolitan areas. The trails in Connecticut are reachable by both New York City and Boston within only 1-2 hours. So, anyone who is looking to get outdoors and step away from the big city, can make an easy day trip into Connecticut to experience nature, grab some fresh air, and refresh themselves before returning back to the city at the end of the day. 
Although it may have not been on your initial bucket list of travel destinations, Connecticut has a lot to offer any outdoorsy person. Let's explore five of the best places for a day hike in Connecticut so you can get out and explore!
Peoples State Forest
Peoples State Forest is a 3,000+ acre park with plenty to keep you entertained for a day of hiking. Located 2 hours from Boston and 2.5 hours from New York City, anyone can travel here to make a day of hiking here. 
In the summer, views from the Chaugham Lookouts allow you to see for miles into the mountains bordering Connecticut and Massachusetts. Other trails meander around Beaver Brook or Beaver Swamp giving you the best of both worlds for a summer day of hiking. In the winter, the inclines are covered with ice, providing one of the best places in the state for ice climbing. 
Peoples State Forest also has huge fields perfect for playing sports or games, and is a great way to keep the entire family occupied on a day-trip outdoors.
Sleeping Giant State Park 
Sleeping Giant State Park, located in Hamden, Connecticut is named due to two miles of mountain resembling a large man lying down on the countryside. Located 2 hours away from both New York City and Boston, it's an easily accessible day trip by all. 
There are 32 miles of trail available at this park, and the Sleeping Giant Park Association offers a few certificates to those who hike all of them. The Giant Masters certificate is awarded to those who hike all the trails in one day! So, if you're looking for a challenge then this might be your park. 
If you aren't quite up to hiking 32 miles, but still want to day hike around the area, I recommend hiking up to the lookout tower to explore some history, or to the blue trail lookout points to get some of the most incredible views of the Southern part of the state.
Connecticut Appalachian Trail
The Connecticut Appalachian Trail extends 50 miles between New York and Massachusetts in the upper northwest corner of the state. The start at the New York border is only 1.5 hours from New York City, while Boston is a bit farther out at nearly 3 hours. 
Now obviously 50 miles isn't a day hike, but you can easily break this trail into shorter sections for beautiful and easily navigable day-hike trips. One favorite local hike on the AT features both Lion's Head and Bear Mountain lookout points. You should be ready for some elevation though, as Bear Mountain is the tallest peak in Connecticut. Both of these can be accessed through the Undermountain trail in Simsbury, CT. 
Not only is this a great day-hike location, the fact that it's on the Appalachian Trail also gives hikers a great way to meet a few dedicated AT thru-hikers and wish them well on their journey!
Pachaug State Forest
Pachaug State Forest is the largest state forest in Connecticut, offering 26,000+ acres across 6 towns in Eastern Connecticut. This one is closer to Boston, taking only about an hour and half to reach. But, if you're headed in from New York City, be prepared for a 3 hour journey. 
Once you arrive, though, there is plenty to keep any hiker entertained. You can hike to the Great Meadow Swamp, which is actually a National Landmark. If swamps aren't your thing, then you can meander around nine miles of rivers, seeing all sorts of natural beauty and wildlife. If you're more about elevation, then there are plenty of lookouts to hike to and see for miles at the top. 
Pachaug State Forest is a Connecticut gem and one perfect for any day hiking adventure.
Trout Brook Valley Preserve
Trout Brook Valley is a part of the expansive Aspetuck Preserve located in Western Connecticut. This area is huge, and the hiking trails extend throughout four neighboring cities. This is another farther trek for Boston, being nearly 3 hours away, but for a day trip from New York City, it's a short hour and a half trip.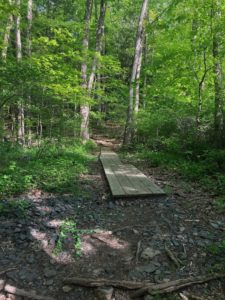 The 2,000 acres have 45 miles of trails perfect for day hiking. The largest section is Trout Brook Valley, located in both Weston and Easton, Connecticut. It borders the Saugatuck Reservoir, so you'll get beautiful views of the water, while having other trail options ranging from easy to hard to explore this park. Two trails even allow for equestrian use.
Trout Brook Valley is the most remote and less trafficked of the trail on this list. So, if you're really looking to escape from other hikers, then this will be your go-to location.
Connecticut is filled with plenty of lesser-known but excellent parks perfect for day hikes. Plus, being easily accessible by those traveling in from Boston or New York City make Connecticut an even more enticing place to day hike. If you're looking to get out into nature more, it's definitely worth the quick jaunt over to Connecticut to explore some of the great parks and preserves located in the state.