On my way to Stirling Room, strolling down a brick-paved street edged by charming restored Victorian-era buildings of Toronto's Distillery District, I felt that I was in a previous age – a time when the upper crest of society enjoyed culture and life more fully at a slower pace than our busy life in this modern age. From their times we today can relish the renovated Victorian architecture in its pedestrians-only aura – no modern traffic to mar the atmosphere. The old and the new have merged to produce what some call the most captivating and hippest part of town.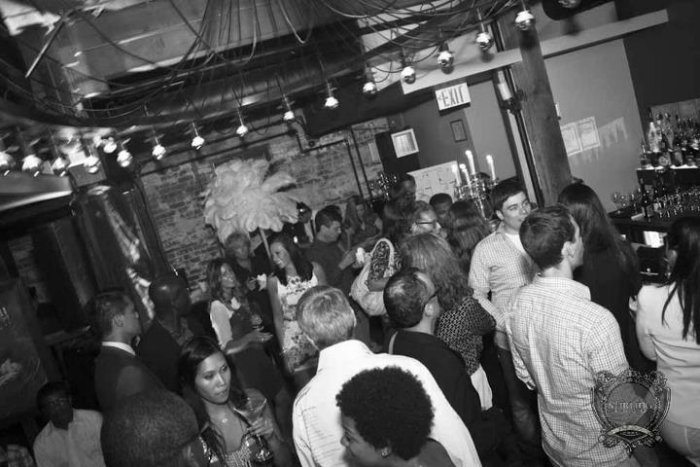 Once The Gooderham and Worts Distillery, from which the District gets its name, it was in the mid 19th century the heart of some 40 structures, the largest group of Victorian industrial architecture in North America. Through the ensuing years these structures deteriorated. However, before they were torn down to make way for modern buildings as happened to other parts of the city they were renovated to produce an internationally acclaimed pedestrian village of restored Victorian architecture – and it's all completely closed to traffic.
Today in these "old" yet new structures are to be found: some of the top award-winning restaurants in the city; a number of the finest art galleries and arts companies in North America; the most sought-after abodes in town. As well even though franchises and chain operations are forbidden, the District is dotted with all types of boutiques, exclusive shops and other stores, unique cafes, live theatres, studios, and entertainment establishments, making for a lively nightlife.
In the main, drawing the city's elite and young professional people is Stirling Room, located in the heart of The Distillery District. An elegant and upscale lounge with a sophisticated atmosphere, it is one of the establishments that has made the Distillery District famous. The only lounge in the District, it gives an aura of enjoyment to this renovated historic area in Toronto.
A mixture of modern design and historic Victorian architecture, the lounge features large wood beams, original plank flooring and charming stone archways. These are made cozy and interesting by grand lounge furniture and appealing onyx bars, as well as a reclaimed baby grand piano converted into a DJ booth. A small place of two rooms with about 200 squeezed persons capacity, its patrons of usually well dressed young men and women, come here, looking for a good time.
Open six days a week to regular customers, the lounge also offers an ideal meeting place for a wide range of corporate and social events such as birthday celebration, corporate functions, meetings, weddings and private parties.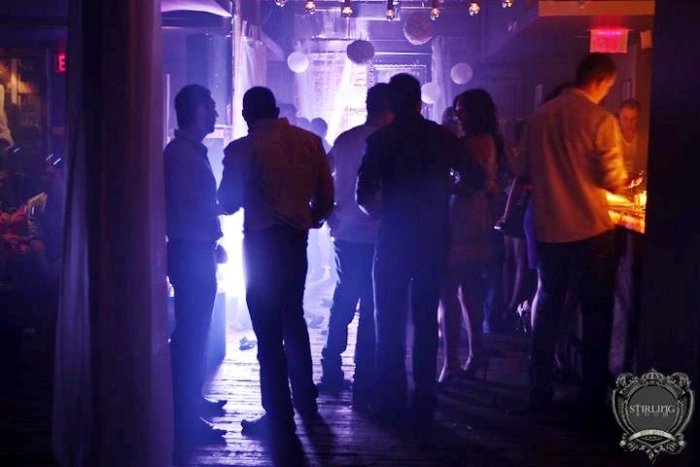 This evening for the two year anniversary celebration, I with my daughter were part of the youthful crowd, but I was far from being young – pushing 89. Yet the atmosphere was inviting and conducive to sip on a cocktail while having a good conversation with newly met acquaintances – that is when we can hear each other above the DJ's music.
When I asked a regular customer how he liked the music, he said, "Stirling Room has the best DJ's, music in the city.' Who was I to argue! My taste in music is not very sophisticated. As a farm boy in my youth I grew up listening to cowboy songs.
Its fans claim the Distillery District is a magical place to live, work and, above all, it is considered to be one of Toronto's most popular tourist spots. Just a ten to fifteen minutes' walk from the heart of the city, this pedestrian-only village, set in the midst of heritage architecture, is devoted to promoting the arts and culture as well as fine entertainment.
Stirling Room, which is the brain child of Albert Rishes, the owner who has a passion for entertainment, adds a special touch to its appeal – enticing people to join in the enjoyment of nightlife in Toronto.
In the words of my daughter, "Here, they tell me one can walk into Stirling Room from a brick- paved street whose roots go back to the past and enter the present; then enjoy the feeling of unwinding after the stress of work." She continued, while nibbling on tidbits of food and sipping on a martini in an atmosphere of history, "Do you have this feeling?"
For further information visit: www.stirlingroom.com