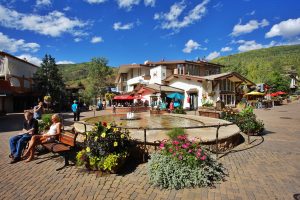 I am careening downhill on my rented cycle, hair streaming behind me, the cool September air of the Colorado mountains rushing past my face. I'm grinning.  Biking is exhilarating, I realize, especially when you're on a paved path weaving through stunning fall scenery. Yup, I'm in Vail, Colorado to experience adventure, romance, and world-class cuisine with my husband, courtesy of Vail Tourism.
Growing up in the Bay Area, Vail and Aspen to me represented the wealthy and elite part of Colorado. I never thought of both towns as more than fancy, upscale ski resorts. Vail in mid-September however surprises and delights.
The biggest reveal for us is the plethora of activities and the dazzling fall colors. Vail is indeed more than just a ski town.
Hotel Musings
As you may guess, Vail is a small town, predominantly known for its luxury hotels. We stay at the Vail Marriott Resort hotel and we are not disappointed. The word 'resort' in the title means the hotel gets to charge a resort fee which however includes a ton of amenities. Amenities that we find delightful. Imagine a whiskey tasting in the early evenings before dinner. Or fancy a marshmallow roasting by the open fire-pit at the pool? I'm not complaining!  Coming into Vail will require a two-hour shuttle ride from Denver airport and upon check-in we are pleasantly surprised with a free welcome drink. A cold pour of a hoppy beer is just refreshing after a day of traveling! The hotel can best be described as mountain rustic and has a lovely rich wooden theme to it that is almost historical in nature.
Our room is spacious and large, with a fireplace that I'm so excited to use, and a long balcony with endless views out to the mountains. This alone sets the stage for the remaining Vail-cation.
Much to our delight, the hotel has a spa and its complete with a relaxation and steam room, sauna and an indoor pool next to it.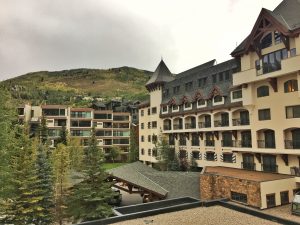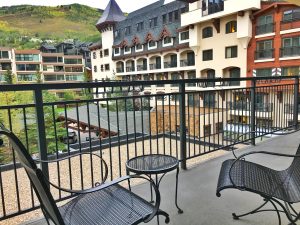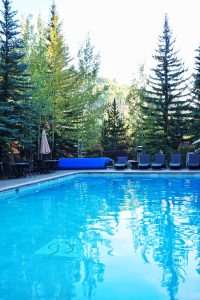 Romantic Adventures in Vail
Back country Hike
A weekend getaway in Vail isn't complete without some adventure, so we set out to experience the Colorado mountain air with our guide Tanya from Paragon Guides. A badass chick, she's lived several years out in the wilderness, hauling drinking water and being off the grid. She can definitely customize any back-country hike to suit your hiking levels and today she takes us out to sample a quick hike next to Uneva pike. We don't quite get on the Uneva pike trail but rather follow a less frequented trail across the highway on the opposite side. Even though the sun is blazing and it's around 10am, we find ourselves quite cold and my ears and nose start hurting viciously. We soon however break through the wooded trail into a stream of sunshine and we quickly warm up. We walk for a few minutes before the trail opens out to a stunning view of the mountains and trees.  We find these views incredibly romantic! We are surrounded by pine, fur and spruce trees says Tanya as her trained eye shrewdly picks out blueberries, and tiny strawberries for our tasting pleasure. Both fruits taste sweet and delicious, and very different. I suppose we would call this "mountain to mouth" food.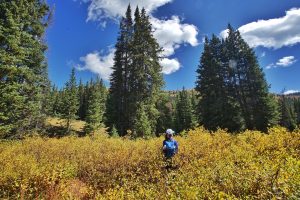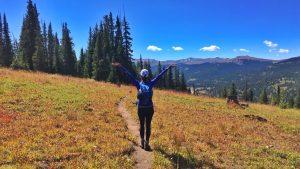 A mile or so into the hike we come upon a burst of color as the trees dazzle with gorgeous shades of greens and yellows, a signal that Autumn is around the corner. The leaves on the trees haven't turned completely yet but it should be turning within the week, says Tanya. Come back next week she says cheekily.  Not a bad idea, considering Colorado is a mere 2.5 hours away from San Francisco and we never get such seasons there, so adventuring in fall is truly a delight in Vail.
The hike is not strenuous, or long, but it's a great introduction to hiking in Vail. Alpine hiking, if you can devote a day, will stun, with the gorgeous lakes and mountain scenery, while Llama lunch hikes seem to be a thing here. You lead an actual Llama which carries your lunch on the hike and then as the Llama eats its own lunch along the way, you eat yours once you reach your destination. Imagine posing for a pic with a cute Llama. I'm sold.
If back country is not your thing, there are plenty of options right outside the Marriott. Walk about 20 minutes to Lionshead Village where the gondola operates and you can walk the Berrypicker trail.  Don't be fooled by the name of this hike however, I doubt you'll be picking any berries as you'll be saving your energy for the steep uphill climb through aspen forests and Columbines (Colorado's state flower).  This trail ends at the top of Vail Mountain at Eagle's nest.
Paved Trail Biking
Whether you are mountain biking or on a road, Vail has a ton of options, not surprisingly. We rent our cycles from the Marriott and decide to bike toward East Vale, which leads us through the village for a bit, then past the stunning golf course, the million dollar homes (I'll have one of those please!) and then onto the trail that winds gently up and down through lovely scenery. We see babbling brooks, shades of vivid greens and yellows in the forest areas, the snow-capped mountain peaks in the distance and the endless blue sky for miles ahead of us. Surely there's nothing more romantic than cycling here on a sunny Saturday afternoon with a loved one.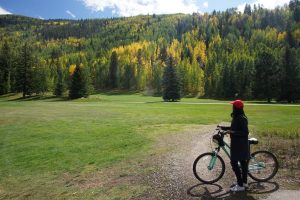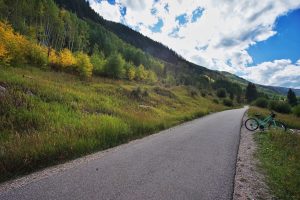 Our smiles turn into grunts as we reach the uphill sections of the trail.  We both desperately try to shift gears in time but sometimes we fail and end up having to dismount and walk the cycle over the hill.   By the end of the ride however, we both get the hang of the gears and furiously cycle our way over the little hills and feel an incredible sense of accomplishment at having made it over those bumps. Overall, I'm happy we end up cycling more than walking the bike. We pat ourselves on the back and decide after 10 miles to take a breather and celebrate with a drink.  Prost!
Oktoberfest
That's right, we just happen to be in Vail during Oktoberfest, as Germany opens up its traditional celebrations in Munich and we're truly lucky to be here as Vail is known to have one of the most lively and scenic Oktoberfest events in the US with an alpine feel.
Armed with our tokens and beer mugs (yes we came prepared), we walk into the village after parking our bikes at a random cycle stand (we are assured we don't need locks in Vail as people have much more expensive bikes) and get ready to experience this festival.
And boy do the people in Vail love their Oktoberfest. We spot tons of people in Drindles and even the men are rocking their suspender shorts and checkered shirts! The festival is almost like a block party, that runs along the main village street in and around the fountains. There are food and drink stalls lining the street, and you can get anything from the traditional German Bratwurst, to huge pretzels, to baked goodies such as Apple or Cherry strudels.
At the end of the street is the Oktoberfest main stage, you can't miss the sign, and a live band that will have you dancing to Bavarian music. If that's not your thing then check out these activities like the Bratwurst eating contest, keg bowling, yodeling, alpenhorn blowing or just people watch with some Bavarian beer. Saturday & Sunday is the best time to attend this festival as the crowds are out in full swing, however if you want a crowd-free afternoon, swing by on a Friday.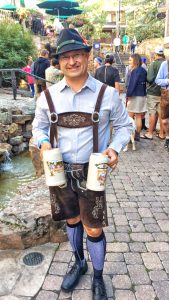 The Vail Marriott Mountain Resort Spa
The Golden Leaf spa is perfect after a long day of hiking and biking.  The spa amenities include a 24-hour fully-equipped fitness center, heated indoor and outdoor pools, sauna and steam rooms.  We indulge in a couple's massage which is so divine I might even have drooled on the spa table! Imagine wearing a luxurious soft robe, sipping a cup of soothing hot tea in the relaxation room. Your mind and body ease into a calm state, a spa attendant instructs you to follow her into your treatment room where for the next one hour you will be pampered with a relaxing massage in a softly lit room.  Drooling is optional.
Culinary Tastings
When I think of mountain cuisine, meat and potatoes come to mind. Hence it's safe to say we are completely blown away by Vail's restaurants.
The Mountain Standard
Hip, New American gastropub. The vibe is happening, trendy, some sort of top 40 music playing in the background and an open kitchen where all the cooks yell randomly out of the blue. I later realize when viewing the dessert menu, they yell when a patron buys them all a round of beer – this is an option in lieu of us having something sweet, we do something sweet! Unique, I say.
Another interesting fact about this place is the night we dine there, they have a sommelier on-site. The number of sommeliers in the world is in the 2000s, so having one at your restaurant is something pretty special. Now let's get down to the interesting part – the food and drinks! They have a drink called the Mesa Verde – don't miss this if you like chili vodka mixed with ginger beer. The appetizers are unique and delicious and we over-order starting with the Southern Pimento cheese (bacon cider jam on grilled bread) – which also happens to be their most popular dish – Smoked Trout with buttered rye, horseradish, cucumber, watercress, and pickled onions and then the the Autumn Vegetable Fritto Misto which includes parmesan crisps, and a multitude of crispy fried vegetables with black garlic ranch sauce. Each appetizer is out of this world and the flavors are just perfect. I pretty much finish the pot of pimento cheese by myself and fail to feel an ounce of regret after.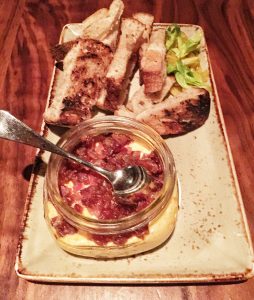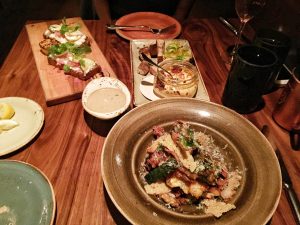 By this time we are quite stuffed but force ourselves to have at least one main course. The Colorado trout calls to us and comes highly recommended by our wonderful waitress.  Some other options on the menu that look interesting include a Monkfish in coconut curry with noodles, then of course the Steak, Shrimp & Grits, which is really more of an appetizer and the King Salmon. The Trout is accompanied by corn and okra with preserves and is so unique I have to call this out as my favorite dish. Desserts are homemade and the favorite seems to be the lemon chamomile ice cream with brown sugar crumble cake – sounds like something grandma may make!
The Pendulum
This restaurant is located in the village and actually in the iconic Gorsuch Clock Tower and we would describe the vibe here as rustic chic, hipster with American style cuisine with Latin flavors and reminds me very much of San Francisco's cuisine. The new kid on the block, with about 6 months behind it, the restaurant is trendy. I later learn the chef comes from a San Francisco restaurant and that helps explain some of the familiar offerings such as the Shishito peppers, Wagyu Empanadas and the Papas Bravas. But the Shisito peppers are unique with the spring onions and lemon and roasted garlic aioli. The Wagyu Empanadas with salsa verde are simply too good to pass up, and the Heirloom Tomato toast with marinated tomatoes and fried capers is mouthwateringly mountain to table food at its best.  Once again we over-order on the appetizers and share the main course – a lovely poached Shrimp Tagliatelle with grilled Calamari – it's lightly spiced and perfect after an appetizer heavy course like ours! Dessert turns out to be churros filled with cream and a spicy chocolate sauce to dip, you can't go wrong with this one.
The Vail Chophouse
This restaurant is somewhat of an institution, not just because the name just sounds authoritative, but because it features a spectacular slope side view at the foot of the Lionshead village.  Along with patio seating, live music and steak and seafood, this is one place to definitely try on your visit to Vail, either on a sunny afternoon or for dinner.  We enjoy some delicious crab cakes followed by Colorado Trout that comes with a raisin & pine nut brown butter sauce and roasted Brussel sprouts.
Post-dinners we walk through Vail Village, an easy stroll back to the hotel through pedestrian friendly heated streets. Wandering through the twinkling lights of the village and Lionshead, it strikes me that Vail is really a year-around destination. Whether you're a skiier, hiker, mountain biker or a spa & shopping lover, the mountain town is perfect for a relaxing weekend with a sprinkling of adventure and romance.
For more pics, visit the @eagertravele Instagram account.