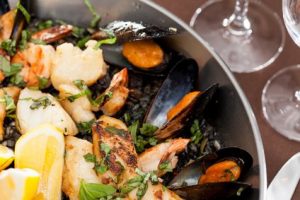 Barcelona is well known for its incredible culinary offers and has really become a foodie's paradise in recent years. From fresh fish and paellas to delicious meats and stews, Catalan cuisine certainly has something for everyone. What's very much a la mode however, is ir de tapeo, a chilled out, gastronomic bar crawl where musings are shared over a selection of delicious tapas. But with so many great bars in the city, it's difficult to know where to start. Fear not though, for we've done some investigating and come up with what we think are the best tapas bars of Barcelona!

Bar Tómas de Sarrià – The best patatas bravas in Barcelona

Patatas bravas are perhaps the well-loved tapa. These hot, spicy potatoes are a firm favorite and the perfect accompaniment to a caña (glass of beer). Bravas are available everywhere, but if you're looking for the best be sure to head to Bar Tómas de Sarrià. Located in the Sarrià district, this very local tapas bar is famous across the city for its house classic of fried potatoes which come served with a secret house sauce, and it's always packed full locals. Other tapas are also available at Bar Tómas, but this local has become known for the 'Best Bravas in Barcelona', and deservedly so!
How to get there: C/ Major de Sarrià 49, near Sarrià FGC train station.

El Xampanyet – Tapas and champagne
Looking for a local experience? Don't mind squeezing in amidst a sea of customers? Head to El Xampanyet! Easy to find opposite the Picasso Museum in the Born neighborhood, this bar is one of Barcelona's classics. The atmosphere is authentic and vivacious and with some of the best cava and champagne around it's easy to see why. In terms of tapas, their canned seafood and anchovies are a huge hit with residents and visitors alike, as are their pinxos and tortilla de patatas. Come early to this traditional bar, as the locals tend to crowd in around 8pm.
How to get there: C/ Montcada 22, near Jaume 1 metro station (L4).

Cal Papi – Authentic and Tasty
This rustic Barcelona tapas bar is oozing with character. Its wonderful decoration – nets and shells hanging from the ceiling in celebration of Barceloneta's fishing heritage – reminds us of an old boat and here you can enjoy some of the best seafood tapas in Barcelona amongst a local crowd. The vibe in this small inn is buzzing and there's nothing more atmospheric than perching around a barrel-table and tucking into some exquisite house specialties. The calamares are quite tasty, as are the langostinos and buckets of juicy mussels.
How to get there: C/ de l'Atlàntida 65, near Barceloneta metro station (L4).

Jai-Ca – Cool and Colorful
With a 'vintage, Spanish pub' meets 'cool, street café' ambience, Jai-Ca is always buzzing. This happening tapas bar is full of character as barrels and quirky ceramics line the walls, tables are decorated with traditional, vibrant tiles and its funky, curved bar is always pilled high with seriously tempting tapas. The pescadito frito is a house favorite, as is the salpicón con gambitas. The terrace outside is equally full of life and is a great place to enjoy lunch in the summer months.
How to get there: C/ de Ginebra 13, near Barceloneta metro station (L4).
Nou Candanchu – For locals in the know
This lively tapas bar is located in a beautiful square in the bohemian neighborhood of Gràcia. Getting a table here is tricky at the weekend, especially between 1.30 and 3.30 so work around these times if you don't want to queue for a seat. Naturally however, Nou Candanchu is well worth the wait. Their bravas are delicious, the fried seafood divine and their paella simply amazing! They also have a great selection of hot sandwiches available, the Don Pio being especially memorable.
How to get there: Plaça de la Vila de Gràcia, near Fontana metro station (L3).

So, if you're heading to Barcelona don't miss out on these brilliant bars. With such delicious selections of tapas available you'll be one happy traveler!
This post was written by Laura Jenkins, a travel-lover currently based in Barcelona. She currently writes for ApartmentBarcelona.com, a holiday apartment rental agency which offers over 1000 apartments and a whole host of articles and tips for travelers.