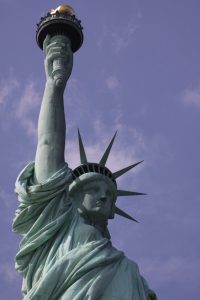 New York, the largest city in the USA boasts incredible stimuli 24 hours a day, 365 days a year, whether it be visual, noise or activity related. This is a city that doesn't sleep with services available 24/7. How many large cities have metros that never shut down – New York's metro runs all day and night 365 days a year. Those who live here sometimes need to escape the "craziness"; those who visit perhaps come here for this.
This is not a city where you will be easily bored. New York is a fascinating mix of cultures and languages from all corners of the world, world-class museums, mesmerizing architectural landmarks, headquarters for some of America's largest companies, home of the New York Stock Exchange and the United Nation's headquarters, and was the fledgling nation's first capital city.
You can visit the main highlights in 4-5 days but that is truly just scratching the surface of this great city. New York is best absorbed in multiple trips where you can peel back the layers and explore more of what the city has to offer besides the main tourist haunts.
Read on for some of our experiences during our time in New York City.
Location, Location, Location!
What a more perfect spot to call home during your trip than the Crowne Plaza Hotel located in the heart of Times Square. This is the only hotel in the area to actually have an entrance right on Broadway (between 48th and 49th Streets). With a recent 85 million dollar renovation this hotel looks and feels sparkling. After checking in, high speed elevators will whisk you right up to your luxurious room. Rooms in this part of Manhattan are not known to be huge but the rooms in the Crowne Plaza are actually fairly well sized and every room in the hotel has window views. Request a corner room for optimum Manhattan views.
Look out your window at hundreds of skyscrapers – or perhaps you are facing west overlooking part of the Hudson River in the distance. The US Airways Jet that miraculously landed safely in the Hudson River actually touched down just west of the Crowne Plaza but by the time those in the hotel rushed up to see, the strong river current had carried the plane down river out of sight.
The Crowne Plaza boasts Manhattan's largest indoor lap pool located on the 15th floor within the huge New York Sports Club. This major 29,000 square foot gym is available to hotel guests for free during non peak hours. As we were told, "if you can't figure out how to sweat in here there is something wrong!"
Brasserie 1605 is located on the reception floor of the Crowne Plaza Hotel and is "the" place for fine dining on Times Square. Based entirely on food this is an excellent restaurant – however based on its location there are of course plenty of windows and as a result truly delivers the spectacular views. While eating you look down on Times Square which always seems to be bustling regardless of the hour of day or night. From select tables (hint, near the south corner of the main room) you can see the Empire State Building in the background – if you are looking for this view, be sure to make your reservations well in advance. They specialize in steak – when in New York you have to order the New York Steak and their seared NY Strip Loin is cooked to perfection. It is New York, dinner is served late until 11:30pm.
A prix fix pre-theatre menu is available upon request. Their wine list is healthy with a number of selections from California as well as Europe and beyond. Also check out their buffet breakfast.
Broadway 49 Bar & Lounge makes a great meeting spot as well as a relaxing place to see and be seen. This lounge is located on the reception floor and has ample seating at the long bar as well as plenty of comfortable lounge style seating – the windows are un-curtained for maximum viewing out onto Times Square. This bar is known for their scotch; choose from almost 90 different kinds!
A number of tailored "packages" are also offered including but not limited to a "backstage package" geared towards film and theatre buffs, romance and more. The Crowne Plaza also boasts of significant meeting space from banquet halls to private board rooms. At the time of our visit all rooms were being wired for HDTV. What is somewhat of a rarity in the area, the Crowne Plaza has their own parking garage.
Lastly, there are three "concierge" floors available for those travelers looking for even "more"! Looking for more luxury and pampering – these are the floors are for you. A stay here also gives you access to their private Concierge Lounge.
For more information about this perfectly located hotel, visit: www.cpmanhattantimessquare.com
Shopping
Several major shopping areas are along 5th Avenue not far from Times Square and in the SOHO district of lower Manhattan. We visited the following stores during our New York shopping odyssey.
For an unusual shopping experience visit the Abercrombie & Fitch store located at 720 5th Ave near not far from Times Square. Perhaps you will see semi naked male models posing for customers in their front room just inside the store. While hanging out for about 10 minutes we could clearly see that these "hunks" were a hit with some of the women. Polaroid photos are provided free of charge by the store. Oh, and yes lines tend to form in front of this store.
This is the first clothing store we have visited where the shopping atmosphere is modeled exactly after a nightclub! Extremely loud vibrating music spits out of every corner in the store (other than the hallway on the 2nd floor where the unsigned restrooms are located (no we didn't see any stressed employees hanging out here) and it is very dark inside. Also there is a specific perfume that permeates throughout the store and some of the shirts we looked at seemed to be doused with this particular perfume. Here at this flagship NYC A&C store you might shop for jeans like you shop for jewelry or for art at an art gallery. One section of the store has a clerk behind a table pulling jeans from the wall upon request and laying them out on the table for review. Customers then have the "luxury" of pawing their way through these hole riddled jeans. Oh, fashion, gotta love it.
Deep cushion high back chairs are scattered around for additional lounge like atmosphere. Glowing stairs help your navigation between the 3 floors and friendly "semi-dancing" (I kid you not) staff greet you at the top of each staircase – although with the loud music you can hardly hear their rehearsed greetings. These models smile so nicely at you – but after thousands of the same smiles, they wear their faces for customers automatically. This particular store is extremely popular with Europeans – and on our way out of the store down the block, we had several Europeans stop and ask us for directions. Regardless of what you think about the "craziness" of this store – their setup definitely attracts the crowds.
Hershey chocolate lovers take note. The Hershey's "Great American Chocolate Company" store is located in the heart of Time's Square and their neon billboard and signage display is the largest on Broadway. This is Willy Wonka's chocolate factory in real life. 20 foot tall plastic tubes of M&M's , each filled with a different color line one of their large walls. Grab a bag and walk up and down pouring M&M's out of these tubes. You can also park yourself in front of their video camera's for re-broadcast within the store as well as submit messages to be scrolled across their neon sign outside the story. This is definitely a one of a kind chocolate shopping experience.
The flagship Kenneth Cole store is located at 610 Fifth Avenue (at 49th Ave) – good selection of shoes and clothing (upstairs). Also we should mention their sales staff are well trained, courteous and helpful.
Ann Taylor has a nice selection of rather reasonably priced women's clothes and shoes. Several floors. Location: 149 5th Ave.
B&H photography is one of the largest private photography and electronic stores we have ever visited. It is located on 9th Ave on 34th Street (within about a 10-15 minute walk from Times Square). They offer several floors full of equipment including an excellent section containing professional studio grade photography gear. They have a trolley system built high up towards the ceiling that carries any item you wish to purchase to their check out counter where you then retrieve the particular item and pay for it. This is a very efficient system as you do not have to carry anything with you – just tell one of the helpful sales agents and they will make sure your item gets on the trolley. Besides this superstore B&H also maintains a huge product filled website. Visit: www.bhphotovideo.com
NBC Studios operates a store open to the public at 30 Rockefeller Plaza. Having never owned a television in my life it was uniquely refreshing to walk into this store and not be tied to any of the characters as well as knowing absolutely nothing about the shows. In fact we had never heard of most of the characters whose images were stamped onto the various generic souvenir items. NBC also offers a tour of their studios. Advance tickets are recommended for this tour.
SOHO is a famous shopping area and neighborhood sandwiched between downtown New York and Little Italy. SoHo stands for "SOuth of HOuston" Street.
Get High New York

Empire State Building is definitely one of New York's most visited attractions. It was completed in 1931 and was the world's tallest building for many years. It still towers above the New York City skyline and from either of its two observation decks you will have stellar views in all 360 degrees.
You might see several ticket vendors outside the building – buy your tickets from the official ticket booths located inside the building through the main entrance on 5th Ave. You can also buy your tickets online which if you are going to be visiting during busy tourist times (summer months, weekends), this at least will allow you to skip one of the three lines. The first line will be the security check, then the ticket booth and finally the line to get into the elevators. Also note for bigger spenders, the Empire State Building offers a more expensive Express Pass which allows you to go to the front of each line. Audio tours are available for an additional fee.
Lines can be insanely long during the heart of the summer tourist season. With hours such as 8am to 2am you have the opportunity to actually "beat the other tourists" to the top! (last ride up is at 1:15am). During these times its best to make a visit to the Empire State Building very early in the morning or very late at night. The 86th floor is the more popular of the two stops and on a clear day you can easily look far up the Hudson River or the East River and north into Central Park and beyond and south into downtown. Tickets for the highest floor (102) are only sold on site – this higher floor is entirely enclosed in glass and is much smaller than the open air 86th floor. The only reason to get a ticket to this higher floor is to say you've been "on top" of the Empire State Building as the views are not dramatically that much better than the views from the 86th floor.
For more information visit: www.esbnyc.com
Looking for another "high" light of visiting New York? Consider visiting the "Top of the Rock", the viewing platform located 70 stories up on top of the Rockefeller Center. Visit: www.topoftherocknyc.com or www.rockefellercenter.com
Get Quiet New York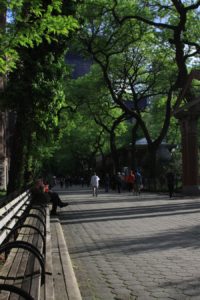 Central Park is New York's much needed oasis at times – it is huge and at 843 acres it contains woodlands, ponds and lots of lawn. This is one of the major must visit sites in New York. Have a picnic lunch? Bring the food and a blanket and park it under some of the willow trees near the area ponds. Benches are scattered about and during good weather are great places to sit and people watch or read a book. A noticeable difference when entering the park is how relatively quiet it is here compared to the endless noise of the nearby New York streets. For more information visit: www.centralparknyc.org
Bryant Park is a small urban oasis that is usually "green" in the spring through early fall months and then features an ice arena during the colder winter months. Did you know the grass you see in this park is rolled up to make way for special events in the park. Sounds so LAish, right?
During warmer weather portable tables and chairs are available for use free of charge. This is a great place to eat lunch or dinner. Oh and check out their awesome public bathrooms. For more information and a list of upcoming park events visit: www.bryantpark.org
Get Noisy New York
Times Square (where we stayed for several days) is an experience of bright neon signs, camera toting tourists, yellow taxis, tourist buses as well as significant noise including the NYPD & ambulances screaming through at random times. This experience is all packed into several blocks along Broadway. If you want to have your mug in many photos or videos from travelers from around the world, the sidewalks of Broadway near Times Square would be a great place to station yourself. This is people watching at its best. Nights are filled with lights and in the heart of Times Square after sunset it is hard to tell it is even night-time.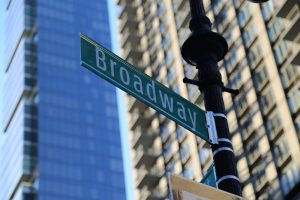 If you spend any time walking along or in the vicinity of Broadway in and around Times Square you will certainly see a plethora of theatres as well as sandwich board wearing people advertising tickets to any number of performances. Yes, you can buy your tickets on the spot at the box offices – especially to any number of lesser known shows.
Keep in mind that on Broadway, Monday is called "Dark Monday" and many of the shows do not hold performances on this day only. However there are several off Broadway shows you can still go to and also a few on Broadway that do not honor Dark Monday.
Note that many of the theatres are not actually physically located on Broadway (although there are a few), rather many of the theatres are located on side streets near Broadway. Often Grammy award winners will be performing as well as fairly well known actors and actresses (depending on the show).
Phantom of the Opera (still running at the time of this article) is the longest ever running Broadway show. For more information about Broadway shows visit: www.playbill.com or www.broadway.com
Other Attractions
We visited the following during our recent stay in New York.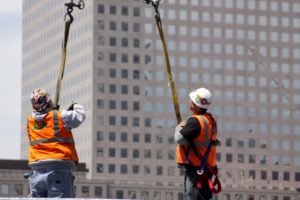 The huge World Trade Center site is composed of 16 acres. Two reflecting pools mark the actual "footprints" of the original Twin Towers. The One World Trade Center Building or "Freedom Tower" has risen to 1776 feet (including the antenna) in recognition of the year of the Declaration of Independence.
Some of the more prominent symbols of the aftermath of the tragedy have been moved and are in select locations in the downtown area. The famous steel cross that was discovered days after September 11, 2001 has been temporarily moved next to the side walk on appropriately named "Church Street". The Sphere metallic sculpture damaged during the attacks now sits un-repaired in Battery Park near the departure terminal for Liberty Island and the Statue of Liberty. An "eternal" flame burns all day and night.
The actual Tribute WTC Visitor Center is currently located across from the site at 120 Liberty Street. This is a temporary location until the main memorial on the WTC site is finished. This visitor's center is small with plenty of videos, photos and quotes about the tragedy. The cost of admission helps to maintain this visitor center as well as fund educational programming. This center is quite small, but it does not need to be large to convey the emotional impact of September 11, 2001. Kleenex boxes are strategically located in the main gallery. Especially touching is the "photo wall" that pays tribute and displays photos of the victims.
Highly recommended are the personal tours which start at the visitor's center. These are always guided by someone who was directly involved in the disaster. For more information visit: www.tributewtc.org
Famous Wall Street is home to the New York Stock Exchange. You can't miss seeing this well-known building; a large US flag is draped over the columns on the side of the building that overlooks Broad Street. This section of Broad Street is fenced off from traffic and during warmer weather there are usually tables and chairs for use free of charge. You can actually sit down right in front of the New York Stock Exchange and eat lunch! There are several nearby restaurants and sandwich shops that offer takeout service. During the NYSE hours (especially in the summer) this part of Wall Street is usually very crowded both with professionals in suits mixed in with the mass of tourists.
Note that the NYSE building is closed to the public and tours are not offered. There is however the American Museum of Finance just located down the street at 48 Wall Street. Visit: www.moaf.org
Almost across from where Broad Street intersects with Wall Street is the Federal Hall building which is famous because it is here that George Washington took the oath of office as the first President of the United States. Yes, New York was the nation's capital city for several years before Washington DC. This building was home to the nation's first Congress and Supreme Court. This is an extremely historical location and should be a must visit for anyone coming to Wall Street. There are great photo ops with "George" on the main steps. Today the building serves as a museum with tribute to Washington and the nations' beginnings. Visit: www.nps.gov/feha
Trinity Church is located just down the street from the Western most end of Wall Street. In the midst of this amazing concrete jungle you can actually put your feet on real New York soil as there is a cemetery adjoining the church. There are some famous folks buried here as well including Alexander Hamilton (first secretary of the Treasury) and naturalist James Audubon. Benches make a great place to sit and read or take a quick snack. More information about Trinity Church: www.trinitywallstreet.org
In order to see the Statue of Liberty up close and personal make your way south of downtown to Battery Park and keep heading south towards the water.
You know you are getting close to the ferry terminal that leaves for Liberty Island when you start seeing the "fake" statue of liberties standing on pedestals waving in order to flag down unsuspecting tourists for paid photographs. Battery Park is located right next to the ferry terminals. There are a plethora of metro stops within walking distance of this park – (most of the stops are located north near Wall Street about half a mile away).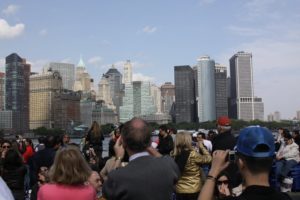 One of the true highlights of a visit to New York is taking a ferry from Battery Park and circling around part of Liberty Island and then actually standing on the island looking up at the famous Statue of Liberty. Most impressions people have of the Statue of Liberty are from movies and television and in person the large size you have engrained in your mind may disappoint. Nonetheless this is an impressive statue from all angles. Once you have your tickets, go through the security checkpoint and board the ferry. Most people in reasonable weather will quickly head right to the top deck for optimum viewing. As you pull away from the terminal there are great views looking back at downtown New York all the way to Liberty Island.
Currently admission to inside the pedestal part of the Statue of Liberty is free as well as admission to the Museum on Ellis Island. One ticket covers admission to both islands. What you are paying for is the ferry transportation. You can purchase your tickets directly from the ferry terminal located on the southern tip of Battery Park from the ticket booths located in the big round building however note that during the summer (May through September), busy weekends and holiday periods it is strongly recommended you reserve your ferry tickets well in advance. To reserve ferry tickets, visit: www.statuecruises.com
Also check with the park service to see what the wait time is for entering the security area prior to boarding the actual ferry. There is also a secondary security check before entering the Statue of Liberty. Ferries run at intervals throughout the day from both Liberty and Ellis Island and you do not need to have a specific return ticket; just wait in line to board the next leaving ferry when you are ready to return to Manhattan.
Note that in order to visit both the Statue of Liberty on Liberty Island and Ellis Island (and have enough time to enjoy both) you should be on the ferry leaving no later than 1pm.
Also note that admission inside the statue up to the crown has resumed.
For more information visit: www.nps.gov/stli or the Statue of Liberty Foundation: www.statueofliberty.org
Eating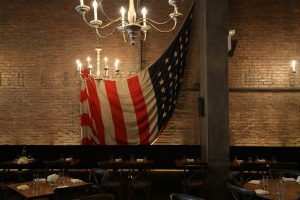 New York is the king of culinary in the USA – with a plethora of dining options representing cuisines from around the world with special parts of the city often focused on specific cuisines. Italian food is very popular in and around Manhattan. It is somewhat unusual to find "street food" in the USA however Manhattan and the downtown area have a number of mobile cart street side vendors. They usually sell a variety of cheap hot dogs and other snacks and you may find special fruit vendors.
We sampled the following:
Brasserie 1605, located on the reception floor of the Crowne Plaza Hotel is "the" place for fine dining on Times Square. Based entirely on food this is an excellent restaurant – however based on its location there are of course plenty of windows and as a result truly delivers the spectacular views. While eating you look at over Times Square which always seems to be bustling regardless of the hour of day or night. From select tables (hint, near the south corner of the main room) you can see the Empire State Building in the background – if you are looking for this view, be sure to make your reservations well in advance. They specialize in steak – when in New York you have to order the New York Steak and their seared NY Strip Loin is cooked to perfection. Its New York, dinner is served late until 11:30pm.
A prix fix pre-theatre menu is available upon request. Their wine list is healthy with a number of selections from California as well as Europe and beyond. Also check out their buffet breakfast.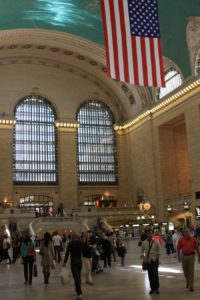 Grand Central Terminal – is one of the busiest metro locations (and definitely the largest) in Manhattan and can be a great place to duck into for a quick rather inexpensive meal or even a number of sit down fine dining options.
La Maison du Chocolat is an artisan chocolate maker located at 1018 Madison Ave. With only 4 stores in production, each one is selectively distributed in large upscale cities around the globe including Paris (headquarters), New York, London and Tokyo. This is fine chocolate at its finest – we saw one type of chocolate for well over $100/oz. A free sample will be offered to those who walk in the door; their small truffle boxes make very nice gifts.
Le Pain Quotiden is a delightful French Cafe located just across from Bryant Park (see park info listed above) located at 70 West 40th Street between 5th and 6th Avenues. During warm weather their menu screams "takeout" to be eaten across the street on one of the tables in Bryant Park. Indoor seating is also available. Pre-made items are available to be scooped up on a moments notice – but they also offer much more including their tasty tartines (French open faced sandwiches with a variety of condiments on top).
Visit: www.lepainquotidien.com
In Manhattan, "Restaurant Row" is conveniently located just west of Broadway on West 46th Street between 8th and 9th avenues. A variety of boutique restaurants are located here offering a number of cuisines with the most common being Italian. This is a nice place regardless of the good restaurants here as while it is located just blocks from Broadway it seems miles away. There are no "tall" buildings in the immediate vicinity and the streets are tree lined. And you almost immediately notice the drop in noise from Times Square.
For more information about Restaurant Row, visit: www.restaurantrownyc.com
Transportation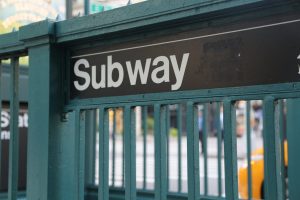 The best two forms of transportation in New York are using your own two feet and the metro with taxis to be used as a backup option. New York has one of the best public transportation systems in the USA. Unlike most large cities on the planet, the New York City metro runs 24 hours a day 365 days a year. Fantastic! With many different lines there is excellent coverage in and around New York. From Manhattan to downtown there are stops almost every few blocks. The subway in and around downtown is called the "Spaghetti Bowl" because most of the subway lines run through this part of the city. Plastic standard Metro cards usually expire in about a year from the issue date. You don't need to purchase new metro cards when the card runs out of money – simply use the machines to add credit to your existing card.
The metro is there, it is affordable and it works; use it! For route maps and other details visit: www.mta.info
Grand Central Terminal is a large metro interchange located within walking distance of Times Square: www.grandcentralterminal.com
There are three airports that service the greater New York metropolitan region, JFK, La Guardia and Newark Liberty.
Hint: if you are going to Manhattan or downtown, rather than fight the cross town traffic by flying into JFK or La Guardia fly into the Newark Liberty Airport across the river in New Jersey. Then take the 24 hours a day Airtrain from the airport to public transit and Amtrak trains to take you into Manhattan.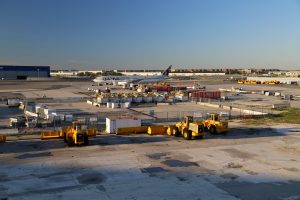 JFK – Like the Newark Liberty airport JFK is also serviced by an Airtrain which connects to the Long Island Railroad and the NYC metro system for easy access into Manhattan, downtown and points beyond. JFK services the most passengers of the three area airports; this is a very large airport. Several bridges have been built over the large roads leading to the airport and planes actually use these bridges. You can be driving into the airport and have a plane crossing over you on the bridge!
La Guardia Airport is slightly closer to Manhattan than JFK. This airport is connected to the New York subway via bus.
New York Airport Service offers bus rides from JFK and La Guardia to Manhattan between the hours of approximately 6am and midnight. For more information visit: www.nyairportservice.com
The last view of New York on our latest trip was at sunset heading up at a steep angle out of JFK airport. The sky blazed golden over New York City with the sun dropping behind the mass of steel and concrete. One building stood out above the entire city, the Empire State Building.
Built in 1931 this is one of the world's greatest buildings ever constructed. Built during the depression it is 1250 feet tall and at the time of our latest visit is still among the world's top 15 tallest skyscrapers – it was built so far ahead of its time that 40 years elapsed before its height was eclipsed.
Consider that other than New York's Chrysler Building the majority of the world's top 55 tallest skyscrapers as of mid 2009 were built in the 1990's and 2000's. The Burj Dubai is certainly taking the next step in evolution of tall buildings. For perspective, the Burj Dubai is well over twice the height of the Empire State Building.
More Information
www.iloveny.com – the official New York state tourism guide
www.nyc.gov – official New York City website
www.nycgo.com – New York City travel guide


More Photos