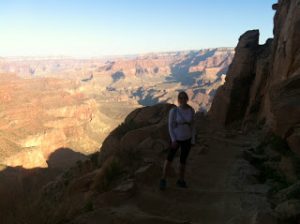 Recently I learned something intere sting from my friend's uncle.  You can hike the Grand Canyon!  I'm not talking about just going out to canyon and hiking the outskirts.  You can hike the whole thing – from the south rim to the north rim AND you can do it in a day.  Of course, not everyone does hike the Grand Canyon rim-to-rim, and there are actually many warnings on the internet not to do this, but my friend's uncle (who is in his 60s) said he had done it a bunch of times and he was able to complete the 24 miles between sunrise and sunset, so my friend and I figured we could do it, too.
We picked a date for the end of April when the temperature wouldn't be too hot, bought some trekking poles and booked a hotel room. There was only one problem – it turns out the shuttle at the North Rim that brings you back to the South Rim (where my car would be) didn't start running until May 15. We would have to do Rim-to-Rim-to-Rim – which is 48 miles in one day. Um…not even I am that crazy – although we did meet four guys in their 50s who did do it.  They looked sore and in desperate need of a massage, but they made it.

HIKING THE GRAND CANYON – SOUTH RIM LOOP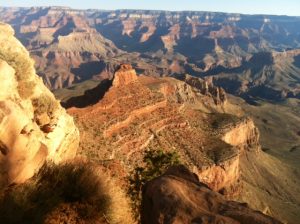 So onto Plan B. Instead of doing rim-to-rim, I found a route that let us go down the South Kaibab trail, across the Colorado River, over to the Phantom Lodge, and then we could climb back up the canyon using the Bright Angel trail.  In total, we would hike just over 16 miles in a day.  Not bad.Let me just say it was amazing.  We started on the trial at 6:30 a.m. and walked all day.  It took us about 3.5 hours to get to the Colorado River. On the way down, we could see the bridge that we use to cross it in the distance growing from something that looked narrow and scary to a sturdy iron walking bridge.  Then it was just another 30 minutes to Phantom Lodge where we planned to have lunch, refill our water bags and continue on our journey.  We had heard the Lodge was beautiful and posh.  We were wrong.
Apparently our perception of luxury accommodations isn't the same as the people we spoke to along the way.  We were expecting a 5-star resort, but it's really more of a couple of cabins at the bottom on the canyon.  They are quiet and better than sleeping in a tent, but not quite what we were expecting.  Also, if you are planning on getting a descent lunch such as sandwiches and salad, you will be disappointed. They don't sell that, but they do have a canteen where you can get iced tea, soda and energy bars.  You can also fill your water bags up and use their restroom.
Then it was time to start climbing the 9 miles up Bright Angel Trail to the trailhead.  This trail is a gradual ascent to the top with numerous switchbacks.  There are few places to stop and fill up your water along the way which is helpful.  The scenery was incredible, the people we met along the way were interesting, and it was one of the most memorable days of my life.  I would do it again in a heartbeat and will definitely do the entire rim-to-rim hike next time.
GRAND CANYON HIKING TIPS:
If you are going to do it, here are some things to keep in mind: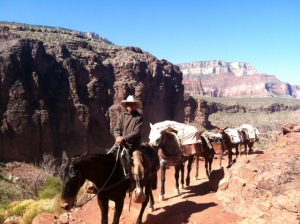 1)  Train for hike:  I trained for weeks by running 12 miles a couple times a week, doing the cross ramp at the gym on the steepest setting 5 days a week for 60 minutes, doing 4 sets of 50 weighted squats a day and hiking up a lot of little mountains to make sure my cardio level and legs were ready.  I was able to do the hike easily and had no pain the next day.
2)  Treat the hike like a marathon:  You are going to be walking all day up and down a canyon treat it like an intense sporting event.  Carb up the night before, eat a good breakfast and bring carbs and water with you on the trip.
3)  Bring snacks: The Phantom Lodge does have water, but what they have for food is limited.  They have pretzels and cliff bars, but not sandwiches, salads or anything of substance.  We were surprised. If going again, I would bring more peanut butter sandwiches, more energy chews and more electrolyte powders, etc.
4)  Pack smart: Bring food items that are light and use a camel pack instead of bulky water bottles.  You will need to bring your garbage back with you so think about what you are bringing. You may also want to bring band-aids in case you get a blister, extra sunscreen and Advil to help with any aches and pain.
5)  Bring a headlamp or flashlight: We thought we would be done before dark, but we weren't. We ended up borrowing a light from a group of hikers to help us see at the end.
HIKING AT NIGHT – TOTALLY MAGICAL!
Here's something else that I learned. A lot of people do night hiking on full moon days.  This is an amazing experience as you leisurely hike down or up the canyon with your flashlight and the light of the moon.  It is also magical to watch.
We only got to see it for a little while at the end, but when you look out over the canyon all you see are the lights of hikers slowly making their way up.  It's a completely different experience from the day hiking and a must-do if you are into hiking like me. I already have a friend signed up to do a moonlight hike down to Havasu Falls with me later this year. Yay!
Just remember to bring bug spray and a jacket. It gets really cold at night.  Also, for extra fun, bring an ultra-violent light to hunt for scorpions on the way.  They glow in the dark (under the ultra-violent light). Very cool.