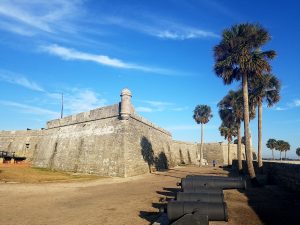 Nope, it's not Jamestown. Nor is it Plymouth. And neither is it the lost colony of Roanoke. Bet you didn't know, the oldest permanent European settlement in the US was founded in St. Augustine, Florida by Spanish conquistadors as early as 1565. It predates the next oldest European city (Santa Fe, New Mexico) by more than 4 decades. As of the time of this writing, the city has been continuously inhabited for 453 years. By North American standards, that's old school! The Spaniards called it "la siempre fiel ciudad" (the ever-faithful city) for its enduring history and tribulations.
Situated on Florida's Atlantic coast, about 45 minutes south of Jacksonville, St. Augustine today is known for its warm weather, miles of sandy beaches and quaint atmosphere. In winter, the population swells with "snowbirds" (pensioners from Canada and the US northeast who temporarily migrate south to escape the brutal chill.) It's also a popular destination for cruisers – both on boat and by car. And for lovers of American history, it is an incomparable gold mine. I've been there twice now and, as this story below makes clear, I'll need to make a third visit before my time on this planet is up.
Fail #1 👎🏾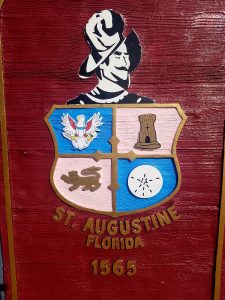 I first visited Saint Augustine in 2000, having only a faint idea of what to expect. At the time, I was living in North Carolina and my cute neighbor downstairs (whom I had a secret crush on) told me about her parents spending the winter in Saint Augustine. "Saint where?" I asked, trying my best not to look too clueless.
While things never went anywhere between us (mainly because I never had the courage to ask her out), I did get a chance to visit Saint Augustine on a Florida road trip with my brother, Solomon, and my labrador retriever, Bear, later that year. Turned out, the 3 hours we spent in town were not nearly enough to see everything we wanted. What a gorgeous place it was: history, arts, architecture and culture all packed in. Unfortunately, we were disappointed that we didn't get a chance to visit the historic fortress of Castillo de San Marcos – it was closed due to renovations. I promised myself, I would come back someday to walk the grounds of the Castillo…
Fail #2 👎🏾
Fast forward to 2018. To be more specific, Saturday, January 20, 2018. I find myself standing alone in front of the Castillo gates, staring up at its imposing walls from across the moat. It's 7:45 am and I keep a keen eye on the ticket booth, waiting to be the first one in when the doors open at 8:00 am sharp. Not much of a line anyways, since I'm the only one there. And inside the office, not a creature is stirring, not even a mouse. That's unusual, I think to myself. The National Park Service is typically pretty timely. I continue to wait, wondering where the other tourists are. "Oh boy, Imma be the only one in here and get to have the place to myself," I think as I gleefully rub my hands in child-like anticipation. But there is still no sign of life anywhere. The shutters on the ticket booth remain firmly closed and I start to get anxious. Just like on one of my many would-be dates from my single days, I wonder if I'm being stood up. Again. 😒. But I continue to wait patiently, hopefully.
"It's closed today," grunts a raspy voice behind me. I turn to face an elderly gentleman standing there, big fat cigar in his mouth and a decrepit old dog on a decrepit old leash behind him. In fact, everything about this guy seems decrepit – his hat, his jacket, even his semi-mean expression.
"What do you mean? Google says it was supposed to open at…"
"It's closed. Government shutdown," he interrupts sharply. "What's wrong with you young people, don't you read the news anymore?" He stares at me an accusingly, then walks away muttering something and shaking his head, utterly oblivious to the giant 💩 his dog had just taken in front of the Castillo.
Government shutdown? Wait, what? What shutdo… ohhhhh! Damn it!! That's today?? That's right, it's the 20th today! I start to connect the dots: Castillo de San Marcos = US National Monument = run by the National Park Service = a US federal government agency = federal agencies cannot operate during government shutdowns = our loser politicians just had a toddler-esque hissy fit and shut. down. the. government… 💩. 💩. 💩💩💩!!!
The disappointment wells up in me as reality slowly sinks in – this is my second failed attempt at visiting the Castillo 😢. I've waited 18 years and they had to pick this effing day to shut down the federal government? Gah! Eff this! And eff these lousy, overpaid, back-stabbing politicians 🖕.
In frustration, I text my brother to vent. His response is as useless and classic Solomon as any. "Scale the walls. Pirate style. Arrrrrhhh!" FML…
The Salvation
I walk across the street to the Saint Augustine visitor center – at least it's not shut down. As I approach, the lady and gentleman at the reception desk exchange a quick glance. The long, sad look on my face says it all. Before I even say anything, she greets me. Not with that fake happy face reserved for tourists, but with an empathetic look that says, "I know. And I'm very sorry." It's eerily soothing, actually.
Her: "I bet you were looking to visit the Castillo 😔."
Me (with a pathetic whimper): "Yes. I came here 18 years ago and couldn't see it because it was being renovated. And now this!"
Her: 😬
Me:  😢
Her: "You know, there's a lot more to see and learn here. Let me show you…"
Macabre beginnings of Saint Augustine ☠⚰
Turns out, there is indeed a lot to Saint Augustine and its founding is rather macabre. Then again, what else should one expect from Spanish conquistadors of the 16th century? Though the area had been inhabited by native people for at least 4000 years, it was promptly claimed for Spain in 1513 by Ponce de Leon, the "discoverer" of Florida. But it took another five decades before any real European activity occurred here.
That task fell to one Pedro Menendez, who was dispatched by the king of Spain in 1565 in order to rid "the king's lands" of the French Protestant settlers who had arrived here recently. In a series of three separate and barbaric massacres, Menendez and his henchmen executed about 400 French civilians and soldiers before setting up a permanent fort to secure the region. No doubt, they were proud of their achievement, as they named it Fort Matanzas – which literally translates to "Fort Slaughter." Yikes! It still stands today and can be visited just a few miles south of Saint Augustine. How many natives were slaughtered by the Spaniards is anyone's guess
Becoming American 🇺🇸

Over time, Saint Augustine grew into an important Spanish colonial military town. Fortifications were later erected to guard against the English navy and their allied pirates, such as Francis Drake, whose 2000 strong crew ransacked the town in 1586. The original fort was first made from earth and lumber, later replaced by stone – making it the oldest stone fortress in the continental United States. As part of the terms of the Treaty of Paris of 1763, Spain ceded Saint Augustine to Great Britain, only to promptly regain control of it 20 years later after Britain's defeat in the American Revolution. Florida, and Saint Augustine with it, became a US territory by treaty in 1821. The city was handed over via a formal military parade on the grounds in front of the Castillo.
Sights to see in Saint Augustine 👁👁
Saint Augustine boasts a number of firsts, or supposed firsts, in American history. For example, aside from the Castillo, it is home to the oldest wooden schoolhouse in the US. It also claims the oldest church building in the US, though Santa Fe, NM disputes that.
The best way to start out in Saint Augustine is to stroll through the old town, walking among reconstructed Spanish-era homes of soldiers and settlers. Most of the buildings were reconstructed in the 1950s and 60s, but are true to their original design. The oldest original house still standing dates to 1721. I particularly enjoyed that the historic buildings are named and markers provide a description of the original occupants. You'll learn a lot about the life of early Saint Augustine simply walking through the old town.
Because Saint Augustine served as a winter retreat of the wealthy in the late 19th century, numerous notable buildings and architectural masterpieces can be found throughout the city. Examples include the Villa Zorayda, built in the Moorish revival style and modeled after Granada's Alhambra, and the Ponce de Leon Hotel (now part of Flagler College), designed in the Spanish Renaissance fashion. The Ponce de Leon building is particularly famous for its incredible dining hall rotunda, lined with gorgeous Tiffany stained glass and bedecked with murals. A visit to both of these is a must, though I highly recommend making your reservations far in advance.
Immigrants from Greece 🇬🇷 and Minorca 🇪🇸
While Florida is well-known for its diverse immigrant history, a couple of particular groups made Saint Augustine their home in the New World relatively early on. The first of these was a group of some 1300 Minorcans who settled here in the 1760s. Though part of Spain, Minorcans have a unique heritage and language. Over time, they completely integrated into American society, losing their native language and most of their traditions, though their foods and some religious celebrations still enrich the city today.
Around the same time, some 400 Greek settlers arrived in Saint Augustine, marking the first permanent Greek settlement in the New World. They gathered and worshipped in a building known today as Casa Avero, located in the heart of the old town. It is now the National Greek Orthodox Shrine and is one of many buildings in town listed in the National Register of Historic Places.
The stain of slavery and St. Augustine's quirky role
While it was still a Spanish possession, Saint Augustine served as an important sanctuary for runaway slaves from the British Carolinas and Georgia, making it a vital terminus of the Underground Railroad. Once it became part of the United States, like much of the antebellum South, Saint Augustine, unfortunately, took part in the slave trade. As an important port city, it had a thriving slave market, which still stands today. Interestingly, while Florida joined the Confederacy during the Civil War, loyal Union troops managed to retain the city in the United States' possession. Thus, slaves in Saint Augustine were the only ones who were actually freed after President Lincoln's Emancipation Proclamation.
Sadly, there is not much information available in the visitor center or in the slave market building itself. It would be worthwhile educating visitors about this important aspect of Florida history and hopefully, this is something the city can address at some point.
Not much of a fail after all 👍🏾
So overall, the lady at the tourist bureau was actually correct. There is a lot to see and do in Saint Augustine. Even if the fine details of history are not your thing, most visitors appreciate the old charm of the city – buildings from a different era, shopping, dining, art or just soaking up the warm weather, Saint Augustine has something for everyone. Come to think of it, my visit really wasn't a fail. Saint Augustine never is. It was as charming and lovely the first time as it was the second time. And I bet it will still be charming the third time around, Castillo or not.
Notes:
The oldest permanent settlement in North America is the pueblo of Taos in New Mexico, believed to be inhabited for over 3,000 years. The oldest permanent European settlement in North America is Saint John's in Newfoundland, Canada, dating to the late 15th century.
Sources:
Sources for much of the historical information come from my personal visits to Saint Augustine, as well as the following websites:
www.smithsonianmag.com/travel/us-oldest-city-st-augustine-florida-180956434