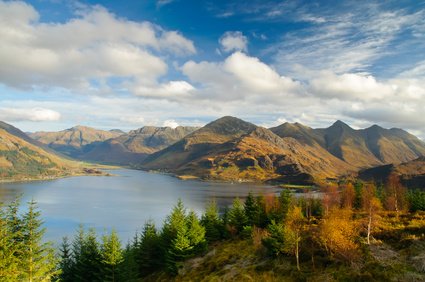 Ever since my grandmother died, taking the last living link to my Scottish ancestry with her, I have vowed to get off my backside, travel up country from my home in Yorkshire, England, cross the border and find my Scottish roots. My grandmother, whose maiden name was Angus, had always talked about this rather mythical place in Scotland where our family hails from. Nobody down here in England had ever set foot on our ancestral soil, although they all professed a deep desire to, and I had long ago decided I would be the first. But it wasn't as easy as I thought it would be.
Looking at my map, Angus country is rather far and all the interesting places are not there. But it does appear to be just beyond Fife, where many interesting places are, so I booked ahead and rented a beach front flat for a week in Fife (very cheap!). This seemed like a fine place to start. I could stay in Fife, I thought, a good decision in the end considering how long it took me to get that far, explore a little, then move on up to my ancestral home. Simple. But what do I know? For a woman with litres of Scottish blood in my veins (according to my grandmother), like the rest of my family, I'd never before set foot in this alien land, so had no idea what I was about to find when I got there.
I arrived in the quiet village of Lower Largo late afternoon. My instructions from the letting company told me I must collect the keys from the pub. No problem. I found the pub (well, there are only two in the village) and went to get my keys. I must admit when the landlord in the pub, who slid my keys from a shelf quickly as if he doubles as the key master all the time, pointed me to my apartment, I was quite overawed. Actually walking over to it I was speechless. When they call it beach front they aren't kidding. The sandy beach at Lower Largo was my back garden, the breakwater was the wall that separated my back door from the beach.
That night I slept with the sound of waves exploding on the wall below my bedroom. In the morning I opened the window and breathed in the sea. I could stay here forever, I thought. But I was on a mission, wasn't I? I was here to tie together all the stories and memories of this country my grandmother had given me over the years, and find out for myself what it feels like to stand on the earth that bears your family name. I was working my way up to Angus. So, obviously, that's why I began by travelling back down towards Edinburgh. Sure, I was going the wrong way, but you can't come to the Southern East coast of Scotland and not go to Edinburgh. Anyway, I did find a link to my family history in between threading myself along the rows of bars, cafes and shops.
There is a free service for looking up your family tartan at The Edinburgh Old Town Weaving Company. I waited in the queue, excited about speaking out loud my famous family name. How proud I would be to tell the world (or at least the Edinburgh Old Town Weaving Company) that I was an Angus. It was then that I heard the American man in front of me tell the assistant that he was looking for the tartan for Angus as well. I had a brief moment of unseen, unspoken bonding with this man. He didn't know it, but we were related, I thought. Maybe I should say something. Tap on his shoulder and offer him the knowledge of our shared blood. But I'm English, so of course I didn't, I just sidled up to the counter once he'd gone and whispered the name Angus to the assistant. I found my family tartan though, and I have to say it's quite beautiful.
From Edinburgh I went back to Fife, which I had fallen deeply in love with by now. Not only does Fife have the most seductive coastline, but it is peaceful, with relatively few visitors. In Anstruther one evening I discovered not only an award winning fish and chip restaurant, boasting the claim of Best Fish and Chips in The World, but also the existence of locally made Scottish wine which I was previously unaware of. I sat down for my meal and decided that the only thing to do was to order the best fish and chips in the world accompanied by the Scottish wine. The fish and chips may well be the best in the world, I wouldn't know, but they were certainly the best I've ever had. And the wine? I ordered a cool glass of Spring Oak, and it was as good as any I've tasted . I scanned the wine list and made a mental note of the winery. Cairn o' Mohr in Errol, Perthshire, now that had to be a place worth visiting, and, according to my map, it looked as if it was heading in the right direction. I could see the sought after word Angus, boldly beckoning me just above Errol.
For now though, I was making my way South to Dunfermline. Yes, I know, I was going the wrong way again, but Dunfermline has some treasures that I couldn't ignore, including the final resting place of Robert the Bruce. I started my exploration of Dunfermline at Abbot House. It's a bright pink building so not hard to find. Abbot House will take you right through the history of Dunfermline and the volunteers who work there are very enthusiastic about their town. The lady who showed me around pointed me to the grave of William Wallace's mother out in the church yard at the back of the house, as well as giving me the name of the best guide inside the abbey who would talk to me for hours (if I let him) about Robert the Bruce. The resting place of Robert the Bruce is awe inspiring. Outlined in gold, it follows the exact measurements of his body. Looking down on that hero's form I defy anybody to glance without emotion.
After my day on a history trail I made my way back up to Fife. The next day I got as far up country as St Andrews. Like Edinburgh St Andrews has a lot on offer for a visitor, but with the added bonus of a truly stunning shoreline and ruins which can be viewed for free. And I could easily have stayed a little longer. Unfortunately I was running out of time.
I never made it to my ancestral home this time around. But I wasn't sorry. On my last morning I gazed out of my window at Fife and watched the Guillemots perched on the sea wall at the pub. The beach was empty again so I went for one last stroll, stopping along the way to peer into rock pools. Next time, I told myself, I would travel further and cover another corner of Scotland. Next time I would definitely make it to Angus.