"Quebec is the most beautiful city in North America I've seen." – Sebastian Bach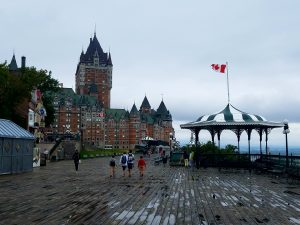 Leaving aside that Sebastian has quite clearly never been to Puebla, Mexico, I am inclined to agree with him. Quebec, indeed, is a most fanciful city, romantically trapped in an era long gone and full of Old World charm. I first visited it on a day trip from Montreal with my dad fifteen years ago. Dare I steal Quebec's honored motto of "Je me souviens" (I remember) as the title of this article? In fact, I remember it quite well. There was the gorgeous city wall that ringed the old city, the same ones that prompted Charles Dickens to name it the Gibraltar of the Americas. The streets were lined with homes from a time past, centuries ago when French colonists recreated the fine, cobble-stoned streets of Paris in Nouveau France. Flowers hung from window boxes and terraces perfumed the air. The military citadel proudly stood in defense of the city, at the same location where Samuel de Champlain first decided to build a fort in 1608. I also remember the French language spoken everywhere I went and the marvelous foods as well. Overlooking it all, the fantastically beautiful Chateau Frontenac soared dramatically above the Quebec skyline. Je me souviens. I do remember. And I remember the decision I made that day, back in 2002, to come back some day to explore the city (and region) more fully.
More French than France
If you live in North America and want to visit France, Quebec represents an intriguing alternative. Yes, it sounds absurd at first but allow me to elaborate:
it's much closer and accessible from virtually anywhere in the US or Canada (depending on where live, you can even make it a weekend trip),
your money goes further (the Euro is far more expensive than the Canadian dollar),
it's authentic (it feels 110% like being in France).
With apologies to my French friends, in a sense, Quebec can feel more French than France. By the way, a Parisian friend of mine pointed out to me that it is pronounced "Ke-bec" rather than "Kue-bec", as most English speakers are want to say. And therein lies the first of Quebec's many cultural, political and lingual quirks. (I'll explore Quebec's fascinating history and politics further at the end of this post.)
Things to do in Quebec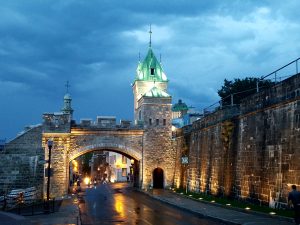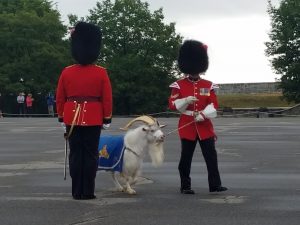 Quebec, a UNESCO World Heritage Site, is best experienced on foot. The streets, lined with buildings built in the early to mid-1600s, perfectly capture the same charm as meandering through old French towns. The defensive city wall that embraces Vieux-Quebec (old town) is the only one north of central Mexico, and it is in perfectly maintained condition. Walking around the perimeter wall and ascending the city gates, one gets a faint sense of the strength and confidence that the city's defenders must have felt. At one end, on a bluff overlooking the St. Lawrence River, the citadel anchors the entire system. It is in use even today to house the Royal 22nd Regiment, the only French-speaking unit in the Canadian Forces. In summer, tourists are treated to a daily Changing of the Guards ceremony, replete with the unit's mascot – a goat with golden horns (I'm not joking.)
Shops, restaurants and bars line the streets, while a quick glance into any random side alley is likely to reveal a beautiful courtyard or garden, hidden from passersby on the street. Quebec also encourages, and indeed, celebrates its street artists, from painters and artisans to singers and performers. In true French fashion, the food is exquisite, with poutine being the local favorite (pommes frites with cheese and BBQ sauce). Some of the oldest restaurants date back to the 1670s and offer traditional Quebecois dishes, as well as samplings of various frontiersmen foods. Local beers, greens, honey and cheeses are plentiful enough to keep any foodie curious.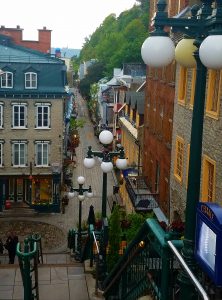 Of course, there are many activities and sights to behold beyond just the city walls and buildings. A variety of museums and guided tours recount the history and charm of the city, while the Museum of Civilization is Canada's most visited museum. Of course, no visit to Quebec is complete without a photo on the boardwalk in front of Chateau Frontenac, the massive and iconic hotel that dominates the city's skyline. Locals claim it is the most photographed hotel in the world. Given the beauty and grandeur of the building, I am inclined to give them the benefit of the doubt. Kings and queens stay here when visiting, so be sure to take a stroll through its grand lobby. Speaking of buildings, architecture fans will delight in Quebec's gothic and neo-gothic designs, as well as the dramatic tin and copper roofs.
Of course, at the end of the day, the best activity in Quebec is to simply meander through the streets and plazas – forget your map and immerse yourself in the narrow roads and alleys. You'll never get lost, the city walls will be your guide. Simply close your eyes and imagine living here in the 17th or 18th centuries. If contemporary paintings from those eras are to be believed, it may not have been all that different than it is today.
Parc National de la Jacques Cartier
For an interesting day trip, consider Parc National de la Jacques Cartier, a beautiful canyon carved by the Jacques Cartier river, merely 30 minutes from downtown Quebec. Indeed, one of the striking things about Quebec is how quickly it transitions from city to nature. In a mere 10 minutes on the freeway, you'll already have left the outer suburbs to find yourself surrounded by low mountains covered by boreal forest. In the early 1970s, the Quebec government attempted to flood the Jacques Cartier valley as part of a hydro-electric project – only the determined opposition of locals halted construction. Prior to the arrival of European settlers, the river had been used for thousands of years by natives to travel to their hunting grounds, and subsequently, as a trade route to the settlement of Quebec. The Huron call the river "Lahdaweoole" (rivers that join together) due to the many tributaries that flow into it. Wildlife is abundant here, including deer, foxes, black bears, moose, Canadian lynx, caribous, porcupines and much, much more. Today, the canyon has been designated a national park to preserve it for future generations.
Activities at the Jacques Cartier park include hiking trails that range from easy to difficult. While the park is gorgeous in summer, it is absolutely breathtaking in autumn as the deciduous trees paint the surrounding hills with a palette of red, yellow, magenta, pink and more. For an intense but rewarding hike, try the Les Loupes trail, a steep 11 km hike that ascends some 450 meters (1476 feet) to a marvelous lookout point high above the canyon. Alternatively, you can kayak, raft or water tube down the river, which boasts class I, II and III rapids. The river is generally calm and pleasant, and each rapid can be detoured on foot if you are not comfortable. This option makes it a great activity for both the solo traveler looking for adventure as well as for families with young children.
Je Me Souviens
From food to history, from culture to nature, and plenty more, Quebec is definitely a city you'll long remember. If you're thinking of going to Canada (or France, for that matter), consider visiting here.
APPENDIX:
A Brief Military History of Quebec
Quebec has a complex history, dating back to natives who settled roughly 8,000 years ago. It was here that the French explorer Jacques Cartier, in 1534, spotted what would later become Quebec as he sailed down the Saint Lawrence River from the Atlantic Ocean. Some seven decades later, Samuel de Champlain recognized the cliffs and narrowing of the river as an ideally suited defensive bastion to begin the settlement of New France. It's strategic location at the narrowing of the river meant that whoever controlled Quebec also controlled the Great Lakes and the interior of North America. Indeed, it did not take long for Quebec to find itself in armed conflict with the English, who swiftly conquered it, only to soon lose it again. In 1754, another invading English colonial army under command of George Washington unsuccessfully laid siege to it. It was not until the Batalie de Plains d'Abraham in 1759, during the Seven Years War (also known as the French and Indian War), that the English crown permanently wrested Quebec away from France. It was during this battle that the Marquis de Montcalm, leader of French forces in North America, gave his life in defense of the city. (If you're a literature buff, you'll likely recognize the name from James Fenimore Cooper's "Last of the Mohicans.") Ironically, this victory only exacerbated England's military struggle with Quebec as an invading army of American revolutionaries, under the command of the soon-to-be infamous General Benedict Arnold, had to be repelled after many months of siege.
Identity Politics
Though part of Canada, the Francophone Quebecois are famous for their independent spirit and proud French identity. Indeed, the slogan "Je me souviens" is a partly nationalistic attempt to maintain this ipseity. As Canada became a nation in 1867, and in order to placate the large French-speaking populace, the British parliament granted Quebec certain rights and recognitions, as well as ensuring that French would be one of two official languages of the newly found nation. Nevertheless, resentment over the British takeover has remained. While the full history of the Quebec independence movement is too long and too politically charged for this article, it is worth remembering that the 1994 independence referendum was defeated by less than 1% of the popular vote. Canada was indeed a hair's breadth away from losing its second largest, and second most populous, province. Much has changed since then – the latest census shows that less than 80% of Quebec now speaks French (a record low), and the younger generation appears less interested in independence than any other generation before it. As Canada celebrates its 150th anniversary this year, the question of Quebec independence, though far from settled, seems to temporarily have given way to other priorities.