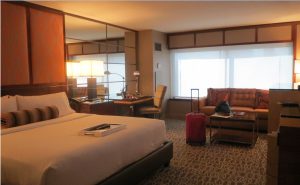 As a guest of the MGM PR team I was in Las Vegas to cover the iHeartRadio Festival and a number of related activities. I stayed at the MGM Grand for 3 nights. MGM Grand exceeded my expectations.
A waiting limousine whisked me from the airport to my room. The driver was friendly and we soon struck up a conversation; he grew up only less than 5 minutes away from my hometown. Besides the driver being personable, it was a pleasure to enjoy the comforts of a limousine. Budget travelers don't normally secure rides in limousines; we expect shuttle vans or rely on public transportation.
Once you step inside the hotel the first thing you will notice is a large bronze lion – this is the symbol of MGM. After a friendly front desk MGM Grand staff checked me in, I arrived into my room and was pleasantly surprised by a waiting #iheartMGM dessert tray made from Corner Cakes. In no time I devoured nearly all of the sweets, but I couldn't take myself to consume the tallest chocolate centerpiece that read, "Welcome to MGM Grand and the I Love VEGAS Experience".
The room I stayed in included a comfortable king-sized bed, with a mini fridge filled with alcohol, a safe, a television with plenty of USB/cable outlets, a clean and large bathroom that by itself was almost the size of my first apartment. As a budget traveler accustomed to staying in Airbnb rooms, crashing couches through Couch Surfing, staying at a friend's guest room, or on the floor in sleeping bag or in a tent, MGM Grand is pure luxury.
There was one morning of room service. I ordered pancakes along with eggs, ham, and sausages. The portion was larger than I had expected and if I knew in advance I wouldn't have also ordered cereal. Delightfully surprised. Overall the room was the cleanest and the largest hotel room I have been fortunate to have stayed in.
There are endless activities offered within MGM Grand Hotel including shopping, gambling, enjoying a drink at a variety of bars, a number of restaurants, and certainly the lively entertainment.
A stay at MGM Grand Las Vegas is not just just a stay, rather it is an entertainment and lifestyle destination with plenty to keep one busy for as little or as long as desired.
I highly recommend MGM Grand for its exceptional service, friendly staff, and spacious luxurious rooms.
For more details, events and room booking, please visit: www.mgmgrand.com