For a tiny state – the nation's tiniest – Rhode Island's got it all going on. There's the state's famous beaches (it is known as the Ocean State, after all), an incredible culinary scene, particularly in the capital city of Providence, world-class academia (think Brown University, Rhode Island School of Design) and a rousing arts scene which includes Trinity Repertory Company, the country's last full company theater.

Photo courtesy of Ocean House – the Ocean House
And it's got great places to stay, with tons of quaint B&Bs sprinkled throughout the state, but not much in the way of palatial hotels, those old grand dame-style edifices that reflect regal Victorian days long gone.
Enter Ocean House in Watch Hill, hard by the Connecticut border, a $146-million luxury hotel that opened in 2010, replacing the original Ocean House that was built in 1868 but fell on hard times in recent years. Ocean House is a magnificent hotel high on a bluff with 180-degree ocean views, that is massive in size but cozy by design, with but 49 rooms (the original had 159) ranging in size from 500-square-foot guestrooms to massive 2,700-square-foot luxury suites.
Its upscale amenities are abundant, including the 12,000-square-foot OH! Spa, a Forbes Five-Star spa, with 20-meter heated lap pool, a championship-level croquet court, a private beach for guests, dedicated floor valet for butler service, high-tech rooms with cell-phone boosters, HD LCD flat-panel TVs with multimedia connectivity available in rooms, and gorgeous carpevola marble bathrooms.
The award world has taken note: Ocean House earned the AAA Five Diamond ranking for 2012 – the first and only Five Diamond-ranked hotel in the state.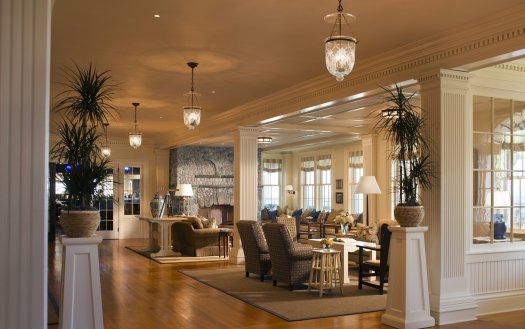 Photo courtesy of Ocean House – the main lobby
I've stayed at the Ocean House a couple of times, and start to finish, the star treatment all guests get is second to none, from the free valet parking to quick and efficient check-in to wait staff in restaurants to staffers just greeting guests passing by in the hotel's elegant common rooms and hallways.
On my most recent visit, a birthday party for a friend, I'd taken ill and had to retreat to my room for the night (not a bad place to be unwell, I might add, with splendid ocean views on both sides of the corner room). I called for room service for specific, easy-to-handle items, and not only was my order met quickly, the man bringing it to me kindly offered some homeopathic treatment advice that his wife uses successfully to battle the same condition I had.
Ocean House began life in 1868 and for the next 135 years, reigned supreme, high on the bluff, as the place to be in summer for those up and down the East Coast looking to escape the summer heat. But by 2003, it shut down, victim of neglect and disrepair. In 2004, Bluff Avenue LLC bought the sprawling property, tore down the ancient building and in its place now stands one looking very much like what the old one did, including being painted its signature soft yellow. The original had 159 rooms; there are now 49, and 23 private residences, the latter fetching prices starting at $1.5 million.
The new owners paid homage to the old Ocean House; more than 5,000 salvageable artifacts and furnishing elements were harvested from the original structure and many of them – including a massive, 12-foot antique mirror – now grace the new building. The elevator is the original, too, iron grating, wood paneling and all, just expanded to make it roomier. The front desk (expanded to make room for computers) and front door from the original are here as well.
Another time, stayed one fall midweek night and found the place stunningly appointed with amazing attention paid to guests, not to mention the stately staircase leading to the front door from valet parking lined with hundreds of bright pumpkins.

Photo courtesy of Ocean House – Deluxe room
The rooms are gorgeous; all have water views. Ours had a marble bath with black-and-white heptagonal floor tiling, and a bedroom area that opens to a spacious balcony with lounge chairs and 180-degree water views, including of Stonington, Conn., across Little Narragansett Bay. Early risers can amble to the balcony and check out surf fishermen on the beach. A nice touch: The floor valet brings in the day's paper of your choice and French press coffee, making waking up that much easier.
The new Ocean House's design brings together British Colonial, early American and seaside aesthetics in yellow, blue, turquoise and cream. Public spaces are adorned with an incredible multi-million dollar art collection.
One of the best places in the hotel is outside on the wide, wrap-around porch, an exquisite place to enjoy drinks in the waning summer sun, though such a dalliance will cost you; drinks are very expensive here, cocktails starting around $14 each. But the view alone, of the ocean, croquet court, adjacent palatial homes, is worth a quick round.
Seasons Restaurant, open to the public, is terrifically appointed, created by the Niemitz Design Group of Boston, and features such things as a 15-foot long communal dining couch with three small tables. Menu items carry the origin of each dish's main ingredient and virtually all food is from within a 150-mile radius, coming from places like Cavendish Farms in Vermont and Wolfe's Neck Farm in Maine. In summer, the chefs harvest their own seasonings from an on-site herb garden.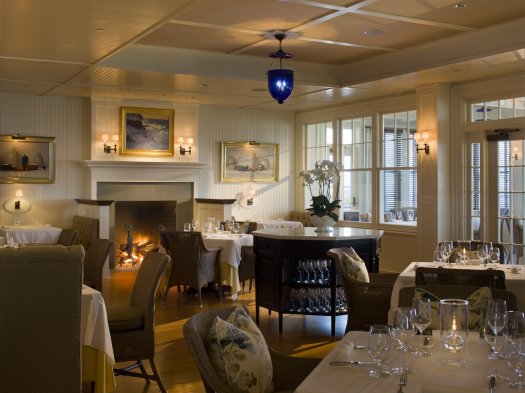 Photo courtesy of Ocean House – Seasons Restaurant
The hotel's Club Room, a members-only dining room with limited tables available for resort guests, offers classic ambiance of a wood-paneled drawing room, first-class bar with gorgeous and red-leather furniture. The bar itself is exquisite and most unique, fashioned of hammered zinc. On the walls are self-drawn caricatures by a wide range of actors, musicians, singers and movie stars that once hung in Books & Co. in New York City. They were collected by a man who worked there had famous folks do a self-portrait when they came in, and dozens grace the walls now of the Club Room, where they serve simple lunches and dinners of steak and seafood.
With all that ocean around, it's not a bad idea to take advantage of it. From May 1-Oct. 15, the Ocean House offers cruises aboard two boats, both a three-minute walk from the hotel. Light snacks and non-alcoholic beverages are included, and more abundant fare can be ordered.
One boat is Dandy, built in France by Latitude 46, this is an Andreyale 33, inspired in its creation by American commuter boats of the 1930s. Trim Again, the other hotel boat, is a 24-foot classic catboat, launched in 1959 and built to a design by Eldredge & McInnis Inc. of Boston.
Hotel bookings have been solid and on the rise since opening in 2010, officials said. Management of Ocean House is also running the nearby historic Weekapaug Inn, which is undergoing a $15-million renovation. Built in 1899, the inn's original 67 rooms will become 28 guest rooms, plus four, two-bedroom residential suites. The Weekapaug Inn is scheduled to reopen in October 2012.
While Ocean House is a terrific place to walk around, the immediately adjacent area is as well, a very short stroll down the hill to the water, where you'll find a quintessential New England harbor, local beach, a wonderful, eclectic collection of boutiques, shops and restaurants (the Olympia Tea Room is an eatery worth checking out), and the Flying Horse Carousel – brass ring and all – a classic merry-go-round that is a National Historic Landmark, one generations of children have long enjoyed.
Then meander back to Ocean House glowing in the dusk on its hilly perch, a throwback to the grand hotels of old and testimony to what was once there – and has risen again.
(For information on Ocean house, 1 Bluff Ave., Watch Hill, R.I. call 401-584-7000 or visit www.oceanhouseri.com)