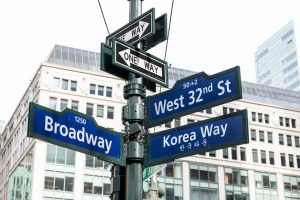 What I love most about New York, is the diversity of people and cultures that mix and mingle without even thinking twice about it. Walking down the street, you are more likely to hear any one of a large array of foreign languages than you are to hear English. This could include Chinese, Indian, Russian, German, Hebrew, Arabic, Portuguese, Urdu…. You name it and you'll probably hear it. And each group brings with it its own culture and history and foods that make New York such a fun place to explore.
So whenever I visit The City, I try to take at least one late evening stroll to a new part of town that I haven't explored before. My most recent trip took me to Manhattan's Korea Way. We all have heard of New York's famed China town. And, of course, Little India. But I didn't even know Korea Way existed – I just stumbled upon it as I was wandering around mid-town.
It is located on East 32nd Street, between Park Ave and 6th Street. You may even have been there without noticing it as you were probably busy gawking up at the Empire State Building a couple blocks over. No, Korea Way is not Seoul's glamorous Gangnam district and no, Psy is not going to horsey-dance his way across the street, though you may hear some K-Pop here and there. But you are likely to hear more conversations in Korean than in English.
Korean Way has a distinct sense to it. Unlike the other streets nearby, there's that unique Asian feeling here in which businesses are stacked vertically one on top of the other. First floor: Korean restaurant, second floor: Korean gym, third floor: Korean karaoke bar, 4th floor: Korean dentist. And so it goes. If you've traveled in Asia, you'll know what I'm talking about.
I have not been to Korea yet but I imagine that Korea Way sounds and smells and looks a lot like Korea. And with all those Korean restaurants, I assume it tastes like it, too. You can find everything from Korean fine restaurants to fast food to Korean fusion (Korean churros, Korean quesadillas) to bakeries and even Korean pubs. Karaoke? You bet! Even street signs are mostly in Korean or bilingual.
How did it get here? If Wikipedia is to be believed, it all started with a now-defunct Korean bookstore that opened here in the early 1980s. Pretty soon, other Korean entrepreneurs and restauranteurs followed suit. Today, we have Korea Way enriching New York's amazingly diverse fabric. Check it out next time you're in town, and start spreading the news….