Imagine, it's the beginning of July and you live in the northern hemisphere. You're likely engaged in swimming, hiking, barbecue and other fun summer outdoor activities. If you're American, you are probably making plans for Independence Day which will likely include outings to a concert or public event. But what if you could spend 4th of July snowboarding in the morning and then swimming in the lakes in the afternoon? Impossible, you say? Guess again. In fact, I did it in Mammoth Lakes, California.
Snowboarding in the morning, swimming in the afternoon
This winter was a particular wet and snowy one in California. After a severe, 5-year long drought, the state received on of its highest amounts of precipitation on record and the most snow in its recorded history. In fact, at one point, the Sierra Nevada mountains were declared the snowiest place in the world. As a consequence, the snow has continued to pile up even into July, so much so that the road to famed Devil's Postpile National Monument was still closed. Even Mammoth Mountain ski resort was still operating. Day time temps were between 24C (75F) to 28C (82F) – while that is fairly warm up at such a high elevation, it is considerably cooler than in the nearby valleys, where the temperature in Bishop, 45 minutes away, was a blistering 41C (105F) on the same day. So even though the snow conditions were a bit slushy, they were pretty darn good considering the circumstances. I've always mused of snowboarding in a t-shirt and shorts –  I finally got my chance! Tickets were at a discount for adults ($71 if bought online a week in advance) and free for kids 12 and under. My boys and I took full advantage!
How do you recover from a morning of summer snow play? By taking a dip in one of Mammoth's many famed lakes. We spent the rest of the day picnicking in the warm mountain sun (put on sunblock!), canoeing, fishing and jumping off the boat launch into the cold, but fresh lake. Snow and water play on the same day and the same location. Only in California, hey?
Hiking the Ansel Adams Wilderness
The next morning, and awake at 530AM, I thought to myself, why not take a brisk hike in the Ansel Adams Wilderness, which is accessible directly from Mammoth Lakes. Great idea! It's going to be a warm day, so I put on my running gear, grab my sneakers and go for a hike at the base of the majestic mountains of the Inyo National Forest.
I reach the trail head, located 2,740 meters (9,000 ft) above sea level. The trail climbs straight up, rising to about 3,500 meters (11,500 ft) in the near vicinity and even higher if you take it to the John Muir trail and then up to Mount Whitney (but that is a trip for another journal.) I enthusiastically start hiking and fight through the first few minutes of burning lungs in the thin oxygen environment. But it gets better soon and I continue along. When I pause to listen, the only sounds I hear is wind blowing gently through the trees and the cacophony of birds tweeting their morning songs. It is majestic, I'm surrounded by nothing but trees and a few lakes. And snow. Lots of snow. Way more snow than I bargained for. Not sure why I didn't think of it before, especially since I had been snowboarding the previous day, but the trail is completely hidden under 1-2 meters (1-2 yards) of snow.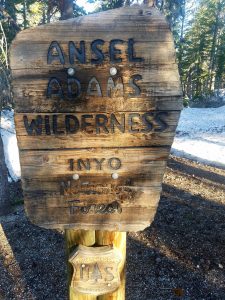 Oops. Here I am, dressed in my running gear, completely unprepared for these conditions. Remaining on the trail proves to be almost impossible, the markers are buried for the most part. I got lost on 4 different occasions only to find myself on what I think was the trail again after a concentrated search. There are no people to be seen or heard anywhere and the only tracks in the snow appear to be several days old. Even those fade eventually. I continue my trek, resolutely determined to make it above the tree line. But silently wondering if I'm taking too much of a risk….
Eventually, after an hour and a half of hiking, reversing, searching for the trail, and definitely enjoying nature, I decide enough is enough. I head back downhill. Getting lost here in the snow in my running gear is not worth a risk. I can just see the headlines now, "Man freezes to death in July." And all the keyboard geniuses leaving moronic "he deserved it" comments – though for once, I would have to agree. Yup, much as I'm enjoying this nature hike, it's not worth the risk. I head back, though having loved every second in the wilderness that bears Ansel Adams' name.
"God help me, I'm going to Bodie." 
The afternoon is spent on a day trip to nearby Bodie, one of the most dramatic and best preserved ghost towns of the mining days anywhere in the US. Only about an hour's drive from Mammoth, it is well worth an entire journal entry of its own. We spent the time roaming among the old shacks, wrecks and junk that litters the remains of what was once Mono County's largest city. It is the classic boom & bust story of the American west – mining fortunes meant that the town of 500 people in 1877 grew to over 10,000 in 1879, just to shrink down to 600 inhabitants again in 1881. Amazing. The town was notoriously rough. And famed for the "bad man of Bodie" who walked with his gun on his hip and a bowie knife in his hand. Murder and violence on the streets were common place, prompting the infamous saying that all travelers thence would exclaim, "God help me, I'm going to Bodie."
After the mines collapsed, the town quickly died to a nearly unsustainable level of a few hundred inhabitants. It was eventually completely abandoned in the 1930s and became a California State Historic Site in 1962. Today, it sits secluded and high in the Sierra Nevadas among rolling hills, waiting for time to erode it entirely. Check it out some day before it is completely gone.
Where else? 
Where else but in California can you go from scorching desert to snowboarding in under an hour's drive, then head to the closeby lakes for a refreshing swim in the meltwater? The eastern Sierra Nevada mountains have so much to afford, one could spend months here and would still not run out of things to do. They may not be as famous as Cali beaches, celebrities and shopping malls, but they represent the breath-taking variety and diversity of the Golden State. See you on the slopes next July, hopefully!