The history of tea drinking spans thousands of years and crosses many continents. If you didn't know Victoria, British Columbia had a thriving tea culture, get ready to sip it in. This gorgeous city on Vancouver Island's southern coast is as tethered to tea as peanut butter is to jelly.
The island's First Nations people have utilized the native plants and berries that grow here so prolifically to make freshly foraged medicinal teas for generations.
When European immigration swept Canada, an overwhelmingly British population settled here. They brought their beloved teatime with them, establishing an afternoon ritual and opening traditional tearooms.
Visiting Victoria without indulging in this delicious observance is practically akin to skipping the Eiffel Tower in Paris. You may savor classic afternoon tea fit for British monarchs but even more exciting are the numerous spots that put an innovative West Coast spin on tea, bringing this venerable tradition into the 21st century.
Vegetarian Tea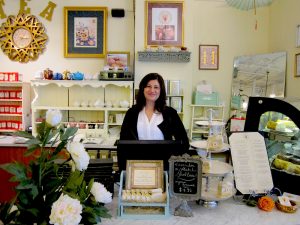 Even if you don't give a darn about tea, Venus Sophia merits a stop for it's visual whimsy and delightful service. This intimate, reasonably priced eatery is owned and operated by a married couple with movie star looks. Egyptian-born Sally has lovingly chosen each vintage teacup, milk pitcher and sugar bowl and her artistic flair adds plenty of design panache. Her husband helms the kitchen, turning out delicate vegetarian fare such as finger sandwiches and quiche that will satisfy even confirmed carnivores. They use locally sourced products and organic loose-leaf and botanical teas from across the globe. Everything is as eye-catching as it is delectable, so get ready to Instagram each bite.
A Tea Flight, Paired with Chocolate
At Silk Road Tea, founder and Chief Tea Ambassador Daniela Cubelic is as fabulous as the tea she sells. She has been called "Canada's Queen of Tea" and her knowledge and passion for the beverage is unmatched. She is widely considered to be a leading global authority on tea, especially when it comes to its range of health benefits. In addition to tea, they sell must-try skincare and bath products all made with a hefty dose of tea. There's a small spa on site, where devotees book the popular green tea facial well in advance. The green tea is rich in anti-oxidants and regenerative essential oils and will have your skin looking dandy.
Stop in to sample a tea flight, perhaps paired with mouth-watering gourmet chocolate. Daniela follows this decadent tasting with a cup of mulberry tea. She claims it blocks the carbs, negating the chocolate's calories. Looking at her svelte figure, there's a glimmer of hope that she's correct.
Tea With A View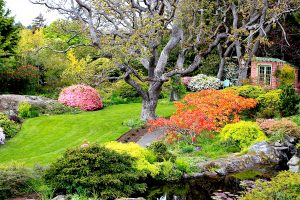 The Teahouse at Abkhazi Garden is a semi-secret green space in a residential corner of town. It's known as "The Garden that Love Built", thanks its former owners soap opera-style romance. After many twists and turns, their saga culminated in marriage, happiness and horticulture. Today, this leafy wonderland is owned by the Land Conservancy. Visitors will be charmed by the many colorful blooms.
Teatime here is an epicurean treat with a show-stopping floral view. The dainty menu is loaded with sweet favorites such as currant scones with clotted cream. Locavores may want to order from the savory lunch menu, as it showcases seasonal produce grown right in the garden.
Traditional Tea
The Empress is Victoria's Grande Dame hotel. They've been serving an elegant afternoon tea for a century. The menu lists 21 loose-leaf teas blended exclusively for the hotel. You'll nibble on their signature Empress cake, a decadent chocolate concoction and raisin-infused scones served with rich clotted cream and lavender-scented strawberry jam. Heartier fare includes coronation chicken and smoked salmon. At $75 per person, it's a worthy splurge.
Thoroughly Modern Tea
Matcha is the current it-girl of the tea world. It is green tea milled into a very fine powder that is a favorite with hipsters from Williamsburg to Kreuzberg. Its distinct flavor is said to provide a range of health benefits, from lowering your blood pressure to preventing aging, so it's not just for the young.
It is visually appealing, thanks to its springtime green color and wisp of frothy foam on top, reminiscent of a cappuccino. Jagasilk is a convivial spot to dabble in matcha. Their top-quality Japanese tea is served in substantial earthenware bowls with a fine glaze. They sell a selection of tea equipment, including handcrafted whisks, so you can purchase all you need to do-it-yourself when you return home.
Magnolia Hotel Curates a Tea Trail For You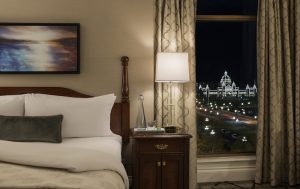 If you love tea or just want to stay at the best boutique hotel in town, the stylish Magnolia Hotel & Spa is the top choice in Victoria. This 64-room property is located just steps from the Inner Harbour, right in the center of this charming city. Service is highly personalized yet never intrusive and rooms are loaded with luxuries.
The can-do staff provides guests with a series of self-guided maps that curate local experiences in an easy-to-follow way, complete with insider tips. Their Victoria-to-a-Tea package includes a tea flight and $10 coupon for purchases at Silk Road plus a detailed Tea-rrific trail map that makes it easy for you to get to all the best tea spots in this tea-happy town.
They are happy to lend you one of their ten brand new bikes, complete with helmet and a roomy basket for you to place your tea purchases in.
Photo credits: The author, Marisa Cuglietta, Magnolia Hotel and Empress Fairmont Hotel