On November 16, 2010 UNESCO declared the Flamenco World Cultural Heritage, to be more precise it was declared to one of the Masterpieces of the Oral and Intangible Heritage of Humanity and I could not think of a more respectable acknowledgment. The Flamenco is a hallmark for Spanish culture, especially for the south of Spain, and goes far beyond music and dance. Some would call it a way of life or an attitude. It embodies passion and seduction.
The Andalusian capital Seville is arguably the birthplace of Flamenco and the best place to see a Flamenco show. And there is no better time to rent apartments in Seville and see authentic Flamenco than April during the Feria de Abril. An interesting fact for this year's Feria is that it actually takes place in May this year, from the 3rd until the 8th of May.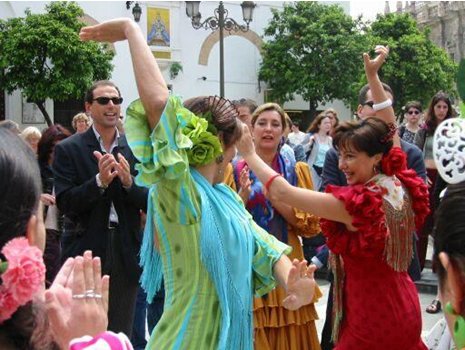 The people of Andalusia are famous for good parties and their outgoing attitude and with that said, the Feria is one of the most popular festivities in Spain and known worldwide. This week long party attracts over a million people every year. The fairgrounds resemble a little city. It gets set up close to Rio Guadalquivir especially and exclusively for this event. There will be many tents and 'casetas' (concession stands) that among other things offer food and drinks, people dress in traditional folk attire, and horse carriages will pass through the streets.
The whole week is filled with activities during the day and parties at night. Day-time events include parades, equestrian events, bullfights and flamenco performances. Some of the most famous matadors and Flamenco artists fight or perform during the feria every year. In essence, the spirit of Spain is squeezed into 5 days for locals and foreigners to enjoy and appreciate.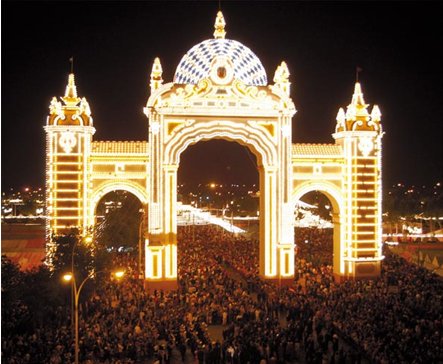 Traditionally the Feria de Abril or Feria de Sevilla is inaugurated with the 'Alumbrao' ('Lighting') where people gather at midnight at the entrance of the fairgrounds and thousands of colorful lanterns are lit. If you want to experience the typical atmosphere at its best you have to visit Sevilla at the beginning of May. During the Feria week there will never be a dull-moment so make sure you rent Seville accommodation to get the rest you need.