The only thing that makes a night (or day) out with friends better is good food and cold drinks. Add in a bar with panoramic city views, and you've got a night out that you'll never want to end.
Rooftop bar season is upon us, and no city does bar eats, drinks and views better than New York City. Head on up to any of these well-loved NYC rooftop bars to experience the best places to dine and drink with a view of the city that never sleeps.
230 Fifth
Image Source — 230 Fifth Facebook

230 Fifth claims the title of New York's biggest outdoor rooftop garden. The rooftop garden provides a breath of fresh air and a city scenery unlike any other. It's open 365 days a year, with large umbrellas ready to shade you from those extra hot, sunny days or to be your shield when cloudy skies and rain arrive. And even if bad luck hits and you go on a day when cold or gloomy weather strikes, you can still enjoy your drink and the views inside 230 Fifth's fully enclosed Penthouse Lounge.
Berry Park
Image Source — Berry Park Facebook
Located in one of NYC's culturally vibrant neighborhoods, this must-visit Williamsburg bar has a great selection of bar food, brews and skyline views. Thanks to its retractable roof, Berry Park is the perfect all-weather rooftop bar. With daily flavors of ice cream sandwiches and lip-smacking frozen drinks, there's no better place to be with friends on a warm evening.
Gerber Group's The Roof
Image Source — The Roof Facebook
It was no question to add Gerber Group's The Roof to our top 8 rooftop NYC bars list, and we're not the only ones who feel this way, as it's garnered spots on similar lists. And why shouldn't it? Overlooking beautiful Central Park, serving classic and modern cocktails made from market fresh ingredients and having the elegant atmosphere of being on a million dollar yacht, a night spent at The Roof is a night well spent in anyone's book.
Night of Joy
Image Source — Night of Joy Facebook
Some rooftop bars sit atop swanky NYC hotels, while others take a more laid-back approach. Like this Williamsburg gem, Night of Joy, which has been referred to as a hipster's haven. And with its patio furniture, graffiti décor and casual ambiance we can see why. But no matter what group you fall into, Night of Joy offers great Brooklyn views, a fun, relaxing night out and fantastic frozen margaritas.
Northern Territory
Image Source — Northern Territory Facebook
A favorite elevated Greenpoint hangout, Northern Territory offers plenty of outdoor rooftop seating and mesmerizing views of Manhattan. And if you're looking for something a little uncommon, you've come to the right spot. Northern Territory's Aussie-inspired beer and food, especially the Aussie burgers, are well worth a try and make the land down under proud of this American hangout.
Press Lounge
The seasonal cocktails, delightful plates and extensive wine list make Press Lounge a desired spot amongst NYC locals, but its cultured elegance (which requires you dress in "casual elegant" attire) and dramatic panoramic views take this rooftop bar to another level. First opening in 2010, Press Lounge quickly climbed the charts as one of Manhattan's finest and most attractive rooftop lounges due to its décor, friendly service and views of Manhattan and the Hudson River. Check it out for yourself, and it'll quickly become one of your top New York picks.
SixtyFive
Image Source — SixtyFive Facebook
For those with a classic New York taste but who appreciate a modern twist, SixtyFive is your kind of rooftop bar. Perched atop 30 Rockefeller Plaza, the wraparound outdoor terrace itself is beautiful, but the views it offers of the Manhattan skyline — including New York City landmarks like the Empire State Building and Central Park — are simply breathtaking. Come here to enjoy a night under the stars with a cocktail in hand observing the bird's-eye view of the sights and sounds of the city that never sleeps.
The Crow's Nest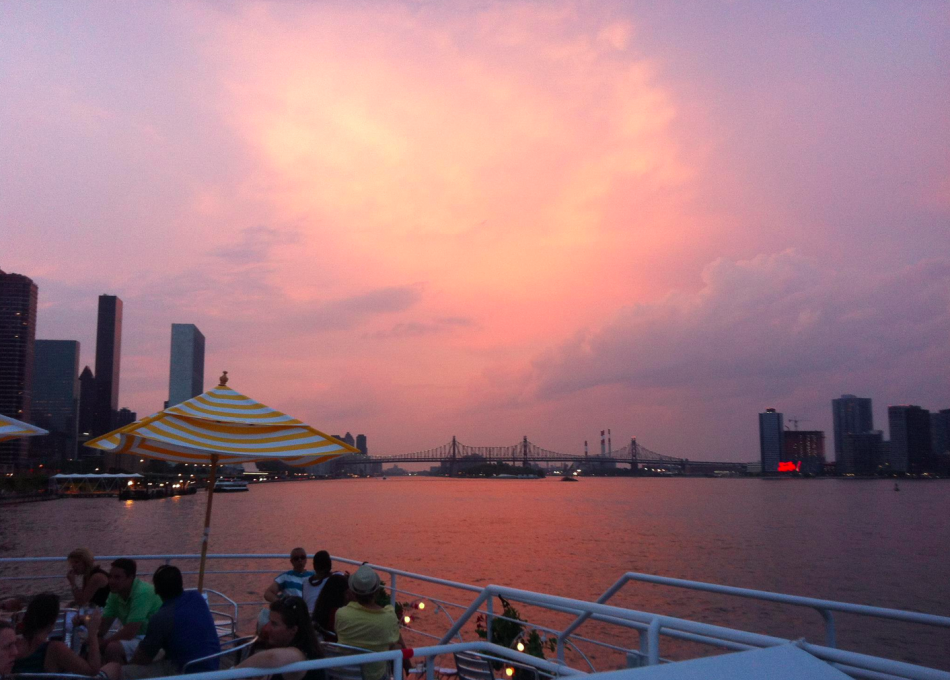 Image Source — The Crow's Nest at The Water Club Facebook
The Crow's Nest resides on the upper deck at The Water Club with impressive views of the East River and Manhattan. Sitting on top of a permanently anchored yacht provides panoramic views, but what really sets this bar apart is its dynamic, casual atmosphere and outdoor menu. Locals and tourists agree, The Crow's Nest was voted the best rooftop bar in all of New York City. Be sure to order one of this East River oasis's mouthwatering burgers or partake of its raw bar selection, a seafood lover's dream.
So what are you waiting for? Grab your friends and get out there appreciating the drinks and views the best New York City rooftop bars have to offer.