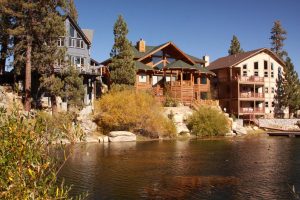 I have travelled some in my life, flown to Europe, Central and South America and have driven across the country a few times. Just the formulation of a trip, pinning a picaresque photo on Pinterest even, can make me giddy. So it was with great surprise that I stumbled on a nearby destination, just as fulfilling and foreign as many of my more exotic jaunts: Big Bear Lake, a scant 100 miles from home.
When you grow up in a big city, like Los Angeles, buying a house starts to sound as likely as winning the lottery. The small cottage in Santa Monica that I grew up in measures 850 square feet and is valued at over a million dollars. That's 1,176 per square foot! I promise you it is not made of gold or diamonds or oil either. Anyways, imagine my surprise to discover the cost of a small cottage two hours away in the mountain town of Big Bear: $100,000.
When you grow up near the ocean, in a near-desert environment, the prospect of trees and a lake and the accompanying smells of pine and damp and green are glorious. Snow deserves its own host of adjectives, like christmas-y, crisp and cozy. The possibilities are dazzling and only a short drive away! How had I spent a lifetime bemoaning my lack of wilderness while living so close to my heart's desire? It was kind of like that dream where you find an extra room in your house that has always been there but that you have somehow managed to overlook.
The first time I ventured to visit my Dad's new home I took my four-year-old son and a few mild reservations towards a place I wasn't sure would be worth my while (I know – so snobby!). I decided to be open-minded and embrace the kitsch factor of a '70s-era resort town, with its requisite carved grizzles, paintings of wolves and faux Bavarian architecture – very faux BTW.
I have to say, I loved every minute of it. The natural beauty of Big Bear dominates everywhere you look, from the wide-open cerulean of the lake to the acres of forest stretching in every direction. Unlike other resort towns in California, like Tahoe and Mammoth, Big Bear feels practically deserted in the off-season yet it is full of things to do.
The best hike we went on was the Champion Lodgepole Pine Trail, which is part of the San Bernardino National Forest. A short and easy walk, perfect for kids, the well-marked path showcased lots of local flora, including a meadow full of corn lilies (Veratrum californicum), which closely resemble cornstalks except with pretty white flowers. The eponymous Lodgepole Pine is the largest recorded one of its kind in the state.
The half-mile journey was so pleasant that we continued on the Bluff Mesa Trail another half-mile or so to the Bluff Lake Reserve, which is under the protection of the Wildlands Conservancy. The lake is charming and easy to walk around, with old abandoned cabins to poke around in and explore. There are also great spots to picnic, ruminate or photograph.
The downtown area of Big Bear is easily walkable, with old-fashioned pleasures to be had, like a $4 movie ticket and a candy store – the Big Bear Candy Company – showcasing homemade fudge and caramel apples. There are gift shops featuring tchotchkes of all stripes, like rabbit's-foot key chains, pet rocks and Indian "artifacts." An ice cream cone and a stroll will take you back in time, although more modern pleasures, like cappuccino and Himalayan food are also readily available.
The nostalgia fest continues with family-friendly fare at the Big Bear Funplex. The arcade's gnarly carpet and cave-like bearing make this an easy place to lose your self in '80s splendor. The laser tag and even the roller coaster were cheesy thrills.
Another amusement we loved was the Alpine Slide. You take a scenic gondola ride to the top, which is scary-fun in and of itself – the view of the lake is spectacular. At the top, bobsleds zoom you down a zigzaggy flue for a quarter of a mile. I couldn't stop screaming and laughing as I sped along the track, feeling like I was practically flying. My son overcame his fear of rides and insisted on going again.
Between the clean air, cheap entertainment and glorious natural beauty, Big Bear proved to be a revelation. Lucky for me, it's my new home away from home. On the drive back, we stopped at Clearman's North Woods Restaurant in San Gabriel and enjoyed the ambiance of a fake log cabin topped with artificial year-round snow. The kitsch continues inside with wagon wheels, taxidermied bears and Tiffany-style lamps all bathed in a warm red glow. I highly recommend the Two Salad and Cheese Bread Combo, a '50s-era specialty with bleu cheese dressing on iceberg lettuce, red cabbage with vinaigrette and a wonderfully buttery, gooey toast. Don't worry, your arugula, kale and quinoa will be waiting for you when you get home.