Like many of the luxury resorts of Las Vegas, the Mandalay Bay has a wealth of ways to entertain and amuse its guests. Naturally there's an expansive casino, where rollers high and low can thrill to the spin of the wheel and the flip of the cards. There's the Shark Reef Aquarium, which has plenty of teeth (piranha tank, anyone?) to sink your sights into, plus stages plumb-filled with stars, like Nashville Unplugged, where stories mix with songs to give you an earful.
And it's hard to miss Michael Jackson, giving off a punkish, funkish air in the lobby. The statue is impressive, but I understand the tribute given to the man's work by Cirque du Soleil in their "ONE" performance at the Mandalay is stunning. More Mandalay glories are found in strolling all the shops, the vast convention center, the beautiful grounds with flowing fountains—and there's even a beach.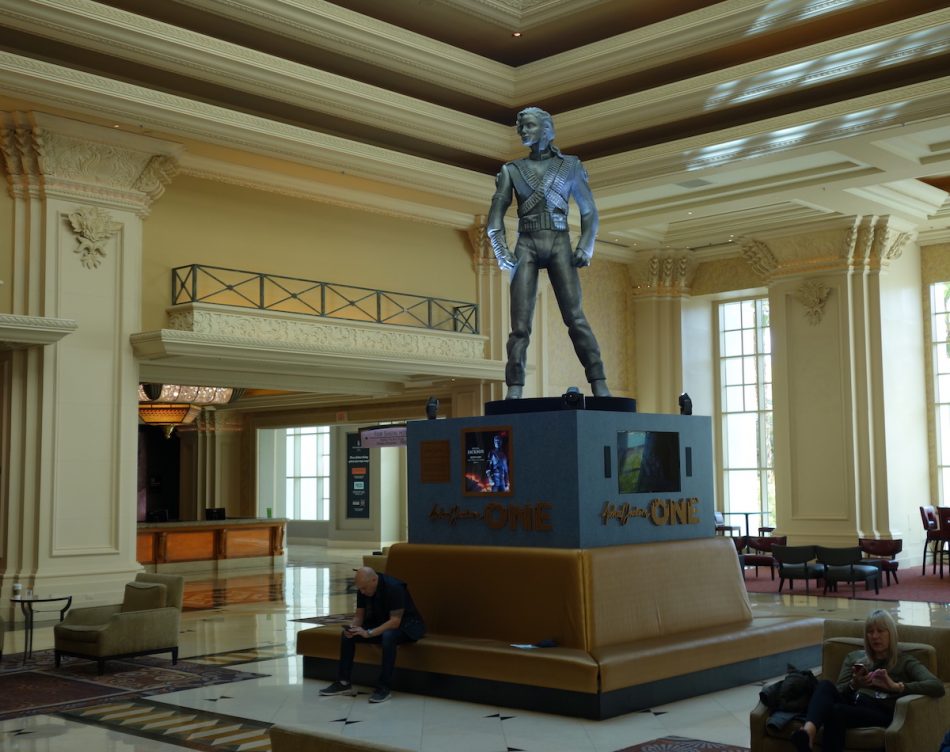 So, the pleasure pursuits are many, the options abound. But let's talk about what really matters: what's to eat? That (and its complement, what's to drink?) is answered by the Mandalay Bay in umpteen mouth-watering ways. Lucky for me, though perhaps not for my waistline, I was on a media trip, this one genially hosted by MGM Resorts International and the fine folks at Kirvin Doak PR, so brilliantly laden tables were there for the chewing.
Hanging with the Libertines
But before we plate ourselves into the ecstasy zone, how about a nice aperitif? That offer turned plural at the Libertine Social bar, where magic-man mixologist Tony Abou-Ganim showed us the way around some dandy cocktails; we even mixed some ourselves under his direction. He was comfortable behind the bar—because he designed it himself—and Renaissance man that he is, he makes his own bitters too. Nothing bitter about his booze though: I was particularly taken by his Milano, a version of an aperol spritz, with, besides the usual suspects, blood orange vodka and agave.
We got right to the gastro part of this gastropub by sliding over to the Libertine's restaurant, where executive chef Jamaal Taherzadeh zipped all over the open kitchen, rife with cooks and servers. While making many careful adjustments to all kinds of tempting dishes, he kept up a friendly patter about his cooking style—he believes in the power of acidity and in fats from proteins, not butter—and the power of food in general. At one point he said, "Don't grab my phone, grab my fork."
I grabbed my own, and it was great. A delicious pork-centered-plus-couscous appetizer, incredible black-truffle-butter potatoes, a plate of barbecued carrots with smoky sauce that took carrots to a higher plane, and more.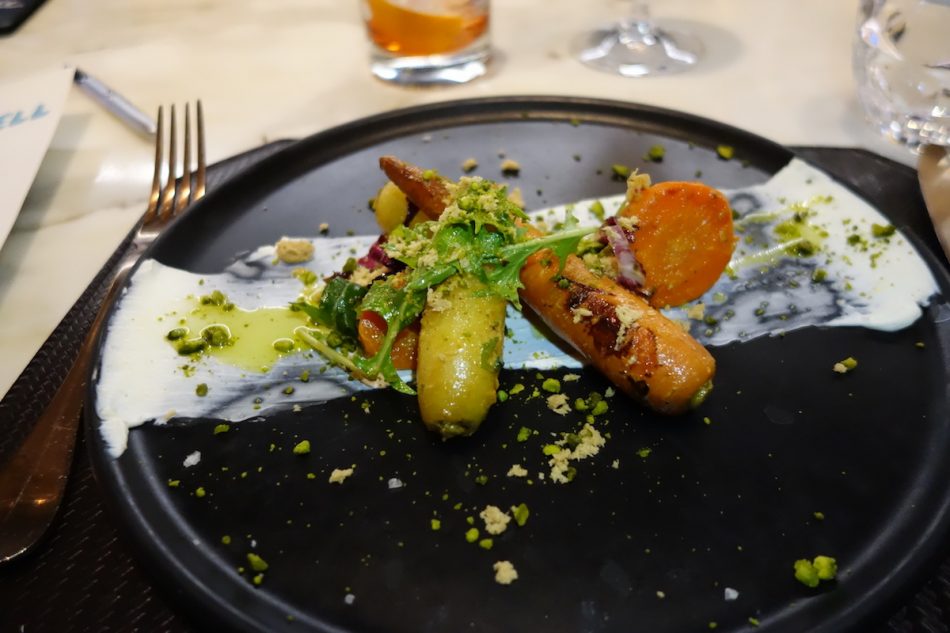 I didn't even mind looking at—get away from me!—the oysters.
Bloody Mary from Mars
How does one follow a gratifying dinner? With a mind-boggling brunch the next day at Fleur. Fleur is the brainchild of famed chef Hubert Keller, and his smiling presence graced many of the dishes. Just to let us know they do things differently at Fleur, one of our first beverages was a Bloody Mary, apparently designed on Mars. After the spaceship delivered it, it arrived smoking at the table in a half-watermelon, graced with sliders and fried chicken on sticks, big carrots and celery stalks, Chinese peanuts and other trimmings.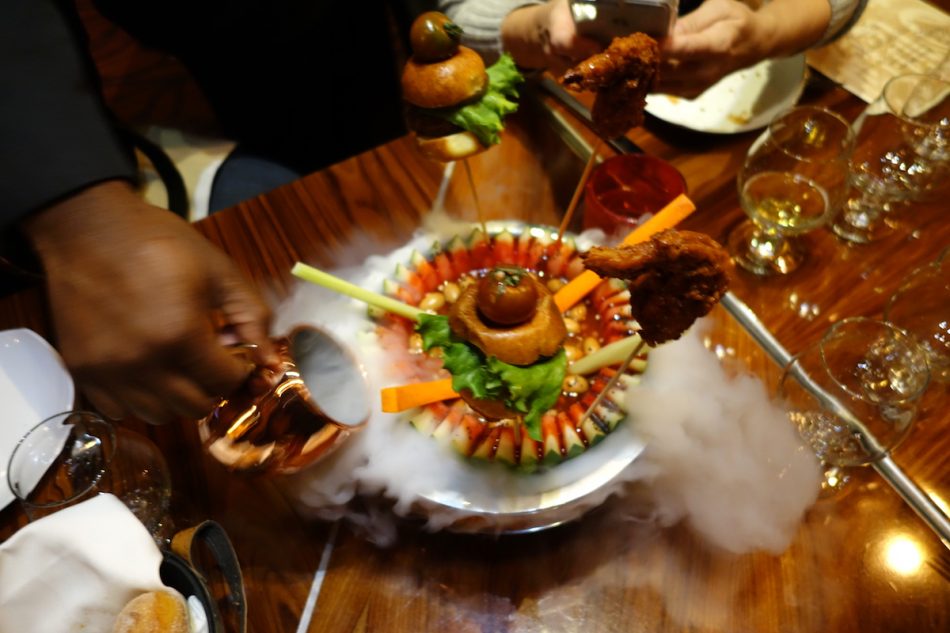 You didn't know whether to eat it, drink it or elect it to office, so we did all three. Short-pour flavorful beer pairings with the various delights followed. Those delights included a pastries basket (no bland breads here), an omelet, short-ribs benedict, ricotta pancake and crispy potatoes.
Then we actually started to eat, moving through the carnitas hash and bacon quiche. You are probably full from the words alone by now, but me, I had—I HAD to—have some of the Nutella brioche. Sugar is love, after all. Chef Keller told us a few tales after the show, including one about the origin of the $5,000 burger. Great guy, great food.
Ice Bars and Wine Angels
What's the most sensible thing to do after you've tipped some Bloody Mary and beers at brunch? Go to a freezing Ice Bar and have a cocktail. Indeed the temperature in the Ice Bar is minus-five-degrees Celsius, though with the supplied fur coats and hats (and all the moisture in the air pulled out by ventilation), it was cozy. Even when sitting on the benches and chairs, which are all made of ice. In fact, the whole room is made of ice: walls, sculptures (many of Las Vegas scenes), chairs. Even the glasses in which the cocktails are served are ice, ice, baby.
Odd and fun atmosphere, though they may want to dial back the simple syrup in their Old Fashioneds. But since I didn't have to drive back to my room, all that booze and sugar felt just fine.
Though later that evening I thought I might still be a wee bit unsober when I saw flying angels climbing glass towers at Aureole to retrieve wine from the many racks high above. But the wine angels—equipped with all manner of mountaineering equipment, acrobats of the grape—are real, as are the more than 50 wines by the glass (on a rotating basis) at the fashionable restaurant.
And pairing wines with the various stages of an Aureole meal is a house pleasure. And since we had many stages in our meal, we had many such pleasures. I had a Chilean sea bass on a bed of soba noodles that was a sweet, citrusy delight, a truffle-cream drenched fettuccini, wild mushrooms roasted to splendor, and various other side dishes, all with wine pairings judiciously poured and happily sipped. But my goodness, I think I would have sacrificed all just for the Bananas Foster at meal's end, a golden hallucination of flavor.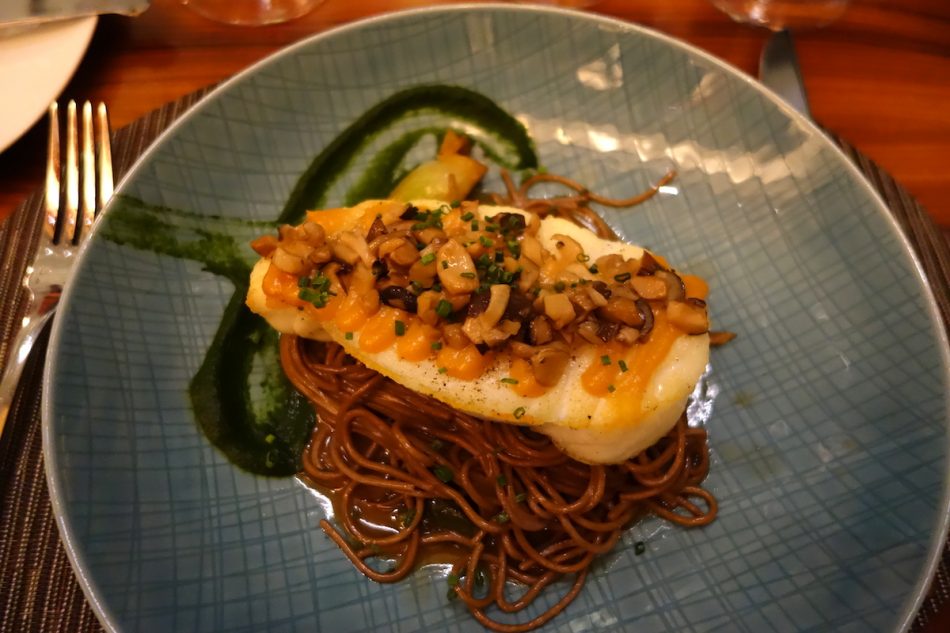 Howdy Pardner
One of the companionable things about MGM is that their partnerships and broad business holdings make for easy gratifications between Vegas properties. Thus the Mandalay has strolling departure points for Delano, their luxury suites property just adjacent, where I melted under a spine-noodling massage, and melted further under drinks at Franklin, where they have a menu filled with historic and pre-Prohibition pours. I admired the efficiency of their Comfortably Numb, which boasts double-oaked Woodford Reserve bourbon and coffee-bean infused Carpano, among other delights. Live music on weekends too.
To whet your daytime appetites, you're just moments away from the Veranda restaurant at the Four Seasons, which has a breakfast buffet that shatters any illusions you have that "buffet" means indifferent food. Besides, they have a fresh doughnut-making machine that will hypnotize you.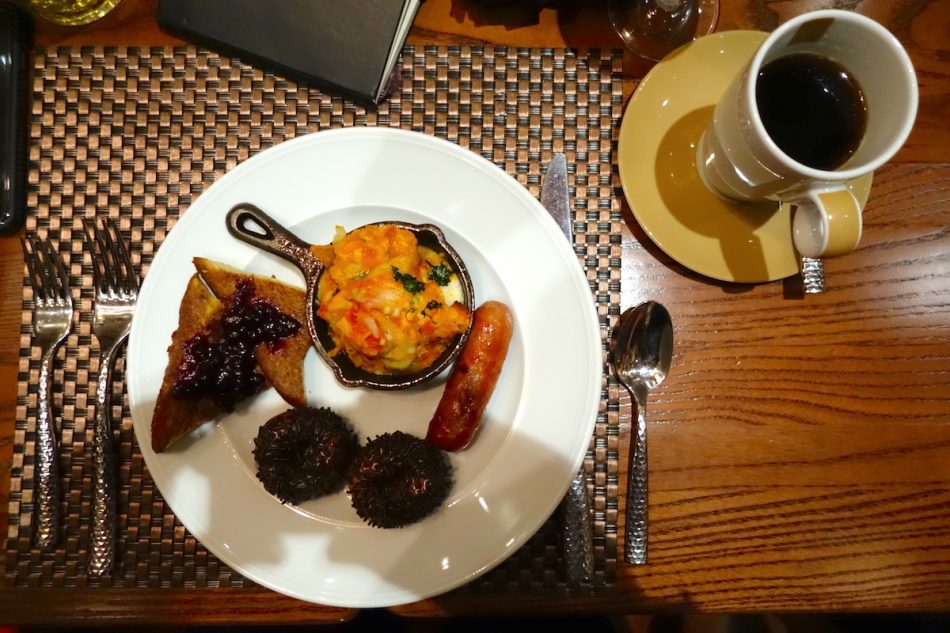 The Water Calleth
And dang it, we barely got to enjoy the hospitality at Bavette's, the Monte Carlo's representation of the Chicago steakhouse with a French flair. Intriguing low-lighting, plush chairs and chandeliers, 1930s stylings and a menu deep in decadence (and big on beef). But I'd barely put my soul into the Dover Sole when we had to be whisked away to Bellagio to see Cirque du Soleil's watery wonder world of "O." (Fabulous, by the way.)
Sorry I don't remember our host's name at the restaurant—funny, friendly fellow with a contagious passion for his work. By the way, the Monte Carlo, a venerable name among Las Vegas hotels, is undergoing a serious gazillion-dollar renovation to become the Park MGM in the spring.
I can't leave this piece about indulgent eating without telling you of the "Vegas Old and New" sculpture brought to our rooms. Yeah, the walls, the sign, the dice, the floor—all chocolate, wow, and good stuff it was.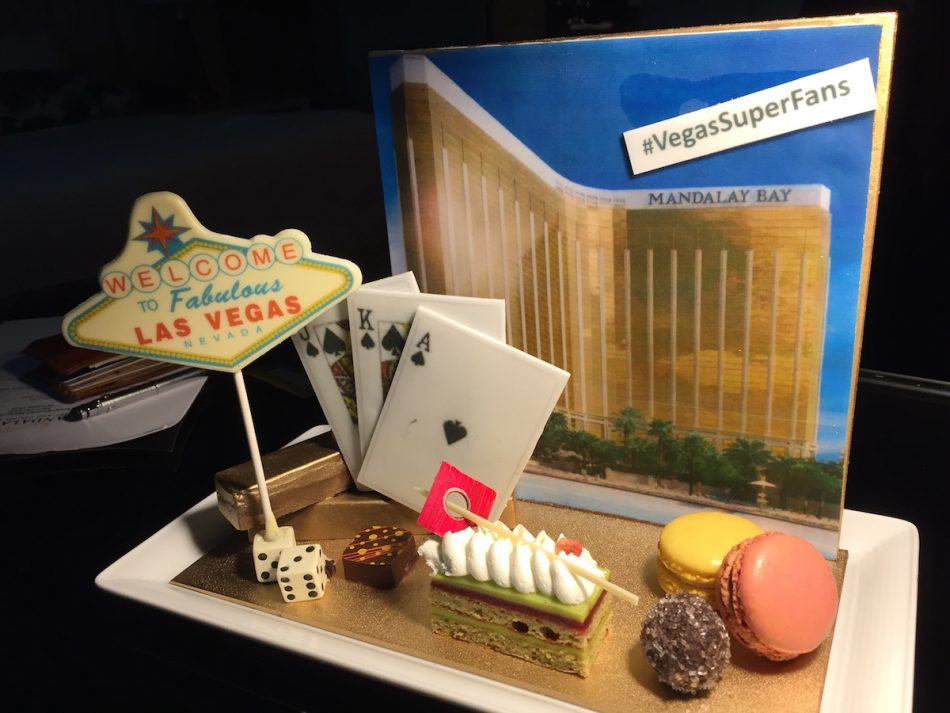 For me, a stay in Vegas is always a fine thing. People forget, in the midst of all the glitz and glamour, that the city is filled with regular folks, going about their lives. I lived in Vegas for a while long years back, and as odd as the town can be, its backbone is the people. The people and the city were hurt badly by the shooting that happened last year, the Mandalay sharply as well. Perhaps there will finally be some common-sense gun legislation, but in the meantime, the city is coming back.