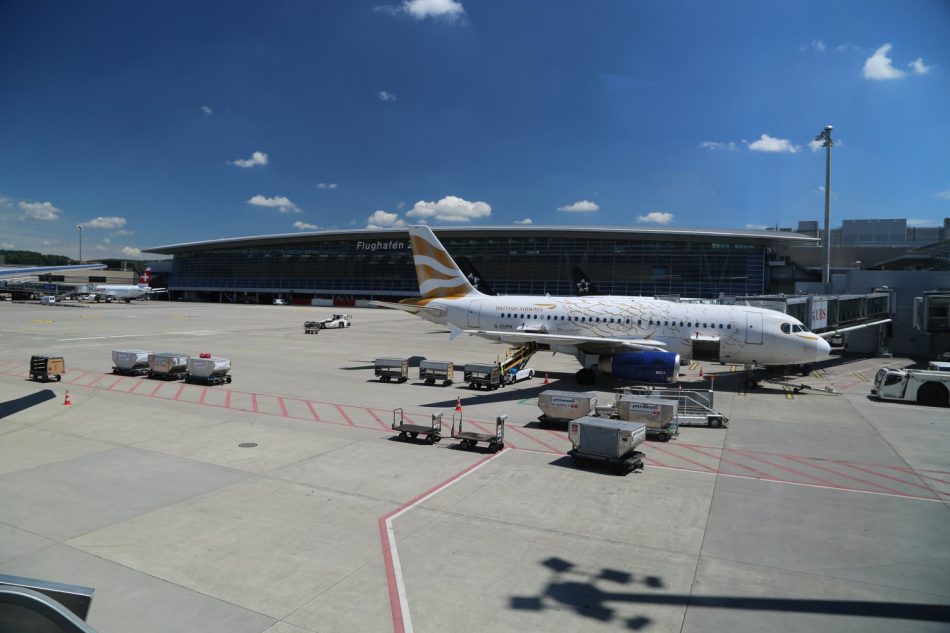 Do you look at some of the travel post's on Dave's Travel Corner and say: "WOW! That looks AMAZING"?

-Yeah, me too.
Do you wish you could go to all the mind blowing places that are posted?
-Yeah, me too.
Do you wonder: "How on earth do they afford to go on these totally awesome adventures"?
– I don't.
Wait. What?!
There's something that all the great travel bloggers do. And most importantly:
Something you can do.
I'm going to teach you a few travel hacks. These are flight booking hacks professional travellers employ every single day. You too can travel on a ridiculously small budget and make your dream adventure come true. Tajawal Flights Booking
If you hate saving money and going on awesome trips please look away and do NOT read any further.
Now, Get your note pad out, we are here to learn!
Forget #livelikealocal – Try #FLYLIKEALOCAL (We saved a whopping 39% and show step by step how you can too)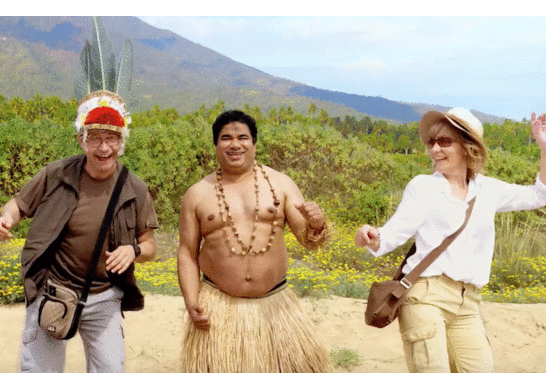 Airfare prices often change minute to minute, so its no wonder you can't understand airline pricing.
Your not the only one.
But you do now know some plane tickets can rise in price the more you search them and you've learnt how to avoid that.
But did you know your price could go up or down depending where you booked your flight? And I'm not talking about which booking site you use.
Depending on where you buy them or, even better, where you appear to buy them from can make dramatic savings.
Do you want to see how I leverage foreign currencies and points-of-sale for your advantage.
For reasons I never quite understood, every time I tried to book a domestic flight in another country, the prices were always exorbitant. Once I was in Bangkok, that same flight that was once $300 would fall to $30 almost unexplainably. This phenomenon is because a ticket's point-of-sale, the place where a retail transaction is completed, can affect the price of any flight with an international component.
But your buying your tickets online?
Most people don't know there is a simple trick for "changing" your location to get a cheaper flight on an airline's website; it's how I managed to pay $373 for a flight from New York to Colombia instead of $550+.
You can use it for normal international flights, but it often works best when you're buying domestic flights in another country or on the return leg from abroad.
The Proof:
We ran a return journey search from Buenos Aires to Cordoba, the two largest cities in Argentina, for 4th August, returning a week later on the 11th August on Kayak.
Unsurprisingly, Kayak sorts the results in order of price. The cheapest flight was on LATAM at £138. In fact, the first 19 results were all with LATAM at £138, with varying times of departure and return on the same days.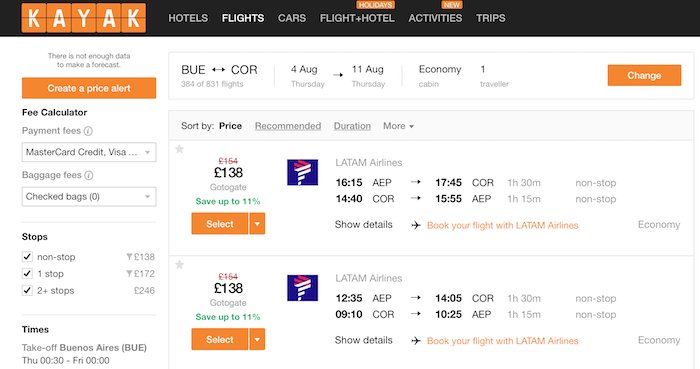 If we run the exact same search in Google ITA with London, England as the point-of-sale as you can see in the screenshot below.
Google's ITA Matrix is simply Google's software for search flights, pretty neat right? The only downside is you cannot book tickets through them. But don't let that put you off…keep reading to see how it can save you money.
Quickly:
Enter your flight departure and arrival airports.
The dates you wish to fly.
Enter your current city.
Click "Search"
You should then see something like this: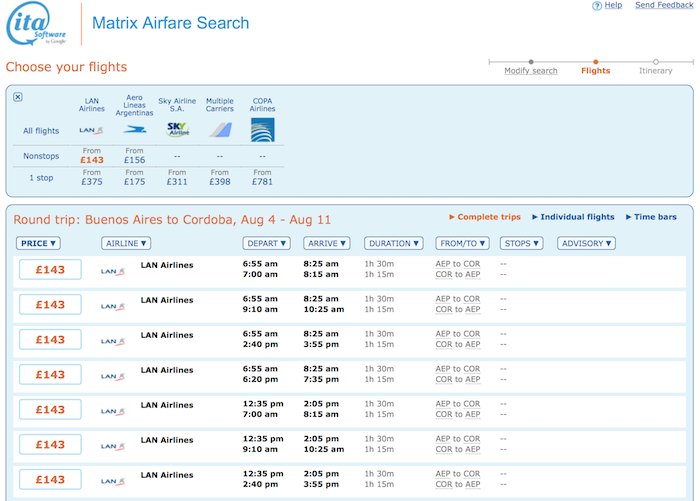 Though Kayak actually has the best prices, ITA Matrix has confirmed within £5 the best price.
Let's not stop there.
Instead of using our current city as the point-of-sale (London in this case),
Let's use Argentina as the point-of-sale (Where the flight will take place).
This can only be searched for in Google ITA Matrix.
So, with the exact same departure and arrival airports, the same dates, only change the point of sale location.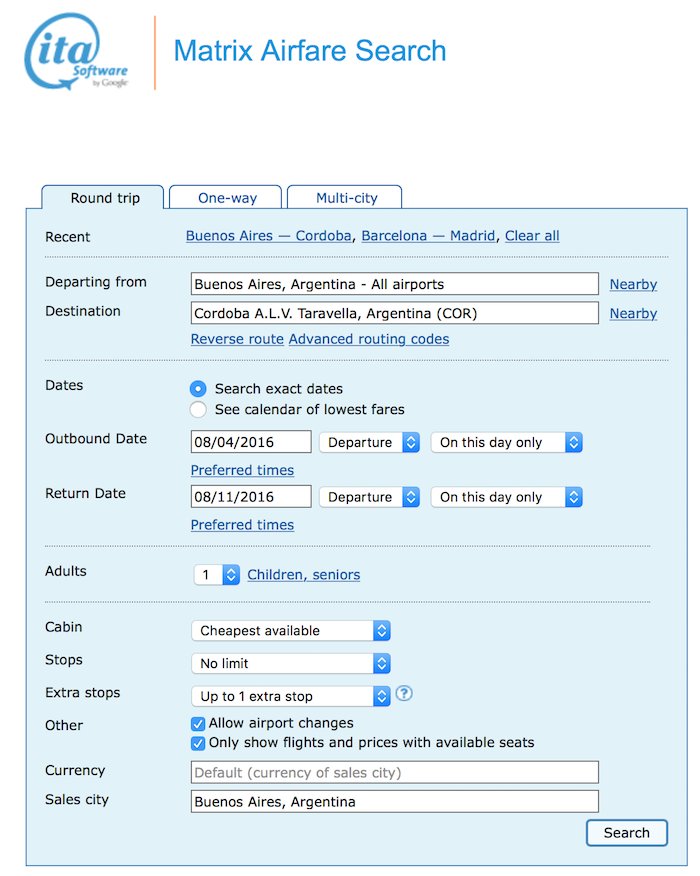 The main difference is we'll get the price in Argentine Pesos and that's exactly what we want.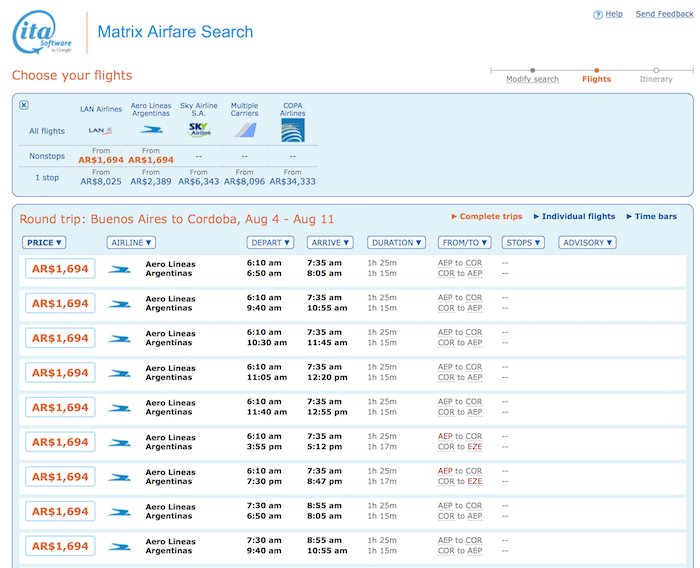 In this new search, the cheapest flight on Aero Lineas is AR$1,694 and the cheapest flight on LAN is also AR$1,694. That of course means absolutely nothing to most people, so let's convert that over to British Pounds:

The same and best flight now converts to £83.63 when you book in Argentine Peso's, the local currency.
While the same flight is £138 when booked in my own currency, British Pounds.
In short, you'd be saving £54.37 or $78.87 on the same flight, simply by paying in a different currency.
That's a whopping 39% discount!
Now the real problem is that we've got to find a place to buy this ticket in Argentine Pesos since Google ITA won't tell us where to go for that. But in this case its given us 2 airlines with the exact same price.
I head directly to the Aerolineas website, select location as Argentina, with "Inglés" language.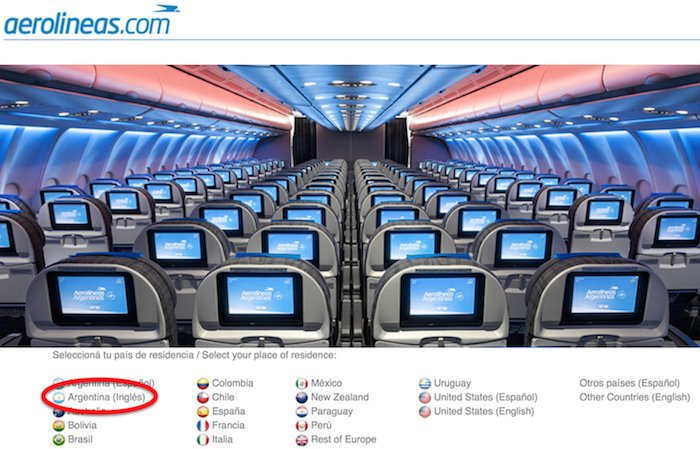 Pop in the same dates and airports.
Confirm the dates for departure: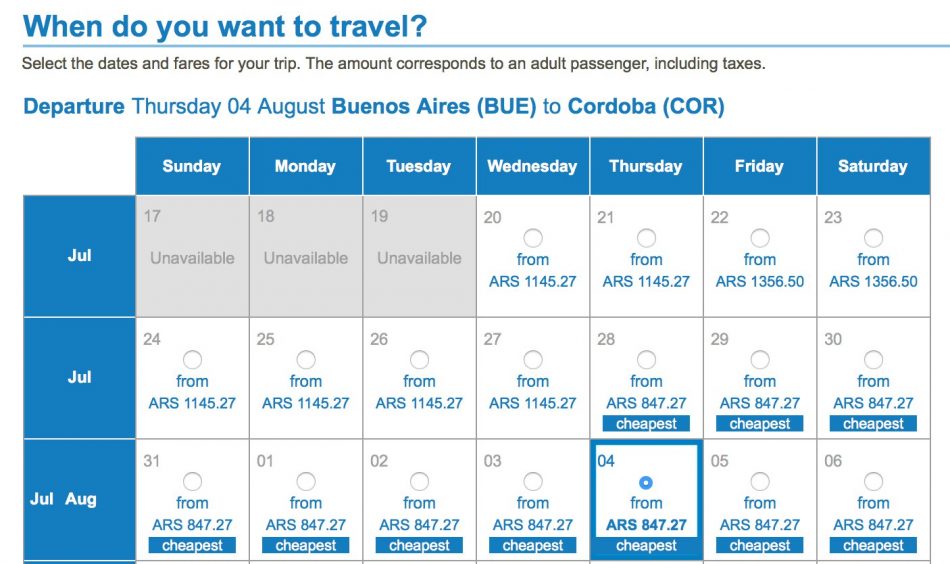 Confirm the dates for the return: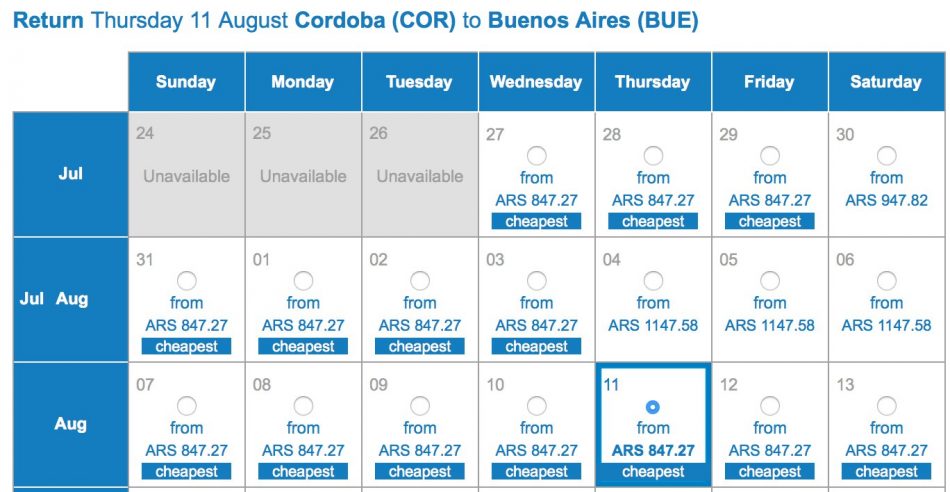 This brings us to the cheaper ITA Matrix price of AR$1,694 for the flight.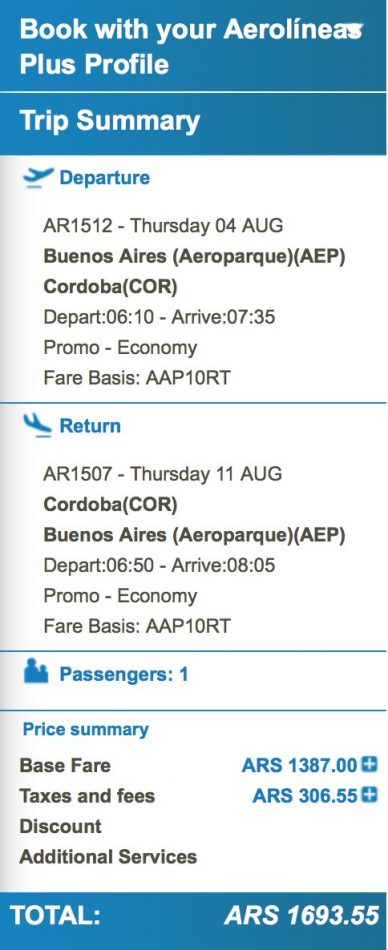 Book it and smile.
You saved £54.37 ($78.87) on this booking!
Congratulation, you have learnt how to successfully get mega savings by teleporting your location!
To save the most money, make sure you pay with a credit or debit card that doesn't charge you international or travel fee's.
Even if you don't have a travel-friendly credit card, it still might be worth it to pay the fees just to pay in pesos.
In this case, the standard foreign transaction fee 3% surcharge would only cost you an extra £2.51 to book the flight. (The exact percentage will vary depending on the terms of the card issuer, but in short, you still come out ahead)
Even after a foreign transaction fee surcharge I'm still £51.86 better off
With a little adjustment, this trick can also be used for purchasing international flights. The most obvious points-of-sales to check for generally include the destination country and the country where the airline is based in.
You could also use this to book 2 one way flights.
Let's say you want to fly from the US to Hong Kong.
Book the first leg with your location set as USA, and then switch your location to Hong Kong to book the return leg.
---
Ethnic Travel Agents
The UK and US are a melting pot of different immigrant and ethnic communities, and this can be used to great advantage for a cheap flight booking. Niche travel agents often specialise in finding deals to those communities' linked countries.
For example, Shepherd's Bush in London and the surrounding area has some Caribbean specialist tour agents, or buy the Jewish Chronicle, which has firms advertising cheap flights to Israel. You've also told us about Chinese travel agent Omega, which has a branch in the London's Chinatown, as well as Birmingham, Manchester and Edinburgh.
Don't forget to check prices elsewhere before you buy to make sure you're getting a good deal. If you know of a cheap specialist travel agent, please let us know.
---
Best local budget airlines in different regions:

Use Split Ticketing to Pay a Fraction of the regular price
It's easy to search for flights from A to B but don't assume it's the cheapest way.
By being a little creative about the route and splitting the ticket, you can slash the cost.
Typically associated with train fares. You can do the same with air travel.
Lets say your flying from San Francisco to London, chances are theres at least one stop on the way.
So run through kayak the start and end destinations and see what the stops are.
Then try with each leg as a separate flight.
The best way to utilise this is to combine with Airline Error Fares.
Even when its not ideally from or to where you want to go.
Get cheap connecting flights.
Or try "open-jaw tickets"
Where you fly into one airport but return to or from another.
Breaking a journey down into multiple tickets can cut costs without altering the route you wanted.

Take a Break (Stop over when flying long-haul to save you 100's)
Direct flights are always more convenient, but if you've a bit more time you can often cut the cost by stopping over hugely. (Indirect flights sometimes only adds a couple of hours to the journey)
How to save:
In March 2016, we checked return flights from London to 10 popular long-haul destinations in mid-September 2016 and how much you could save by stopping over. The results are in the table below – as a rule, we found the bigger savings were on longer, non-US flights.
You can filter by direct and indirect flights, so you can easily compare prices.
How direct vs indirect flights stack up: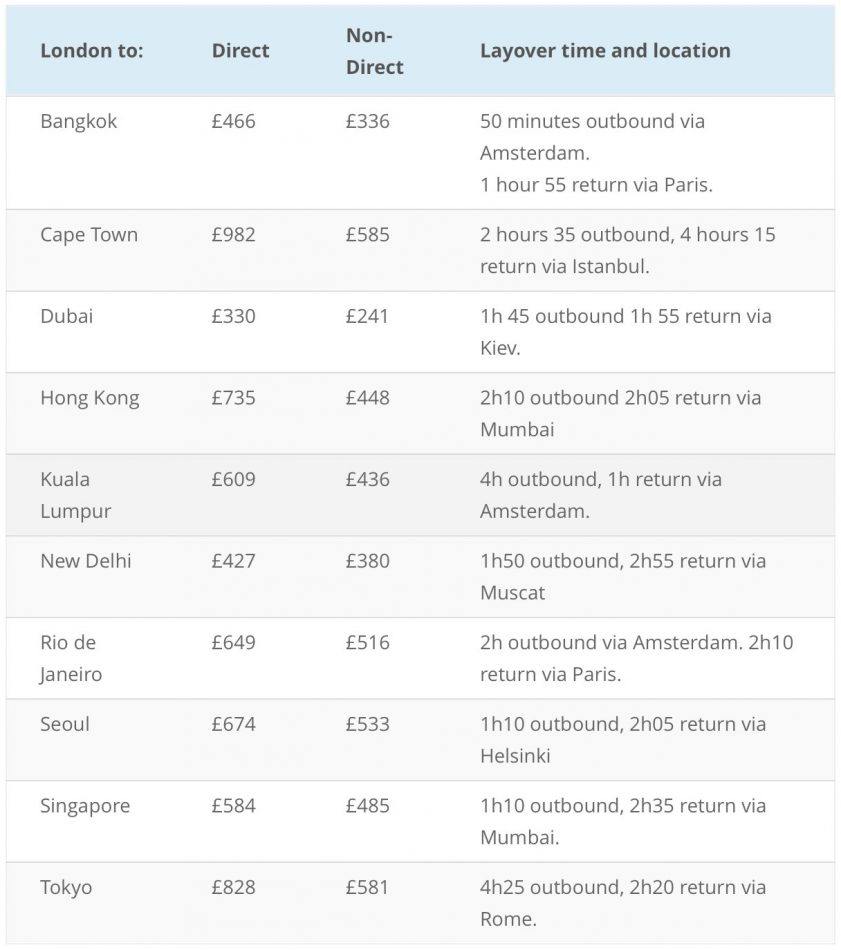 This is super easy, and works fantastically on long haul flights.
Part 1 (with step by step example):
*Spoiler*
You can even see how I found a flight from Zurich to various cities including; Phuket, Punta Cana, Cape Town, Havana, Calgary. For just €6.