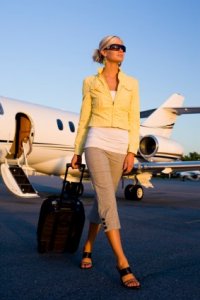 Time.com has interviewed 12 fairly well known jet setters and asked their opinions and tips for jet lag, places they will not revisit again, travel companions, favorite cities, packing tips, airport suggestions and much more. Each "jet setter" also lists some of their favorite travel items.
Superstar tennis pro Maria Sharapova says her favorite carry on item is her phone charger, because "…if my bags get lost, I would be more upset about losing my phone battery than my new pair of Manolos" (Manolo Blahnik – stylish footwear).
Antoine Arnault, the head of communications for Louis Vuitton is a world jet setter and travels all over the world, especially to Asia. He speaks about the following travel annoyances:
Airport etiquette: "I'm not the biggest fan of airports. I try to arrive a few minutes before check-in closes. (And I've still never missed a flight!) If I'm early, I see how our brands and competitors are doing. Paris has quite a good airport now. London is the worst; it's too far away."
Jet-lag remedy: "If I arrive late at night and have to sleep, I spend an hour at the spa, get a relaxing massage and have a light meal. If I arrive early in the morning and have to go straight to meetings, I have vitamin C, coffee and Diet Coke."
Diane Von Furstenberg, a Fashion Designer is on the road a lot. As a result, she has some helpful insights to offer regarding travel, including the one axiom at Dave's Travel Corner that we hold dear, "travel light"!
In my carry-on: "Camera, computer, colored pencils and a notebook, makeup and a cashmere blanket. I always have my camera with me because inspiration is everywhere."
Packing tip: "Travel light, very light, and take things that can work in many ways. When you figure out how to pack lightly, you figure out how to live lightly."