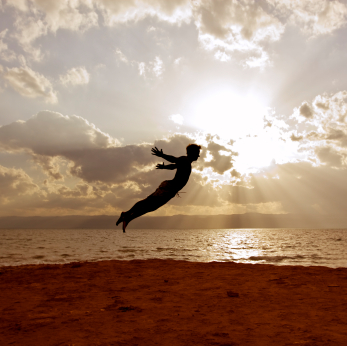 Most people don't get to spend their entire life traveling around the world, but if it was possible would you grab the opportunity with both hands? Would you love to travel to far off places at the drop of a hat?
You're either about to go on the adventure of a lifetime within the next few years, or you've already been and it's killing you inside because it will be a while before you go away again. I don't have a million dollars to drop into your bank account so you won't be able to travel right now in the traditional sense, but if you learn to lucid dream it's the next best thing.
Travel in your dreams
I've been lucid dreaming for a few years now and I know people get a little suspicious when I tell them they can wake up inside their dreams, so I want to explain to you how it's possible. You first need to realize you dream multiple times per night whether you can remember it or not.
Using a special meditation technique there is a way to send your body to sleep while your mind stays fully aware. So essentially, you're inside a normal dream except you know you're dreaming. This is where the fun part begins, because it's possible to manipulate the dream world using your mind.
If you expect to turn around and find something it will be sitting there. If you expect a door to lead you to Antarctica it will take you there. You can even expect to fly because the rules of gravity don't exist.
What does it have to do with travel?
Traveling around the world is expensive, so it's not something we can afford to do all the time. Lucid dreaming doesn't cost you anything and you can do it every night, or at least multiple times per week once you master it.
Lucid dreaming is perfect for travel lovers because you can go back to all those magical places you've been to before. You can also travel to places you've never been to before, but your subconscious mind will obviously have to create the dream based on what is thinks everything should look and feel like.
If you want to travel a little further out of town you can also explore space and imaginary worlds your subconscious mind creates. Some of those worlds will blow your mind more than the Great Wall of China ever could.
Taking things to the next level
You already know travel isn't just about walking around in strange countries checking out the magnificent sites. You also want to do lots of amazing things too. You want to taste food that takes your breath away. You want to jump out of airplanes, and swim with fish under the ocean.
I remember one of the first times I became lucid. I became aware I was dreaming when I was sitting in a helicopter with a few other people. I quickly got up and jumped out of the door then I started hurtling towards the sea. Who said you need a parachute to experience something as adrenaline pumping?
When you become lucid you could do any of the following:
Fall from a great height without a parachute
Spend time under the water without an oxygen tank
Explore jungles and come across hundreds of animals
Thunder down a mountain on a snowboard
Float down a dangerous set of white water rapids
I've done everything on the list. I know you could never do this on your real-life travels, but I've also flew around on a hoverboard. You're only limited by your imagination.
Remembering your dreams
You can travel to as many topical places as you like, but if you can't remember anything when you wake up it's a big waste of time. That is why you need to strengthen your dream recall before you do anything else. Remembering your dreams is easy, but it takes time and you need to practice the following steps:
Stay still – Stay perfectly still as soon as you wake up
Keep your eyes closed – As well as staying still you also need to keep your eyes closed
Go over your dream – Spend about 5 minutes going over your dream in as much detail as possible
Write it down – Grab the notepad at the side of your bed and immediately write down your dream
Try to hold onto it – Keep the dream in your memory for as long as possible
You might not get it right first time, but keep working on each step every day.
Become lucid using reality checks
There are two ways you can become lucid. Later on we're going to talk about how you can pass directly into a lucid dream, but first I want to show you an easier technique you can use to become lucid when you're already in a dream. The only downside is that it won't work as often.
You can't read a digital watch inside a dream because your brain can't replicate time. While you're awake you should look at your digital watch as many times as possible during the day. Each time you look at your watch you need to ask yourself if you're dreaming.
This will become a subconscious habit and you will eventually look at your watch inside a dream. As soon as you do, you'll realize it's a dream and your conscious mind will switch on. It's not a perfect technique, but looking at your watch during the day isn't exactly difficult.
Passing directly into a dream
This is the Lucid Dream On Command technique and it's great. Not just because you will become lucid regularly after you master it, but because there is something special about lying in your bed, closing your eyes and magically transporting straight into a dream without losing consciousness.
There is a catch: you can only pass into a dream when you're about to enter REM sleep.
You'll need to wake yourself up in the middle of the night to use the technique. You should find a time that works for you, but I'd recommend getting started by setting your alarm to wake you up after 6 hours of sleep.
If you already meditate you'll master the technique a lot quicker. Here are the steps you need to follow:
Stand up – As soon as you wake up you should stand up for a few minutes. You don't want to completely wake up, but you just want to get rid of any drowsiness.
Lie back down – Now lie on your back and close your eyes.
Kill your inner-voice – You need to perform a meditation technique for long enough to enter the trance state. If you don't normally meditate you should focus your awareness onto the back of your head. Focus on nothing but the feelings on your head where it touches the pillow until you kill your inner-voice
Sink to the brink of sleep – Once you're in the trance state you need to take your body to the brink of sleep. You can do this by imagining your head is sinking into your pillow. As your head sinks down you should imagine your body is getting more and more tired. If you can't sink into your pillow go back and keep working on the last step.
Pass into a dream – You need to focus your awareness out of your body, but you also need to make sure you hold onto your awareness very tightly. I personally just focus my awareness onto nothing physical (just pure awareness). After a while you will pass into a lucid dream. If you don't pass into a dream go back and keep working on the last step.
The action plan
Before you get to experience the full power of lucid dreaming there are a few things you need to do. You can start by building up your dream recall and performing reality checks every day.
At the same time you can also start working on the Lucid Dream On Command technique. You need to keep practicing every day because it might take you a few weeks to pass through each of the last few steps of the technique.
You will probably wake up straight away when you first become lucid. Just keep becoming lucid as often as possible and over time you will build up the amount of time you're able to spend inside your dreams. As soon as you can stay inside the dream for at least 5 minutes you'll be able to start playing around and doing amazing things.