Winter camping tips come in handy when you decide to pack your camping bag and head out for an adventure. Why not, right? Winter is such a great season to witness the snow-covered mountains. Plus, it is the time when campers usually hibernate after their stressful days at work. Camping in the snow also draws many campers. You can fully take pleasure in the beauty, peace, and serenity of the winter wonderland. Also, you do not have to worry about bugs, mosquitos, and huge crowds during the winter.
However, in the woods or in the mountains where snow is bountiful, there are a few things you need to consider. So, you need to follow our winter camping survival checklist and tips. These will make sure that you stay comfortable and safe during your camping experience in the snow.
1. Keeping Your Body Warm and Dry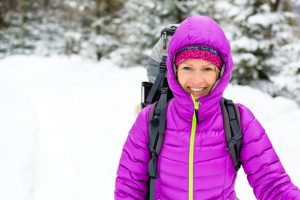 As you go out in the cold, and stay for at least a night or two out there, you will feel cold. In fact, you may even experience hypothermia when you don't wear the appropriate clothing. You should put your layered clothes that can keep the moisture and water out. May sure that they are also breathable, and can dry up fast.
You have to adjust the layers of your clothes to keep you warm.  The base layer should be your underwear. You should put on a synthetic or wool fabric undies. They efficiently wick your perspiration away from your skin. They also get them the sweat out into the outer layers faster. Also, they dry faster so that you won't stay wet for so long. You should also wear thicker base layer.
The next thing to do is to get your jacket. It will serve as the middle layer of your clothing. It will also act as the insulator to balance your body temperature. For winter camping, you need some microfleece shirts, pants, and jackets.
Then, your outer layer should be waterproof and breathable at the same time. It will work to protect you from extreme weather conditions, especially the wind and snow. You have to consider laminates or any affordable counterparts like polyurethane-coated fabrics. However, they are not as breathable as laminates. When purchasing one, choose those with core and underarm vents to expel heat and moisture.
Also, consider your hiking or camping boots. You have to remember that when snow camping, you need waterproof and insulator boots to survive the cold weather.
2. Obtaining the Right Camping Backpack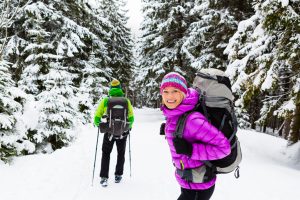 We all know that you are excited about your winter camping soon. But, you should know that winter camping will require you to pack some extra gear like camping tent and backpack. With that, you need to consider having a high volume bag. However, you still need to pack as light as possible. Remember to obtain a bag with lash points. They will make sure that you secure your skis and snowshoes.
3. Planning Your Camping Meals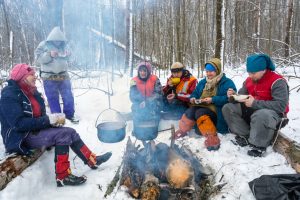 A lot of pro campers and even experts suggest that you should avoid fresh foods. These include eggs, veggies, and fresh fruits. Why? It is because these foods contain a lot of water that may weigh so much. For your camping trip during winter, you have to bring foods high in fats. You may pack some cheese, butter, meat, dry foods like rice, oatmeal, cereal, and wheat.
You also have to bring some additional foods. Also, campers can include packed camping foods, which can cook faster. They will save you some time and fuel, too. Plus, you can also bring some baked pastries like cookies, granola, and protein bars. They will give you an instant energy boost that you will need the whole day.
4. Selecting Your Winter Camping Shelter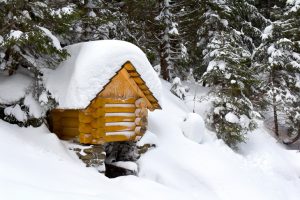 Before you think of setting up a tent, you should choose it based on essential features. If you think you can bring a camping hammock during winter, then, think again! What you need to find is a tent that will withstand both high winds and snow. So, you will need a sturdy 4-season tent that has stronger poles to hold the weight of the snow. Then, consider its ability to shed some snow. Make sure that your shelter has a roofline that lets the snow fall off the ground.
For your winter camping, you also need an internal room. It will serve as the storage for all of your camping gears. Plus, it will also keep you warm for a long time. Aside from all of these, you also need to consider getting a rainfly. It will lower down the condensation and will provide you insulation.
You may also select a freestanding tent. These tents can withstand extreme weather conditions, especially during winter. You may also opt for a winter tent with a flooring. It should have a space blanket and coverings to seal it off from the rain and snow.
Additional Items for Your Winter Camping Tent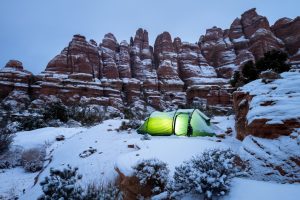 For a more durable and comfortable camping tent that can last well during winter, you may need these items:
-Extra poles and splints
-Stakes to secure your tent into the ground during windy conditions
-Floor sheet, tarpaulin, or space blanket
-A whisk broom to brush the snow off your clothes and boots before coming into your tent
Other Winter Camping Survival Checklist to Consider
To take your winter camping to the next level, you need to consider this checklist:
Camping Food: Have some food for sleeping to thaw meat for the next day. If you wake up freezing in the middle of the night, you may have some protein bars and cheese. They will digest faster while you are sleeping. Thus, they will give you enough body heat to last in the cold weather.
Trash: You have to make sure that you minimize your garbage. You can do this by repacking your food in separate bags. You need to divide your breakfast, dinner, snacks, and lunch accordingly. And out of convenience, you need to label each one of these bags.
Water Source: To have a stable water source, you need to dig a pit in a frozen lake or stream. However, be careful with your every move. You can also melt snow as your drinking water. You will need around 10 quarts of snow to make a quart of drinking water.
Conclusion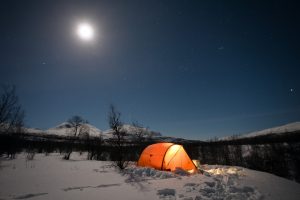 Camping in the snow may be very appealing for anyone who loves the beauty and serenity of the winter wonderland. Aside from that, there are no crowds and insects; everyone also loves to play in the snow. So, with just enough preparation, you will be surprised how well your winter camping will turn out. But although it's fun to be outdoors during the winter, it can also pose a lot of challenges. Thus, you need to prepare for severe weather conditions. You need to pack some extra camping equipment and practice your camping survival skills ahead of time. Before you head to that snowy woods or mountain ranges, you need to make a survival checklist and plan!