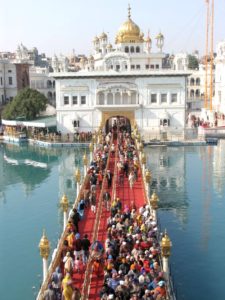 Chaos reigns at the New Delhi airport – pre paid taxis are a joke. Many people in old dirty clothes hanging around. The fog here was TERRIBLE last night. Its the norm in the winter during the nights with merely 5 to 7 feet visibility. We landed around 9pm and arrived at our hotel around midnight just to catch the New Year's festivities. Drive from airport normally takes 25 minutes! Hahaha yea. Driver kept stopping every few seconds while getting out of the airport area, no visibility – people honking like crazy, trying to stare out of side windows but not any better visibility. We saw several accidents; cars had piled into the guard rails. This reminded me of the tule fog in California's central valley during the winter. We drove damn slow and had to stop very often. Everyone driving with their hazard lights on so as to make it easier to see cars. These lights didn't help much.
We caught a night sleeper train to somewhere – we were in 3rd class even though we requested 2nd class. We slept 3 deep high on both sides of the car with people sleeping down both sides of the train including in the main aisle. No blankets, nothing, just hard bunks. Apparently there are 2 worse classes we could have been in, the overnight chair car and the "cow car" where people were standing all night all the way deep into the rail car with large sliding doors that slid open at the rail stops.
We were bunking exclusively with about 10 sheikhs from Jordan, the unique dress, long beards and turbans were quickly noticeable. They spoke hardly any English but when I found out they were speaking Arabic, I remembered my 10 day Pimsleur Arabic training I had this summer and I was able to throw a few Arabic bones their way. They were impressed that I could say a few sentences in Arabic and that I knew some words.
They were the nicest people trying really hard to communicate; all were in their 50's and 60's probably. They took 20 minutes just to sit down as they kept arguing about which seat each one would take, even though on their ticket it clearly showed the seat numbers which matched the seat numbers behind every damn seat. Syy was only woman in this car and somehow she ended up sitting yoga style on the top bunk watching them argue. They gave us all their food and kept offering more and more food. They walked up and down the car to the nearest people giving food. Then they gave us their blankets for sleeping. They looked to be sleeping out doors everywhere on their trip through India as they had tons of blankets and sleeping bags. They even offered to let us keep one, but we didn't feel that was necessary.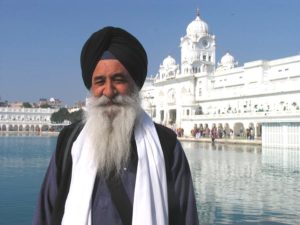 They pulled out their prayer rug at night and in the nearly morning several times for their prayers and stationed 2 people on each side of the walkway to stop anyone from walking down the aisle while they were praying.
We arrived in Amritsar on the Paki border in the early morning and then hit the Golden Temple. This is DEFINITELY on par with the Taj Mahal, although much fewer people have ever heard of this. It is huge marble complex with courtyard and in middle of aforementioned courtyard is huge man made lake where people bathe and large fish swim. The Sikh's who were bathing were drinking handfuls of what appeared to be somewhat dirty water! There is 250 KG of solid gold plating on the main temple which is located on a walkway in the middle of the lake. This is the most holy pilgrimage location for those of Sikh faith and there were hundreds of them here, especially older men with turbans and long beards.
One of their codes of conduct is to wear daggers and we saw many daggers on their robes. Seattle Washington, USA is big community for Sikhs as is parts of western BC in Canada so we met several people from these regions. In 1982 military blacked out Amritsar and tanks rolled into the Golden Temple and the military killed 400 people because a prominent man was there preaching his word taking away followers from another religion. Bullet holes are still preserved if you know where to look. The entire huge lake was red with blood after this massacre. The marble at the temple is inlaid with beautiful precious stones. The actual temple is unbelievable to see in person and is a very spiritual place. Many people lined the main red carpet walkway to get into this temple. No shoes are allowed inside and you walk through a water channel to clean your feet before entering the main complex. We heard the kitchen on site serves the most people on a daily basis anywhere on the planet.
Sikh faith started like 500 years ago by a founder who wanted to blend what he felt was the best of Islam and Hindu. Hindu religion is very hard to define – rebirth is one of the core components. Buddhism here also – Jainism very small – monks sweep before they walk so not to step on any living thing. Islam also present, and the sheikhs made a point of telling us their Islam faith is very good and they are not associated with extreme ideas.
Then we went straight to the Pakistan border and watched the Pakistan and Indian armies put on a tremendous border closing ceremony. The border closes around 4pm. We watched a few backpackers straggle across and then we took our place in the grandstand watching all the Indians and Pakistanis on the other side merely separated from us by a few meters. Pakistan was so tantalizingly close; we will save for another trip possibly next year. Many sleeping policemen on the way to the border; if you are from the UK you will know that these are merely called speed bumps in the USA! We met lady from Nepal originally from Europe who worked in India for 20 years and speaks the national India language and was invaluable for information about what to see here.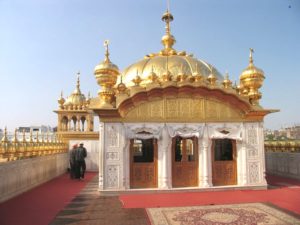 Walked around Amritsar at night, suffered yet another blackout, but that's why we have LED penlights!
Hotels very cold at night and do not have heat. Showers luke warm at best so its been rough. Our noses are black with pollution after merely an hour of walking the city streets. Had slight sore throat every since we got to Delhi and slightly runny nose. Can feel pollution everywhere, and pollution not much better in any of the other cities which is exactly the situation as we were told it would be.
Took train and then bus – Syy sitting yoga style facing window watching people defecate on side of train tracks on the way. Close to border of Kashmir now – some of the trekking in the Kashmiri Himalayas looks incredible. 5 to 7 day treks, there is no danger, again things are blown out of proportion about most of Kashmir being dangerous.
You look at map, where we are now and you see that we are surrounded by Pakistan with Afghanistan relatively not far away and Tajikistan just behind the high Himalayas, and then Tibet. I mean airline miles its not very far to any one of these countries by bus, a full days ride.
Coming to you from Northern India
~ Dave